Very Hard Questions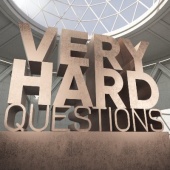 Host
Broadcast
Youngest Media for More4, 19 February 2020 to present
Synopsis
Jon Snow asks questions of expert quiz teams. According to the billing, these are "the most difficult quiz questions ever seen on TV". If they're stumped and need help then clues are available, but at a cost.
Each episode sees two teams post a score, with the top teams returning for the series final.
This programme has not yet aired. A full review will appear here after broadcast.
Key moments
The extraordinary amount of waste produced by the show, firstly in the amount of wasted clues (at least 62 per game), and on the scripted jokes, which Jon Snow simply cannot deliver. Stick to slaying dragons, methinks.
Trivia
Generally promoted as Jon Snow's Very Hard Questions, to help internet searches find the show.
The first eight episodes bookended The Great Pottery Throw Down, at 8 pm and 10 pm. The last two aired at 8 pm.
Feedback