We Interrupt This Year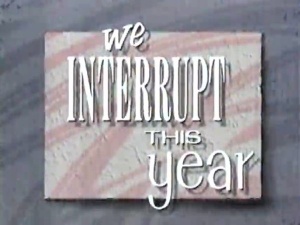 Host
Broadcast
BBC2, 3 January 1988
Synopsis
A light-hearted quiz in which two teams of celebrities were tested on their memory of the events of 1987.
The Multitalented Upwardly-Mobile Polymaths (Willie Rushton, Angela Gordon, Robert Kilroy-Silk) played the Young Energetically-Thrusting Insiders (Stephen Fry, Emma Freud, Jonathan Ross). With a little fudging of the scores, the match between MUMPS and YETIS was drawn.
There were general rounds on the news of the year, interspersed with more specialist rounds on sport and politics and royalty and international affairs. All questions were on the buzzer.
Everything was done at a tremendous clip - Ned Sherrin had a strong script, and was determined to cram as much of it in as possible. Jokes were very topical - Peter Wright said nothing, Richard Branson was a laughing stock, and fingers were pointed at Mike Gatting. Being about 1987, it's all very blokey and clubbable, as was the culture at the time.
This was an in-house production by the BBC, recorded at the Greenwood Theatre, and produced by Paul Ciani of Boxpops and Top of the Pops fame. Have I Got News for You began almost three years later - as an independent production - with much of the same energy and fizz and panellists.
Key moments
Robert Kilroy-Silk repeatedly complaining that his buzzer doesn't work, and losing his cool when Jonathan Ross kept buzzing in while Robert was talking. "I think you should dock points off Robert because he's not being funny at all," said Emma Freud. She'll have seen Shafted, then.
Trivia
Questions were written by Neil Shand, Barry Cryer, and John Langdon.
This one-off programme was a spin-off of We Interrupt This Week, a 1979 American series produced by WNET-TV New York and presented by Mr. Sherrin. Ned billed this as a continuation of Quiz of the Year after 17 years.
Feedback