Weaver's Week 2004-11-27
27 November 2004
Iain Weaver reviews the latest happenings in UK Game Show Land.
An alert reader wrote last week, asking if there was going to be anything special to mark the 200th edition of the Week. Discounting the Not Weaver's Weeks that Nick Gates wrote last year, that edition falls this week.
Four Hours With Nine Live
A couple of weeks ago, German quizzing channel 9 Live came to the UK, renting space on E4 between 1000 and 1400 weekdays. Rather than our usual trick - watch every show for a week and see if we can draw out common threads, this column sat down for four hours, and noted our thoughts as we went along.
1000, 19 November. Carole Machim walks into a yellow living room, and remarks how cold it is out there. She invites us to play the Name Game: unscramble these letters to find a famous person: FRNKA BRONU. Players call a premium rate number (60p per call) and are encouraged to listen to a recorded announcement and see if they're going to be put through to the studio.
1004: Kerry comes on, and gets Frank Bruno. She picks one of ten envelopes, and wins £50. Another name game? AINLEYS HARROTI. Carole has walked over to her kitchenette to make a cup of coffee. Good idea. We need to stay awake.
1010: Ten minutes in, and Carole plugs the website. It's free, it won't cost a penny to enter. She won't plug that as much as the phone line.
1019: "The games will get harder later" promises Carole, who is asking us which celebrity is on our screens. HAMMEMUD LIA it might be; Carole, perhaps not.
1021: After seven name games in twenty minutes, we have a spatial awareness round. There's a diagram of a flattened cube (or a "flat pack", as Carole calls it) featuring the figure eight on all faces; which of the six options can be made from the net.
1023: Disaster! Hayley has given an answer to the cubic net problem, but it was wrong! That turns this into a rollover round; the winner will pick not one but two! of the mystery envelopes. Each envelope contains something between £45 and £105.
1030: John and Pretti have also given incorrect answers. There's not one, not two, but all three mystery envelopes to give away! Carole is looking into the wrong camera rather often, but she's keeping up the patter like a trouper.
1040: We've now been playing this cubic net game for nineteen minutes. There have been nine incorrect answers. We're still only playing for three envelopes. Carole is getting frantic for someone to someone to take the money off her hands. There are only so many non-verbal clues she can give. "Which of these boxes ... can be made?"
1043: Brian suggests "five and six." It's wrong, but he's on the right lines.
1054: Finally, Richard has given the correct answer. It's only taken us 33 minutes to find the winner. And he's hung up on us. Great. The next game is Snake Words: there's a nine-letter word somewhere in a 3x3 grid: ADV TNA AGE. Carole's going strong after almost an hour.
1101: Carole is livening up the tedious snake words game by throwing darts at a board. Most of them are falling out.
1113: After four games of Snake Words, and with the viewer dying of boredom, we have a game of Lucky Lips. There's a picture of Geri Halliwell (rejected for I'm A Celeb, surely) and six sets of lips. Which lips complete the face? £100 for a correct answer.
1118: Oh no, not again. More than two of the lips belong to Ms Halliwell. We'll be here all night at this rate.
1126: When the most interesting thing that's happened in ten minutes is someone being thrown off the line for being 13 (callers must be 18 to win cash), we need something stronger than coffee. The cashpot is up to £120.
1138: And still we roll on. This is becoming quite soul-sapping, the boredom of nothing at all happening is incredible. That the picture is shown in about a quarter of the screen for most of the time doesn't exactly help.
1200: Minute 47 of this "simple game," and Carole is still plugging it like a trouper. The format of the show is tedious in the extreme, but we have huge admiration for anyone who can hold together a live show for two hours and still not be too irritating.
1202: Goodness, we've been invaded! A bloke in a green t-shirt and spiky hairdo has come in. Chris Hopkins is our second presenter today. If he were a little younger, he could have failed an audition for Busted. His first caller suggests Geri's lips are under the "censored" sign. We're losing the will to live here.
1204: Chris has brought the keys to the jackpot machine, which could give up to £2000. This would work a little like the finale on Strike it Lucky, where the object is to hit the cash and avoid the game over lights. It's a left-or-right choice, with eight levels, so only a 1/256 chance of winning. That's if anyone ever gets the qualifying question right.
1214: Day 61 of this game, and Chris is down on his knees begging the viewers to get it right. There are only 64 possible combinations, and Claire has just got the correct one. Hallelujah! She gets two correct squares on the jackpot game, but that's it.
1216: Complete the magic square is the next game. £100 for the correct answer. Chris burbles on, saying they're going to be there seven days a week. Including Christmas Day. Including 10am New Year's Day. Wonder if we'll have sobered up by then. And if we have, will this show drive us back to the bottle.
1220: Chris cuts his face by waving cash around. Don't try this at home, readers. Not only does it hurt, but you need to have large numbers of new banknotes lying around, and none of us have that much cash.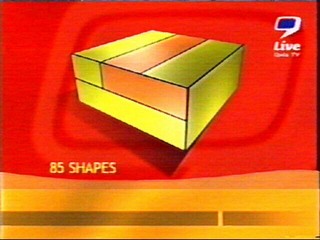 1225: Shape Up asks how many shapes we can see in a 3d picture of some blocks. (Picture right.) This one is going to run and run and run.
1247: This one is running and running. Every time someone gives a wrong answer, there's a male voice choir somewhere in the wings singing "No, no, no." Hope they're on piecework, or at least a royalty.
1300: We see that this game has now been running for 35 minutes. They're taking a call to air every two minutes, and if one in fifty calls goes to air, that's 1500 calls an hour, 6000 over the course of the show, income of at least £2000. Chris is going hyperactive by plugging the £3000 prize in the one-in-256 jackpot game. If they play this three times a day, we'd expect one win every three months or so.
1315: Callers are being cut off somewhere along the line. The callers make their call, hear a short message, then hang on to see if they're put through to the studio. When they are, it seems that people are confusing the noise with being cut off the phone. This is a major fault in the telephone arrangement. Chris is obviously annoyed, and looks like he's prepared to throw chairs about. He's prepared to give ten pounds for anyone who will actually talk to him. Make it twenty and we're interested.
1327: An hour into this game; how many shapes are in the picture? Chris holds up one finger. Is that a clue? More and more people are hanging up the phone, and Chris is getting wound up tighter than a watch spring. "That is the shape you are counting."
1342: After 77 minutes, Chris gives in. This puzzle is evidently too difficult for these people, he'll give the answer at the end of the show. Here's a slightly more simple game: name the famous person from these letters. STVEEN BERGSPIEL. From the sublime to the ridiculous.
1358: A couple of name games later, and a couple of failed runs up the jackpot board, Chris gives the total he was looking for. 85. Er, how? Carole has come back, and says "You can't get rid of us now." Yes we can. Zzzap!
Second phase, 5/6
Paul Moorhouse has made the short trip from Mary Anning to the Monmouth Rebellion of 1685. This was led by the illegitimate son of Charles II, and included a large element of revenge against the new Catholic monarch James II. Paul scores 8 (2).
Andrew Burrows was Alan Partridge, now it's the History of Manchester City FC. He gives away his allegiance at one point by saying "We lost 4-1," and finishes with a very respectable 13 (0).
Julia McLaughlin-Cook qualified on "Witchworld", now takes the History of Babylonia, 2000-539 BC. We don't get to find out why 539BC is the end of the line, and the long and complex questions seem to count against Julia. She finishes on 10 (1).
John Tweddle has gone from world heavyweight boxing champions to US presidential elections 1940-2000. Is there a difference? He goes at it like Peter Snow with a new graphics package, and finishes on 12 (1).
Paul takes a couple of very long pauses, a lot of passes, and finishes on 16 (8). Julia gets some shorter questions this time around, and makes it to 20 (4).
John rushes through his questions at a wonderful clip, finishing on 23 (3). Andrew has a lot of wrong answers, and finishes on 19 (1). Unusually, the best general knowledge has won through.
First round 11/14: Queen's Belfast -v- University of East Anglia
Queen's were amongst us just last year, storming past Bradford before losing to St Andrews. Their best performance was a quarter-final in the 1997 series. Surprisingly, it's the UEA's first appearance in the revival. Queen's have a well balanced team; UEA is very heavy with arts students, with two reading American Studies.
A lot of film questions in the early stages of this week's show. The first picture round is the slightly less easy Name That Dog And Its Crufts Classification. Between them, the teams miss all four questions; as captain Doug Randall says, "We're cat people." UEA has a 30-25 lead at this point.
Just when it looks like UEA will run away with the show, Belfast strikes back with Faraday's quip about taxing electricity. The audio round is Name Those Bacharach And David Performers, after which UEA has an 85-40 lead. It's not all one way traffic:
Q: Thought to be the world's largest fish...
Karl Byrne, Belfast: Whale shark.
We've had some good starters this week. Here's the best:
Q: Prior to the break up of the Soviet Union, Gyumri in Armenia, Khujand in Tajikistan, and St Petersburg in Russia were named after whom?
Suddenly, Belfast has kicked into gear, and is briefly within ten points of the opposition. The second picture round is Name That Timezone. UEA has benefited from a couple of missignals, and comes out 130-85 ahead. It's not over yet.
There's always time for some BBC cross-promotion, in this case the Big Read project that filled most of 2003. Queen's remains just in touch until the final moments, when UEA gets a set of bonuses on Missouri. However, Queen's still has something to play for - a place in the repechage. The final score benefits both teams - UEA wins, 185-130. Queen's should have done enough to come back.
UEA's top buzzer was Les Morrell, responsible for 68.2 points; Belfast's best was Karl Byrne's 86.2. UEA made 14/35 bonuses with one missignal; Belfast 12/24 with two missignals.
The top side will be back for the repechage:
Univ Oxford 150*
Jesus Cambridge 145
Queen's Belfast 130
(York, Portsmouth 120)
This Week And Next
Another familiar name on this week's Radio 4 Masterteam: welcome Gwilym Thear, one of the members of the Magdalen Oxford side that won University Challenge in 1997. It's perhaps the only show where people let out a squeal of glee when asked about deadly sins, and let's be thankful that Peter Snow can correctly read the name of the 11th century king Cnut.
In Murwillumbah, the local paper has described it as "the greatest British occupation since Basra." The fourth UK edition of I'm a Celebrity... Get Me Out of Here! began on Sunday evening. Since the opening shows in August 2002, there have also been two successful German editions, and a less successful version in the US. There are 450 cast and crew working on the show, booking up hotels for miles around, and local grocers lay on extra supplies for their guests. Janice Bostock lives on a nearby farm, and calls the whole shebang "a joke." She's not alone.
Junior Eurovision was surprisingly good, but then we said that last year. Spanish entry Maria Isabel - described in Le Figaro, rather disturbingly, as "une lolita espagnole de 9 ans" - won the laurels with her song "Antes Muerta Que Sencilla" "(I'd Rather Be Dead than Plain)". Press reports say it's an ode to good clothes, good times and standing tall in the face of criticism by others. The show maintained some grand Eurovision traditions - the cartoon-style overacting from the hosts, the satellite delays during the voting meaning that everyone was talking over everyone else, Britain finishing second with a jolly piano ballad, if that's not a contradiction in terms; Cyprus and Greece swapping 12s; and Norway spending most of the voting on nul points until Denmark and Sweden proved that no-one should end JE on nothing. Commentator Matt Brown didn't mention the friendly voting once, didn't talk all over the songs, and was thoroughly restrained. About the only improvement we reckon he could have made would be to talk all over the interval act. Not only do we reckon Cory Spedding might write a senior British entry as soon as is possible, but Matt Brown is the obvious replacement for Terry Wogan, effective now.
It's the Children's BAFTA awards tomorrow night, with Dick and Dom facing competition from Globo Loco and Jungle Run in the entertainment category. Next week's televised biggie is the BBC's Hard Spell contest for youngsters, running in the prestigious 1900 slot each weeknight. There's also a junior version, Hard Spell Abbey (CBBC 0830, BBC1 1610 weekdays), hosted by Trev of Going Live comedy duo Trev and Simon.
To have Weaver's Week emailed to you on publication day (usually Saturday), receive our exclusive TV roundup of the game shows in the week ahead, and chat to other ukgameshows.com readers sign up to our Yahoo! Group.