Weaver's Week 2017-12-10
Last week | Weaver's Week Index | Next week
Welcome to the game show review with only one question. Do we like it?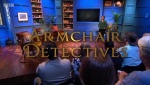 Tiger Aspect (part of EndemolShine group) for BBC1, from 20 November
Research has shown the following facts to be true:
1) Daytime viewers love a good murder mystery. BBC1's top ratings in this mid-afternoon slot aren't for !mpossible or Decimate, but for Father Brown Investigates.
2) Viewers love a murder mystery with all the clues on screen, and feel smug if they can solve it before Father Brown.
3) Susan Calman is funny and popular.
Put all of these facts together, and we come up with Armchair Detectives. In the studio, fifteen would-be sleuths are sat on studio chairs. They'll be today's audience, and three of them will be promoted to the armchairs.
The show cuts between filmed pieces – detectives Knight and Slater, crime officer Simmonds, plus about half-a-dozen guest actors – and discussion in the studio. The filmed pieces contain almost enough information to crack the case, but some information is provided through evidence folders.
Armchair Detectives has an interesting dynamic. The detectives work together as a team, they debate amongst themselves, they choose which bits of evidence to see. But, in the finale, each detective makes their own accusation about who did the foul deed.
Susan Calman links all of this together. She's got no idea who has done it, the answers aren't provided on her cue cards. With a fine forensic mind, Calman can guide the contestants to think about the evidence in front of them. With honed comedy talents, Calman can help the viewer suspend disbelief – or break the wall and acknowledge disbelief.
Never assume anything in Armchair Detectives!
Across the course of the show, we'll see a number of scenes about the case. We'll see clues about the case, both physical and verbal. We'll meet about five suspects, and we'll all do it through the medium of acting.
- "Someone has died in suspicious circumstances. Could he,"
- "Murdered, sergeant?!"
- "...perhaps, possibly,"
- "Murdered, sergeant?!"
- "...have been murdered?"
- "..."
- "[your line]"
- "Murdered, sergeant?!"
Acting on this show is a cut above the Radio Active Rep, but still carries a faint whiff of ham. The inserts have a slow pace, and exaggerate for effect. They give captions when the suspects appear, and put their photographs up on a board in the studio.
It's a deliberate style choice, they've chosen to act in this way. Why? So that the players can write things down in their notebooks, and not miss too much information. We don't want actors to emote or mislead, we want them to convey information. Give us the plot, and don't obfuscate too much. Almost every word is a clue, every facial expression and glance imparts meaning.
There's no big backstory, Detective constable Slater (Roger Nsengiyumva) has a gentle crush on scene of crime officer Simmons (Sarah Baxendale), but we don't see much of it. Detective inspector Knight (Stephen Billington) is the film lead, a greying man aimed at the female-heavy audience at this time of day. No-one has been embezzling, there are no affairs, and no life-destroying addictions (though Knight's never far from coffee).
Armchair Detectives has decided not to have a repertory company, we don't see the same actors playing different roles. People have one speaking role, they're a suspect in one episode, and then they're done.
We can also see where the daytime budget has been trimmed. In the pub scenes, we don't have other customers milling around in the background, just the four lead characters. Suspects don't have a lawyer present when they're being interviewed. To be fair, this also helps the narrative: background activity, or arguments between lawyers and client, kick up chaff to distract the detectives in the studio.
And they've kept the same contestants throughout the series. All the contestants are fans of crime sleuthing – some are retired police officers, all are enthusiastic to put their skills to the test. It's an infectious blend, everyone's eager to crack the case, and this comes through the screen.
Filmed inserts are shot in Port Seaton. It's a picturesque seaside village, cosy, and looks good on television. The sort of small town where horrible things could happen.
Is there such a thing as an innocent locked bag?
The balance of the show is about right, roughly half-and-half between the filmed inserts and bits in the studio. If the murder mysteries were standalone pieces, they'd barely cover an ITV half-hour.
The crimes don't involve a lot of blood and gore. We might get someone crushed underneath a car, or killed by ingesting nuts. No-one's head is chopped off, we're not going to confuse Armchair Detectives with It's Your Blood on UKTV Dave.
After each piece of film, but before naming their prime suspect, the players get to choose one piece of evidence out of three on offer. It might give new information, or it might recap something the players have already seen. When it's opened, Susan will read out the clue, and draw attention to some of the salient features.
This section reminds us of the prizes in 3-2-1, but done in reverse. Three are on the table, the detectives will pick one to see. After they've made the pick, the next video segment will introduce another item. One of the clues will be left concealed until after they've made their accusations, and you'd better hope it's Dusty Bin.
The viewers at home might only be half-watching, or flicking over during the breaks in Countdown. Contestants talk about the case so far, they constantly review the evidence and share what they know. It's a glorious way to bring recaps into the show, but without making it obvious they're repeating themselves.
To play along, we found it useful to watch on the web, so we could pause things. Zoom in on a photo, perhaps try to get ahead of the players.
At the end of the show, what's the prize? A golden magnifying glass. No cash, just glory and a lovely keepsake.
Co-creator Carly Brooks cites the Serial podcast as an inspiration. If she can solve the crimes, then so can anyone. The other co-creator is Andy Brereton, and he's also responsible for the comedy detective show Murder in Successville on BBC3. There are similarities between these shows, not least that "murder" is not a regular companion for "comedy" or "game show".
Endemol Shine hope for more international sales than they've had for Pointless, and we can see this show working well overseas. English-speaking markets can use the existing footage, other broadcasters might dub the existing footage, or re-shoot it locally. The hard work, plotting out the cases, is already done.
(Full disclosure: much of the plotting's been done by UKGameshows editor David Bodycombe, and by this column's Crystal Maze captain Daniel Peake. Neither has influenced this review. Both worked on Only Connect, where there are also clues lying in plain sight.)
It's quite difficult to have a threatening conversation with someone in a golf jumper.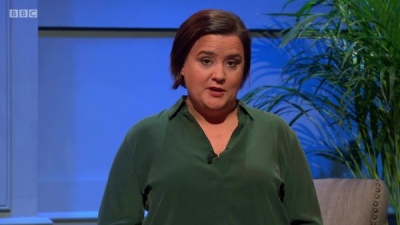 For this column, Susan Calman makes Armchair Detectives what it is. Her cheeky hosting turns a moderate drama into proper entertainment. Like the players, she's enthusiastic to solve the mystery; like the studio audience (the 12 detectives who aren't in armchairs that day), she'll ooh and aah at the clues. She both plays along and chivvies the conversation at a good clip; no segment lasts longer than five minutes.
Best daytime show of the year? Perhaps. Best Susan Calman show of the year? Perhaps. We're not sure Armchair Detectives can compare easily to The Boss; both are strong ideas with some weaknesses, but work because of the host's ebullience.
This Week and Next
A tight match on University Challenge, as Edinburgh beat UCL by 170-165. UCL's losing score would be enough for the repêchage in the last round, but under the baffling structure University Challenge has, UCL are out entirely. All campaigns end in defeat; not all defeats are an end. More student UC in two weeks' time, and the tournament for ex-students begins on Christmas Eve.
"Ridiculous," snarked John Humphries this week. Not a comment at the ramblings of studio guests on his Today show, but a Mastermind comment on the "Discworld" universe. Michael Benbow took this topic, and finished second, with 23 points (7 passes). 21 apiece for Suraj Anand (Mahatma Gandhi) and Tony Fleat (Boston marathon).
The show was won by Pam Poole – last after her specialist round (top ten singles 63-73), Pam pulled out more correct answers in general knowledge than on specialist, and won with 23 (1 pass). A negative split is rare – Pam's only the 6th winner in 18 episodes to score more in general knowledge. We reckon a winner needs a strong general knowledge, and – with more time for the second round – negative splits indicate good general knowledge.
Only Connect returned after its football break, with the Dandies and Beaks. Again, the Beaks got off to a slow start, falling behind 6-11 after two rounds. As they did in the heat, the wall fell in their favour, and a strong Missing Vowels round allowed the Beaks to win by 20-16. But just as in their heat, we fear that the Beaks haven't so much won the show as profited when the other team lost it.
BARB ratings in the week to 26 November.
As you were two weeks ago: Blue Planet II the top show of all (BBC1, Sun, 12.6m), Strictly Come Dancing the top game show (BBC1, Sat, 11.3m).
I'm a Celebrity only slipped a little (ITV, Mon, 10.9m). The X Factor (ITV, Sun, 5.1m) still beat Pointless Celebrities (BBC1, Sat, 4.65m) and Have I Got News for You (BBC1, Fri, 4.6m). Would I Lie to You? returned with 3.95m (BBC1, Mon).
Masterchef The Professionals still rules on BBC2 (Tue, 3.2m). University Challenge continues (Mon, 2.85m) and Strictly Come Dancing It Takes Two maintains position (Mon, 2.1m).
I'm a Celebrity Extra Camp is this year's spin-off (ITV, Thu, 1.025m), and it dominates the new digital channels. Next come More4's Sunday double: Four in a Bed (310,000) and Come Dine with Me (275,000).
Next three new shows: Takeshi's Castle (Comedy Central, Thu, 225,000), Next Top Model (Lifetime, Thu, 210,000), Landscape Artist of the Year (Artsworld, Wed, 180,000).
The final of I'm a Celebrity... Get Me Out of Here! (ITV and TV3, Sun), and the catchup show Coming Out ends the week (ITV and TV3, Fri).
Channel 5 has a night of programmes about Strictly Come Dancing (Fri) ahead of the final (BBC1, Sat). Taskmaster finds its champion of champions (Dave, Wed).
With the calendar showing "December", it's time for some mid-Advent specials: Swashbuckle (Cbeebies, Mon), A League of Their Own Unseen (The Satellite Channel, Tue), Dinner Date (ITVBe, Wed), The Crystal Maze (C4, Thu), Celebrity Juice (ITV2, Thu). Top Class gets a celebrity special (CBBC, next Sun).
And remember, no-one gets away with murder in Mortcliffe.
Photo credits: Tiger Aspect (part of EndemolShine group).
To have Weaver's Week emailed to you on publication day, receive our exclusive TV roundup of the game shows in the week ahead, and chat to other ukgameshows.com readers, sign up to our Yahoo! Group.