Britain's Best Bakery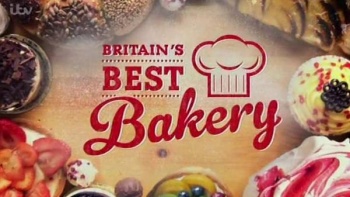 Host
Voiceover: Wendi Peters
Co-hosts
Judges: Mich Turner and Peter Sidwell
Broadcast
Shine for ITV1, 26 November 2012 to 14 February 2014 (50 episodes in 2 series)
Synopsis
In a completely novel format, completely unlike anything else on television, ITV daytime went in search of professional bakeries. Chefs and bakers were challenged to bake their best food, including sourdough bread, bagels, courting cakes, and Bedfordshire clangers.
Judges for the contest were Mich Turner, the proprietor of the Little Venice Cake Company; and Peter Sidwell, a cookery writer and restaurateur.
Bakeries competed in regional heats, with rounds including the "Speciality Bake" and "Baker's Dozen", with the daily winners advancing to cook a "Judge's Choice Cake" in the regional finals on Friday. National finals in the last week featured challenges such as "Chelsea buns for the Chelsea Pensioners", and a great wedding cake from someone British.
If you can help us to expand this entry, please provide as much information as possible, using the feedback form below.
Champions
2012: Hambleton Bakery, a bakery from Hambleton in North Yorkshire.
2014: The Cake Shop, a bakery from Woodbridge in Suffolk.
Merchandise
Tie-in book (2014)
Web links
See also
Masterchef, particularly The Professionals series
Weaver's Week review (2014)
Feedback