The Chefs' Brigade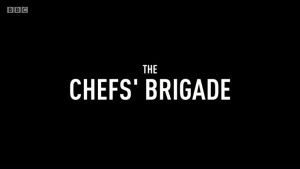 Host
Anna Maxwell Martin (narrator)
Co-host
Jason Atherton
Broadcast
Expectation for BBC Two, 30 July to 3 September 2019 (6 episodes in 1 series)
Synopsis
Jason Atherton takes ten chefs from across the land, and leads them on a culinary tour across Europe. At each stop on their travels, they'll take part in a contest against local cooks.
There's a further jeopardy: not only are the cooks fighting to win the week, they're battling to keep their place on the tour, because Jason can and will send poor performers home - and he'll bring in replacements for the next stop.
We were confused as to the show's ultimate goal. Turns out that Jason wanted to train chefs so that they could work elsewhere in the industry. He wasn't trying to construct a full "brigade" of chefs for his own employment, and the weekly challenges were a framing device, a way to test the candidates' skills and to help them learn.
This isn't a cookery show - you won't learn how to make the high-quality dishes. Nor is it a contest at each stop, as we barely get to see the home team working - all of our attention is on Jason's team. We must class it a reality show, in the way that a wholly artificial made-for-television trip with arbitrary deadlines counts as "reality".
Title music
Wayne Roberts composed a full score.
Web links
See also
Weaver's Week review and comparison with Step Up to the Plate (2).
Feedback