100 o Blant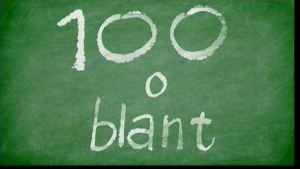 Host
Broadcast
Tinopolis for S4C, 24 April to 17 August 2013 (12 episodes in 1 series)
Synopsis
Two family teams of four attempt to guess what answers young children gave to questions.
The main game - played four times - is an opinion survey. The researchers asked 100 children in infant school about things in their lives. Where do you like to go on holiday? What's your favourite food? The teams are invited to come up with a guess as to what the most popular answer was. To help them along, they're shown some clips of children thinking about and answering (or not answering) the question.
Once both guesses are in, the three most popular responses are shown. Match with the top answer, score 10 points, with 7 and 5 marks for lower answers. For some reason, we're reminded of another game, but on this we're drawing tens of blanks. Whichever family has scored the more points gets to answer the bonus question: how many of the 100 children gave that answer? A spot-on answer earns a Play Your Cards Right memorial bonus of five marks.
Resemblances to Family Fortunes haven't ended; spot prizes are awarded when some of the answers match up. These are invariably a family day out to a tourist attraction somewhere in Wales, and by the magic of television, both teams will secure a prize.
The winning team then goes on to the bonus round: in two minutes, work out what six of these eight children are talking about, to win a family holiday in sunny Spain. It's Child's Play, and we mean that quite literally.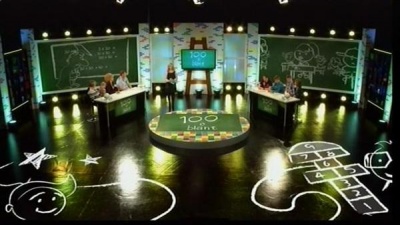 The set.
Set design is done to resemble a traditional classroom, with the players standing behind desks rather than podia. The graphics continue this motif, mostly looking like chalk on a blackboard; the sound of a school bell signifies something important happening.
The show also used a sting of children chanting the show's name, before and after every piece of film, and at every change of rounds. We would expect to hear the same chant of Cant o Blant twenty or thirty times in each show, by which time we were watching with the sound off and in subtitles only.
A shame that a promising (if entirely derivative) programme was spoiled in this way. Viewers certainly found something annoying, as the show came off its Wednesday night slot in the spring and was finished off in a quiet week during the summer.
Trivia
The show's name translates into English as "From a hundred children".
Web links
S4C website (English)
Feedback