Child's Play
Host
Michael Aspel (1984-88)
Alan Carr (2022 special)
Co-hosts
Voiceover: Robin Houston (1984-87)
Broadcast
LWT in association with Talbot Television and Goodson-Todman Productions for ITV, 7 January 1984 to 26 August 1988 (75 episodes in 7 series + 1 special)
Talkback for ITV, 9 July 2022 (Epic Gameshow one-off)
Synopsis
Michael Aspel invites two pairs (a member of the public and a celebrity) to work out what some primary school children are describing.
Like every ITV primetime show of the 1980s, it's a mixture of the public and celebrities. A sample episode gave us Jon Pertwee from Worzel Gummidge and his lady contestant; and star-of-the-time Isla Blair and her gentleman contestant. After the introductions, we're into the game proper.
Round one asks the teams to guess a word the children are talking about. 15 points for a guess on one clue, fail and it goes to the other team for 10 points. Fail again and it's back to the original team for 5 points, and if you miss that Michael will tell the answer. The clues get easier as the round progresses. Order of play is man-man-woman-woman across teams, with no conferring at this stage. Each player will start with the first guess at a word.
Round two, written definitions from the children. One member of the team (usually the contestant, not the celebrity) faces this challenge. Michael reads the clues, our player is to guess what the child's describing. 10 points per right answer; a good player can easily score 50 in the 45 seconds allowed.
After the break, round three is the "bonus round", a montage of lots of children talking about the same thing. There's a whopping 50 points per right answer, offered to the other side if needed. One question for each team.
Buzzers have appeared during the commercial break, they're used in the "fast play" final round. Buzz in to stop the clip and give the word the child is defining. 20 points per right answer, one guess per team.
The prizes are small. Loser gets the Child's Play trophy, a sculpture in the show's logo, made of some silver metal. Winner gets an identical trophy, and a hamper full of goodies.
Child's Play received good reviews, and lasted for five years. It was breaking new television ground - it's the first time anyone has tried to take little bits of film and edit them together to make a coherent game. Apparently, they shot 31 miles of film for the first series, a nightmare to catalogue and edit.
Inventor
A Mark Goodson format imported from the US.
Theme music
Laurie Holloway, a bouncy tune written to sound like juvenile fun.
Pictures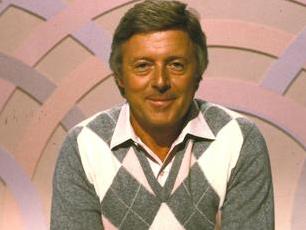 Aspel: an arrangement in pink, grey and orange
See also
Weaver's Week review, as part of a two-part Michael Aspel retrospective, barely three months before ITV announced they would be reviving it for Epic Gameshow. You're welcome.
Feedback