Chris Tarrant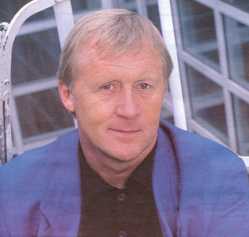 Biography
Regardless of whether the format he was hosting was a bit iffy (e.g. Cluedo) or quite innovative (Everybody's Equal), Chris Tarrant always puts his all into presenting a programme. It is with some justice, therefore, that he finally found himself hosting a real hit show at the end of the 1990s in the form of WWTBAM.
Having graduated from Birmingham University in English, he worked under a number of jobs, including teaching, lorry driving and as a security guard.
After a period of extreme poverty, including living in a van for a period, he wrote to local TV stations until the head of news at ATV took notice. He started work on the evening news show ATV Today as a newsreader before settling into the role of the "quirky stories" reporter.
He came to national prominence through kids gunge show Tiswas and its adult spin-off, OTT. He was a fiercely loyal stalwart of Capital FM, where he was a disc jockey since the 1980s. Since then, he has hosted numerous shows, mainly for Action Time and Celador.
After a protracted is-he-or-isn't-he? period, he eventually did retire from Capital in 2004, handing over his mantle to Johnny Vaughan.
Trivia
He's a keen fisherman (he was president of the Anglers' Conservation Association from 2002 to 2004), and once broke a limb after falling out of a tree.
In 2006, he was the 2nd-most seen celebrity on British TV, behind Gary Lineker (due to the World Cup). It's estimated 32.9m people had seen him on the small box at some point.
One of his more minor hosting roles was as questionmaster for a DJs' quiz during ITV's 1990 Telethon.
In 2007, he accepted a formal police caution following accusations that he threw cutlery at another diner during "banter" in a Nottingham curry house. He made light of the incident when guest hosting Have I Got News for You during the matter.
If he spots people playing the Millionaire pub quiz game, he's fond of tapping the players on the shoulder and say "Is that your final answer?"
Contact
c/o Paul Vaughan, PVA Management Ltd, Hallow Park, Worcester WR2 6PG.
Books / Tapes
The Ultimate Book of Netty Nutters
Web links
Feedback