Cluedo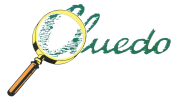 Host
James Bellini (1990)
Chris Tarrant (1991)
Richard Madeley (1992-3)
Co-host
Announcer: Charles Foster
Broadcast
Granada in association with Waddingtons Games and Action Time for ITV, 25 July 1990 to 24 May 1993 (24 episodes in 4 series + 1 special)
Synopsis
Based on the best-selling board game, six mega-celebs (well, I've heard of Richard Wilson, Rula Lenska and Patricia Routledge so that'll do me) would play host to a murder whilst four lesser mortals would, by watching the films and interviewing the suspects, play a deduction game to find out that Colonel Mustard murdered the bloke in the Drawing Room with the Candlestick.
The murderer would then tell us why they did it, accompanied with a film and a Psycho style 'Werr! Werr! Werr!' soundtrack as someone gets murdered off camera.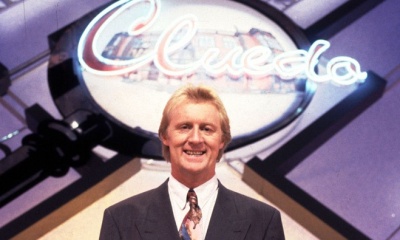 Second host, Chris Tarrant
Hilariously, as a joke (possibly) the host would then at the end say how the rest were free to go but the murderer would have to stay behind for questioning. Then return the following week.
For some obscure reason, they changed the six main actors every series.
Key moments
How the host always actually knew who did it all the time, potentially giving the murderer time to run off. They could have told us whodunit right at the opening of the show and saved us about 20 minutes.
Inventor
Adapted for television by Stephen Leahy, based on the Hasbro board game.
Theme music
Composed by Richard G. Mitchell and Kevin Malpass.

The title sequence from 1992
Trivia
On his stint as host, Chris Tarrant was later quoted as saying "I absolutely hated hosting Cluedo, it's the worst thing I've ever done. It took forever to make the thing. We used to have to turn the studio audience over just to make sure they didn't get any bed sores."
In the first series of the programme, the audience could vote with keypads to identify the murderer, before the ad break.
The "Arlington Grange" shown on the programme was in fact Arley Hall in Northwich, Cheshire. Stephen Leahy's new company, Ludus, revisited the location for Watching the Detectives.
Cast list
Series 1:
Peacock: Stephanie Beacham
Mustard: Robin Ellis
Green: Robin Nedwell
Plum: Kristoffer Tabori
Scarlet: Tracy-Louise Ward
White: June Whitfield

1990 Xmas special:
Peacock: Kate O'Mara
Mustard: David Robb
Green: Derek Nimmo
Plum: Ian Lavender
Scarlet: Toyah Willcox
White: Joan Sims

Series 2:
Peacock: Rula Lenska
Mustard: Michael Jayston
Green: Richard Wilson
Plum: David McCallum
Scarlet: Koo Stark
White: Mollie Sugden

Series 3:
Peacock: Susan George
Mustard: Lewis Collins
Green: Christopher Biggins
Plum: Tom Baker
Scarlet: Lysette Anthony
White: Pam Ferris

Series 4:
Peacock: Joanna Lumley
Mustard: Leslie Grantham
Green: Nicholas Parsons
Plum: John Bird
Scarlet: Jerry Hall
White: Liz Smith
Web links
Pictures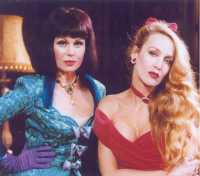 Mrs Peacock (Joanna Lumley) and Miss Scarlet (Jerry Hall).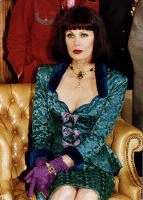 Joanna Lumley as Mrs Peacock
.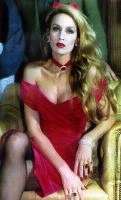 Jerry Hall as Miss Scarlet
.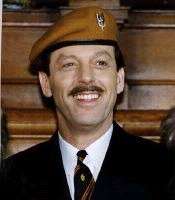 Leslie Grantham as Colonel Mustard.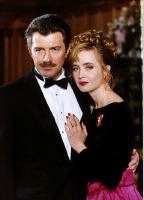 Professor Plum (Lewis Collins) and Miss Scarlet (Lysette Anthony) from Series 3.
Feedback