Cirque de Celebrité
Host
Ruby Wax (2006)
Jenni Falconer (2007)
Co-hosts
Judges: Louie Spence (choreographer), Ann Dorwin (aerialist), Phillip Gadney (circus producer)
Brian Dowling (2007)
Broadcast
Love Productions for Sky One, 15 October 2006 to 9 December 2007 (20 episodes in 2 series)
Synopsis
Live! From Sandown Park Racecourse! Or Woolwich Common! It's Ruby Wax!
Twelve celebrities (or eleven according to the website - seems they've carelessly lost one already) compete in a range of circus skills such as the rolling globe, the human pyramid and the swinging trapeze. The finale sees the final three attempt a blindfolded trip across the high wire.
To call the show "shambolic" would be unfair to shambles. Wax - a good choice on paper - proved to be out of her depth, frequently breaking (rather, smashing) through the fourth wall to hunt for clues from the director as to what to do next. Also, the eliminations proved to be a fraught affair, with Wax sometimes reading out the incorrect name of the person to be eliminated, and othertimes the celebrities mishearing the name called out leading to much confusion-type hilarity.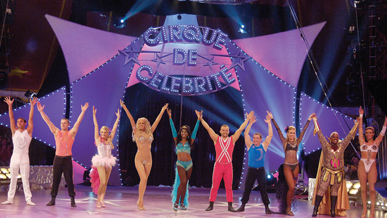 Enough of this lot, bring on the dancing horses
Due to the bizarreness of the whole thing, it at least got noticed enough to punch through for Sky One more than many of its other shows, ensuring it returned in 2007 but without Ruby Wax. The show continued to offer a job to Major Errors, suffering a telephone voting failure in its first edition back, an attack from Gerry Cottle, who said it made his industry look "cheap", and losing so much sparkle that they had to draft in Big Brother champion Brian Dowling to add some showbiz pizzazz.
Trivia
Sky's first game show to be broadcast in high definition.
Participants
Series 1
Grace Adams-Short (Big Brother contestant), winner
Nicola Wheeler (Emmerdale actress)
Ninia Benjamin (one non-blonde)
Mark Bright (ex-footballer)
Syed Ahmed (not The Apprentice)
Kenzie (popular music personality)
Sinitta (former popular music personality)
"Handy" Andy Kane (joiner)
Sophie Anderton (model)
Emma B (model)
Lee MacDonald (Zammo off Grange Hill, 1983-6)
Jamie Baulch (athlete)
Series 2
Kyal Marsh (Neighbours actor), winner
Luke Bailey (Casualty actor)
Stacey Cadman (Cavegirl actress)
Dwain Chambers (sprinter)
Isabella Harvey (lady)
Dean Holdsworth (footballer)
Rebecca Loos (pig-farmer)
Shayne Lynch (Boyzone member)
Liam McGough (Big Brother contestant)
Ritchie Neville (of boyband Five)
Antonia Okonma (Bad Girls actress)
Emily Scott (actress)
Princess Tamara (er, princess)
Hannah Waterman (East Enders actress)
Feedback