Claire Sweeney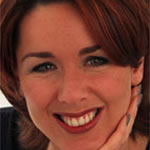 Biography
Liverpudlian actress best known for her portrayal of Lindsey Corkhill Stanlow Phelan (depending who she was married to at the time) in the Channel 4 soap Brookside from 1991 until it was put out of its misery in 2003. Arguably, her profile was raised after she appeared on Celebrity Big Brother in 2001, and she subsequently bagged a number of plum ITV presenting jobs. She also sings, dances, acts a little...
Trivia
She appeared on the 1987 revival of Top Town.
She's a former winner of Rear of the Year.
Contact
Web links
Feedback