Clockwise
(6 intermediate revisions not shown)
Line 1:
Line 1:
+

<div class="box">

<div class="box">

+

== Host ==

== Host ==

Line 8:
Line 10:

== Broadcast ==

== Broadcast ==

-

BBC1, 14 September 1989 to 30 March 1991 (32 episodes in 3 series)

+

BBC1, 14 September 1989 to 30 March 1991 (32 episodes in 3 series)

</div>

</div>

Line 18:
Line 20:

The original end game, entitled "Big Ben", had kids answering questions against the clock, in a spotlight against a dimmed studio for the feeling of suspense. By answering questions, mice would leap round the clock face, whilst the second hand (with a cat's head on it) would eat them if the kids took too long to answer the questions. The more mice they could get back round to 12 o' clock, the better the prize they won.

The original end game, entitled "Big Ben", had kids answering questions against the clock, in a spotlight against a dimmed studio for the feeling of suspense. By answering questions, mice would leap round the clock face, whilst the second hand (with a cat's head on it) would eat them if the kids took too long to answer the questions. The more mice they could get back round to 12 o' clock, the better the prize they won.

-

The end game for the Saturday morning remake in the second and third series was the Time Tunnel: "The Race Against Time" - kids try to get eight questions correct in one minute whilst travelling in a car going down the tunnel, getting attacked from all sides by various objects and people through history throwing gunge, dropping heaps of sand and spraying sillystring at them.

+

The end game for the Saturday morning remake in the third series was the Time Tunnel: "The Race Against Time" - kids try to get eight questions correct in one minute whilst travelling in a car going down the tunnel, getting attacked from all sides by various objects and people through history throwing gunge, dropping heaps of sand and spraying sillystring at them.

+

 

+
+

 

+
+

 

+
+

 

+
+

 

+
+

 

+

[[Category:Childrens]]

[[Category:Childrens]]
---
Revision as of 18:42, 22 November 2020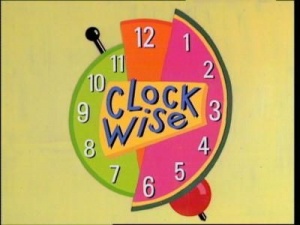 Host
Charlotte Hindle (1989)
Darren Day (1990-1)
Broadcast
BBC1, 14 September 1989 to 30 March 1991 (32 episodes in 3 series, as part of Going Live! (1991))
Synopsis
Kid's general knowledge quiz with a time theme. Remade with gunge and slotted into Going Live when they got bored of Double Dare, seemingly.
The original end game, entitled "Big Ben", had kids answering questions against the clock, in a spotlight against a dimmed studio for the feeling of suspense. By answering questions, mice would leap round the clock face, whilst the second hand (with a cat's head on it) would eat them if the kids took too long to answer the questions. The more mice they could get back round to 12 o' clock, the better the prize they won.
The end game for the Saturday morning remake in the third series was the Time Tunnel: "The Race Against Time" - kids try to get eight questions correct in one minute whilst travelling in a car going down the tunnel, getting attacked from all sides by various objects and people through history throwing gunge, dropping heaps of sand and spraying sillystring at them.
Inventor
Mardell Media 2000
Theme music
Martin Cook
Videos

The sixth episode of the first series.
Feedback