First Class Chefs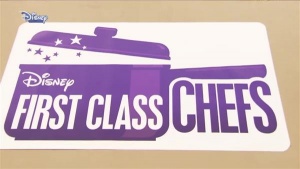 Host
Georgia Lock and Finney Cassidy
Co-hosts
Michel Roux Jr (judge)
Clara Amfo (credited as "voice over")
Broadcast
Fresh One Productions for Disney Channel, 22 June to 20 July 2015 (9 episodes in 1 series)
as First Class Chefs: Family Style: 15 May to 25 May 2017 (10 episodes in 1 series)
Synopsis
Pairs of young children impress Michel Roux Jr with their cooking.
The format is simple: a skills challenge earns a small time advantage in the main cooking contest. After sampling the dishes, and giving constructive feedback, Mr. Roux declares a winner.
Three teams aged 9-11 competed in each of four heats, followed by a pair of quarter-finals cutting the eight teams to four. The final three episodes dropped one pair each show.
The press release said that the series would test menu selection, food knowledge, buying, cooking, and mass production. All of these elements were present somewhere in the series. The producers hoped to inspire children to make healthy dishes themselves.
First Class Chefs was hosted by two stars from Disney's The Evermoor Chronicles. Adults might recognise some of the guests, including Joe Swash, Lisa Allen from Great British Menu, and Tom Kitchin from Masterchef Goes Large.
The series returned in 2017, reduced to 15-minute shows. A child and a grown-up worked together to create a meal in an hour, this series wasn't in a competition format.
Champions
2015: Connie and Maddie, "Doubleicious" from Derbyshire. Their prize was £10,000 to fund a "legacy project" for their school.
Theme music
Original music by Banks & Wag
Web links
Feedback