Michel Roux Jr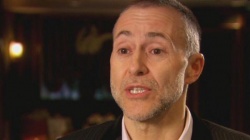 Biography
One of the Roux restaurateuring dynasty (his father is Albert Roux, his uncle the late Michel Roux Sr, and his cousin Alain Roux) and chef at two-Michelin-starred eatery Le Gavroche, which he took over after his father's retirement in 1993, and announced in August 2023 that he would close in January 2024.
Trivia
For several years his sous-chef was Monica Galetti, who joined him as a judge on Masterchef - The Professionals in 2009 and stayed with the show after Roux's departure.
Another former employee who got his TV break alongside Roux is maitre d', Fred Sirieix, who had already left Le Gavroche before reuniting with his sometime boss for Michel Roux's Service.
Feedback