For Facts Sake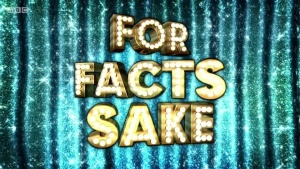 Host
Brendan O'Carroll
Co-hosts
Team captains: Two of Danny O'Carroll, Fiona O'Carroll, Jennifer Gibney, and Paddy Houlihan
Pat Shields (as "Pepsi")
Broadcast
Hungry Bear Media/BOC-PIX Ltd for BBC One, 15 October to 19 November 2018 (6 episodes in 1 series)
Synopsis
The cast of Mrs. Brown's Boys try to share odd and interesting facts.
Brendan O'Carroll and his friends invite four people from the audience to join their panel. Everyone in the audience has brought a fact. Everyone has brought a "thingymajiggy", an object they can give a fact and a fib about. In the game's opening round, the other side picks one of these thingymajiggies, and tries to tell which is the fact.
Other rounds vary from week to week. In "The Pepsi Challenge", Pat "Pepsi" Shields dresses up as a character from history, and asks a question about that person.
"Fact Hunt" asks the teams to guess which of four people would get a question right. "Funny as Fact" turns the smut up to eleven, as Brendan gives risque facts and invites the teams not to laugh. "Just a Theory" is a scientific experiment, complete with Einstein wig.
All shows end the competition with "Easy Peasy Expertisey", a guest expert joins the studio and asks questions. Then the final scores are declared, the winners get a Big Golden Trophy, and Pepsi sings us out.
Viewers didn't particularly enjoy For Facts Sake as much as they liked Mrs. Brown's Boys. Perhaps Monday night was the wrong place, this feels like a Friday night show for the Have I Got News for You slot. Perhaps each episode needed a little more focus, a dizzying array of facts left us feeling like we'd eaten at a trivia buffet. Perhaps being on straight after Peter Kay's Comedy Shuffle didn't help.
Title music
Andy O'Callaghan, credited for "Music".
Web links
See also
Feedback