Ieuan Rhys
---
Revision as of 08:25, 29 September 2004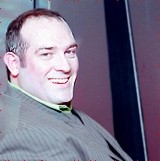 Biography
Actor born in Aberdare, South Wales. Appearances include TV productions such as Rhinoceros with Robson Green, Bomber with Mark Strong, Crimewatch Files:Wanted and the much acclaimed BBC2 play Nice Girl.
His film work includes the cult horror film Darklands and the Hugh Grant film The Englishman Who Went Up A Hill But Came Down a Mountain. For 13 years he was the village bobby in BBC Wales' long running soap Pobol Y Cwm and now combines acting in the detective series for Channel 5 Mind To Kill with presenting a weekly radio show for BBC Cymru/Wales called Showbusnesan.
Trivia
Has written four books for children in the Welsh Language and has recorded two albums.
Web links
Feedback