Impossible?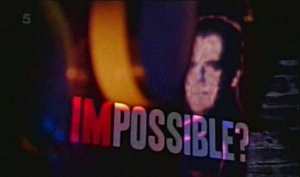 Host
Philip Escoffey
Co-hosts
Independent adjudicator: Alex Calver
Broadcast
Gogglebox Entertainment and Group M Entertainment for Channel 5, 12 May to 31 December 2011 (6 episodes in 1 series + 2 specials)
Synopsis
Billed extensively as the "first magic game show", this format immediately raises our hackles and earns itself the "Did Not Do the Research" tag as they clearly need to read this site a bit more (suggested starting points: Penn & Teller: Fool Us, Secrets of Magic, The Sorcerer's Apprentice, The Magicians). Avante!
Illusionist Philip Escoffey sets up a particular situation - such as predicting roulette numbers or finding a signed coin in a cocktail shaker without looking - and invites a pair of contestants to tell whether the stunt would be possible or Impossible - that is, no-one in the world could do it in the same conditions. If they guess correctly, they win £1,000 on the first challenge and this figure rises on the next four tasks to £3,000, £6,000, £10,000 and £20,000. However, if they guess wrong then the money is gone forever.
To ensure that (e.g.) Escoffey doesn't complete an Impossible trick by accident, he gives a sealed envelope to an independent adjudicator ("Mr Calver") containing the correct answer, to ensure fair play. However, since the guy walks off camera anyway, who's to say he doesn't switch envelopes? Couldn't the envelope just have stayed in shot throughout? Or even given to the contestants to hold?!
Anyway, after the fifth challenge, the money accumulated so far is placed into a suitcase and an identical suitcase is empty (bar a gag prop such as a piece of fruit). Escoffey then uses various psychological tricks to make the contestants choose the wrong case. He could name a case after your ex-girlfriend, bring on a psychic for their opinion, or write "No Money" on the case. If you choose the right case you win the money outright, otherwise you go home empty handed... bar a nice little consolation prize of an activity day out which seems to be always on offer.
On the plus side, Escoffey is a good handler of the format. He sets up the challenges well enough to give them a different feel, but not so that there's too much waffle. He has fun with the contestants, who are cast well and often give as much banter as they get. While the location (railway arches in London Bridge) is compact and bijou, it actually fits the bill quite well and feels like a late-night magic club. None of the challenges seem particularly easy to deduce, and there's plenty of good tooing-and-froing from the contestants as they try to work out how it's done. In this regard, they've got a better 'game' than Penn & Teller: Fool Us. They've done a solid job with the production values - the retro electric guitar music is cool and exciting, and the graphics package has a neat, if simple, theme throughout.
Sadly, there are too many faults that stop this having any chance of being a hit. First, almost all the challenges are mentalism-based, and mostly are predictions. The world of magic is much more varied than that, and it would have been nice to see something more physical, such as "I claim I can put my hand in this fire for one minute without burning". While Escoffey is a pleasant enough chap to spend time with, he does slightly outlast his welcome during the one hour slot and it might have been wise to have a guest act for at least one of the challenges just to ring the changes a little bit. Also, while they do seem to try to make the bigger money challenges more scaled-up or weird, there's never any challenge that seems outlandish or dangerous enough to get the heart really racing.
Then there is a big problem: the direction is beyond poor. Reveals are frequently missed or fluffed or cut away at inappropriate times, which leaves the viewer - at best - confused and - at worst - suspicious of camera trickery. Another problem is that we have to take the producer team's word for it that these tricks are Impossible when claimed. However, who's to say? One Impossible trick involved throwing a dart at a map, but didn't Derren Brown do a trick where the dart landed on a seeminly impossible location?
However, the main format flaw is that the Impossible challenges feel like A Bit of A Wasted Journey. We've basically spent five minutes of screen time looking at a magic trick not happen! Is that entertainment, really? Not sure... What might have been better is if he always did a trick, and then went on to ask a related, supplementary question which may or may not be Impossible. In other words, we always see some kind of effect, but some effects are more impressive than others.
Sadly and rather unfairly, the show flopped badly (see below) as it brought in audiences of under 1m. Now you see the audience, now you don't.
Music
Tom E Morrison, credited as "composer".
Trivia
Despite being trailed quite frequently before its launch, the programme received poor ratings for its first two episodes in a 10pm Thursday night slot, and as a result, the series was pulled from the schedules before the third episode was broadcast. The show returned on 5, 12 & 19 October in an 11pm Wednesday night slot with two newly-recorded celebrity editions and Episode 3 before being pulled from the schedules again. Episodes 4 and 5 were burned off in that oh-so-prestigious slot just after midnight (Episode 4: 29 November at 12.10am and Episode 5: 13 December at 12.25am) and Episode 6 was burned off on New Year's Eve in a 10am Saturday morning slot.
Web links
See also
Feedback