Secrets of Magic
Host
Co-hosts
Voiceover (broadcast pilot): Howard Hughes
Magicians: Danny Buckler, John Lenahan, Etienne Pradier (& Simone Bienne in pilot).
Broadcast
Objective Productions for BBC One, 2 August 2003 and 22 January 2005
Synopsis
Objective Productions, home of the baffling Derren Brown specials and the even more baffling 19 Keys, came up with this jolly wheeze: show how tricks are done, then repeat the trick using an entirely different method. Sucker tricks, as they are known in the trade.
In the pilot, most of the tricks were in the (horribly white) studio and a team of "celebs" (Donal MacIntyre, Ulrika Jonsson and Leslie Grantham) were invited to guess the method from a series of four options, usually including "D - None of the above".
It's fair to say that the show has caused quite a bit of fuss. Magicians were up in arms that some practical methods used by working magicians were being used as fodder for the show. This is true to an extent. There is a moral that says that if you invent a trick or method, it's more OK to expose it yourself (as Penn and Teller have done for some of their own stunts). That said, the Magic Circle were still not happy. Several of those working and appearing on the show, including producers Andrew O'Connor and Anthony Owen, and magician Etienne Pradier, were asked to leave the Magic Circle as a result. Lenahan had already been expelled long ago after exposing the three card monte swindle, a routine used by some magicians in their act, on the BBC factual show How Do they Do That?.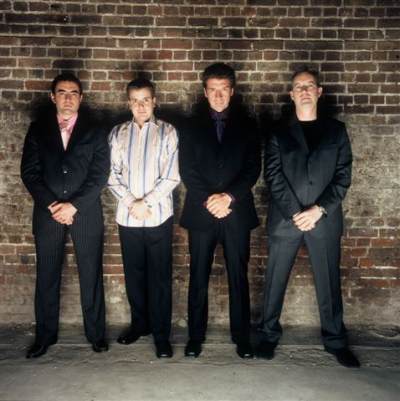 More shadowing please.
In a sense, the show could help magicians in the long term because most of the methods exposed were so practically complex that any working magician will be credited with more skill than they really have.
Made in 2003, but - ahem - 'rushed' out in January 2005, the second programme was somewhat better - the weak panel game was gone, the atmosphere was better, and the presentations were more fun although they still revolved too much along the lines of an explanation rather than an entertainment.
Frankly, we'd rather see some Best Of clips from the Paul Daniels Magic Show.
Web links
Magicweek's verdict on the pilot show
Feedback