Insert Name Here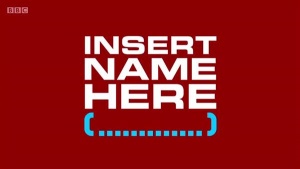 Host
Miranda Hart (non-broadcast pilot)
Co-hosts
Team captains: Richard Osman and Josh Widdicombe
Broadcast
12 Yard and Black Dog Television for BBC Two, 4 January 2016 to 27 February 2019 (28 episodes in 4 series)
Synopsis
A panel game based on people with the same given name. They interpret "same" as "coming from the same root", so Frank is joined with Francis, Frances, and Chico.
There are two competition styles. For the first half of the show, the panel picks names from a clue, so "Singing Frank", "Hidden Frank", that sort of thing. Sue Perkins gives some facts about the historical figure, and eventually asks a question.
Towards the end of the programme, there's a multiple-choice round. "Which Frank led the charge against the Huns?" Correct answers to these questions win a paper cutout of the Frank in question, and the winning team gets to name the greatest Frank of all time.
There's always a historian on the benches, and team captain Richard Osman makes learning look effortless on Pointless. Insert Name Here is very subtle education, learning facts about historical characters while having a laugh.
The panel show stands and falls on its panel, here in two teams of three. Josh Widdicombe is the other team captain, an old hand at the panel game. It's clear that the producers have put some effort into their bookings - we can't remember Jennifer Saunders or Danny Baker appearing on a panel show in this decade.
Key moments
Perkins reminding Kate Williams she was on a comedy panel show, in her own inimitable way.
Inventor
Dan Gaster, Paul Powell, Will Ing
Title music
Will Slater, credited as "composer".
Trivia
Three pilots of the show were filmed over four years. The first pilot was filmed in 2011 under the title And You Are...? with Miranda Hart as host. The second was filmed in 2013 under the title Name Dropping with Sue Perkins as host. The third was filmed in 2015 under the show's eventual title, again with Perkins as host.
Web links
See also
Feedback