Weaver's Week 2016-02-14
Last week | Weaver's Week Index | Next week
An experimental edition of the Week, each main article ends with a short video playlist.
And now, the anthem of Tivoli, a planet invaded more often than any other in the galaxy. The Orion Nebula Choir, led by Katherine Jenkins, "Praise to Insert Name Here".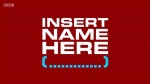 12 Yard / Black Dog for BBC2, 4 January – 8 February
So when we say "BBC2 panel game", you already have a mental picture of what you'll see. Long studio desk, two teams flank the presenter, video wall backdrop. Every show since the invention of QI has done this.
It's the same on Insert Name Here. Sue Perkins is in the central host's chair, Richard Osman and Josh Widdicombe are the regulars, and there are four more voices on each show. Across six episodes, that's 24 guests. Mock the Week had 22 across the whole of last year. No wonder it's staler than month-old bread.
A good show needs a strong central idea, firm foundations. Insert Name Here has an idea, but we're surprised at how weak it is. Each edition will discuss people who have the same given name. And by "same", they mean "from the same root".
The opening show took "Frank" as its given name, which included questions on "Frankie" (yes), "Franz" (the German form), "Francis" (a not-so-obvious relation). They could have gone on to "Chico" (a Spanish shortening of Francisco). But this can get weird when discussing Frances Gumm, as Josh Widdicombe noted in the first few minutes,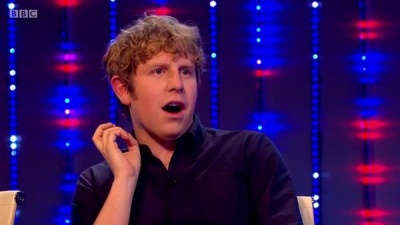 "Are we not pushing our luck a bit with Judy Garland as a Frank? It's a bit worrying for the longevity of this show that the first person we've chosen doesn't even have the right name."
For the first round, the teams pick from a short list of categories – "Sporty Kate", "Royal Kate", that kind of thing. The categories conceal a person. Sue reads out some facts about the person, which sparks a general discussion from the panel.
Eventually, the host will ask a question about the subject. In response, the panellists reel off some more anecdotes, have a bit of chitter-chatter, which may or may not have some passing relevance to the question Sue asked.
Guests who give answers (such as Kate Williams in the first show) might be ignored in favour of Josh's blabberation. Frustrating if you're watching this to learn structured facts, but entertaining if you're here to be gently entertained.
Later in the show, Sue names names, offering a choice between Frank Spencer or Frankie From The Saturdays. The winning team gets to name "the greatest Frank of all time". (Godfrey, obvs.)
When reviewing a panel game, we use the "six laughs" test. If the show causes us to laugh six times in a 30-minute episode, it's a comedy panel game. By this yardstick, I'm Sorry I Haven't a Clue hasn't been a comedy since 2009. Insert Name Here also failed as a comedy, two sample episodes ("Frank" and "Kate") generated three and two laughs. We gave up after that.
Insert Name Here isn't a quiz, either. It feels like a bunch of famous people sitting around and doing their level best not to answer questions. Inevitably, a few answers will slip through the net, these things happen while one's back is turned. More often, it's chatter and blather and babble and prattle and yakking.
It is the antidote to QI, we've always found Fry's show to be didactic. Too much like sitting through a history teacher who tries to amuse the class but only ends up pleasing himself. To its credit, Insert Name Here educates by accident – and the fact that there's a historian every week tells us how they educate.
Insert lovely picture of Richard Osman here.
The best thing going for Insert Name Here is a representative booking policy. The "Kate" episode featured guests Jennifer Saunders, Jessica Hynes, Suzannah Lipscomb, and token guest bloke Romesh Ranganathan. Seven people in the room, the majority are women. We approve, and we'd like to be in a place where this wasn't at all remarkable.
But overall, Insert Name Here is unremarkable television, it didn't excite us in any way.
BBC3
2003 – 2016
Our plans to write an extended obituary for BBC3 changed when we had the need to write an extended obituary of Terry Wogan last week. So here's a briefer obituary.
"We firmly believe young adults, although well-educated about digital technology, nevertheless feel digital television has little to offer them and are underserved by traditional public service broadcasting," said the BBC in December 2001.
BBC3 had a tortured beginning. The Blair government decided that it would decide which channels the BBC would launch. The government said they wanted to protect independent channels, but it seemed they wanted to guarantee profits for the private sector. The original plans for BBC3 were for an entertainment-led channel. "For the young and the young-at-heart".
Tessa Jowell knocked these ideas back, she said they were "insufficiently distinctive" from commercial channels. The ad-funded sector claimed they'd lose £25 million a year, the BBC said they'd lose £4m-£6m, the actual loss was "no more than £7m".
So the BBC put forward plans closer to Labour's idea of public service broadcasting. After months of procrastination, Jowell eventually gave a go-ahead. More because she couldn't find a sane reason to block them again, and perhaps wanted the BBC to get on board with the nascent Freeview service.
The "obvious public service" addition was to promote politicians and their waffle. One of Jowell's concerns was that a generation of young people would grow up alienated from "politics", and by "politics" she meant "party politics". And by "party politics", she meant "get the young interested, because all the young always vote Labour".
Like most other politicians, Jowell did not stop to consider the flaws. Not all the young vote Labour; not all the young vote. She didn't consider that she was the problem, that young people were interested in getting things done. We weren't interested in remote apparatchiks who only see the real world through the windows of their chauffeur-driven limousines. We wanted to do, to take part in unpredictable events like Flashmob The Opera and The Salford Passion.
BBC3 promoted party politics through Young Voters' Question Time. The channel did the politics that did appeal to young people on subversive shows like The State We're In and The Revolution Will Be Televised. There were single-issue documentaries like Shaun Ryder Comes Clean and Where Am I Sleeping Tonight?. There were short seasons of programmes such as last summer's Defying the Label. Stacey Dooley Investigates was as hard-hitting as Panorama, and much more entertaining. Politics, but not as the politicians want to understand it.
Here we are, now entertain us
Everyone agreed that BBC3 should develop new talent and encourage stars of the future. The channel had great success in comedies. Little Britain started its television life on BBC3, then boinged its way straight up to BBC1, making stars out of its regular cast. Gavin and Stacey followed the same path, bringing Rob Brydon's immense talents to national attention. David Tennant (who he?) starred in Casanova.
BBC3 had a few remnants of the old Extending Choice channel it replaced. Same-night repeats of Eastenders, spin-off shows from Strictly Come Dancing and The Apprentice, backstage footage from Fame Academy. And spin-off programmes from Dr Who, including the Torchwood drama series in its own right. BBC3 was also the home to shows that BBC2 didn't want, like the Eurovision semi-finals and much sports coverage. The channel was only allowed to fill 10% of its hours with non-European programmes, so Family Guy was about as far as it went.
New drama was important to BBC3, but it's so expensive to make. Cost-cutting measures included End of Story, where a famous writer started a script and left the viewers to finish it. A string of pilots in 2007 included Being Human, picked up for five series of reducing quality. A supernatural arc continued with In the Flesh and The Fades. Glossy drama such as Tataou concentrated more on relationships.
Game of games
BBC3 included some game shows, though we were surprised to reflect on just how few there were. Many of the games were comedy. Many tended to be experimental, or not get recommissioned. Hidden camera show CCTV (2003), pop culture nonsense Headjam (2004), Stars in Fast Cars (2005). Clever v Stupid (2009) asked intriguing questions about intelligence. The King is Dead (2010) was a job interview for famous positions. Dating show Hot Like Us (2011), and chat shows Britain Unzipped (2 series, 2012) and Sweat the Small Stuff (3 series, 2013-14). This column still reckons World Series of Dating (2012) was a highlight. Killer Magic (2014-5) offered tricks around a theme, with the worst performer required to undertake a dangerous feat. But nothing so dangerous as "Yes, I'll do The Jump."
Some games tried to make bigger points. They tried to make The Bachelor (3 series, 2003-5) for UK audiences. Perfect Housewife (3 series, 2006-7) tried to make tidying up compelling. Three series of this?! Celebrity Scissorhands (3 series, 2006-8) did hairdressing for charity. Move Like Michael Jackson (2009) did what it said on the tin, as did Young Talent of the Year (3 series, 2009-12). Young, Dumb and Living Off Mum (3 series, 2009-11) was another look at inter-generational relationships. I Survived a Zombie Apocalypse (2015), unlike 75% of the viewers, who tuned out when no-one got deaded.
BBC3 Top Three (And Three More)
Spy (2004) was a super-realistic insight into the world of the intelligence services. There would never be a second series, not when this was as perfect as it was.
Last Man Standing (2007-8; as Last Woman Standing, 2010) brought the world to our screens. Six players went to various unusual tribes, and took part in local rituals. All done with respect and a spirit of honest exploration; the players and commentators weren't sneering at these "uncivilised" people.
The Last Millionaire (2008), "successful" young businesspeople travel the world. They're off the show if they win a challenge, but they'll avoid the shame of being the most unsuccessful of their peers.
Hair (2014) turned out to be a show made with love, gently encouraging its contestants to make the best of themselves, and to produce jaw-dropping creations. Steve Jones (2) gave a superb performance as host, he pretended to know nothing so he could ask just the right questions.
The Fear (2015) was BBC3's last game show commission, and reflected the channel's priorities. Promote British talent, by asking them to make a scary film. Make a good show, use the Gogglebox model and show the same people judging the entries. And challenge the audience: what makes a good horror film? Will you know it when you see it?
Hercules (2004), a twelve-day marathon of extreme endurance. Throw a rock 50,000 metres, and fetch it again! Climb up 20,000 flights of stairs! Hold your breath for two-and-a-half hours! Only the most dedicated would try to do this; only Mike Dixon would succeed.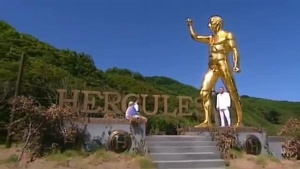 Picking favourites
For our money, BBC3 was at its strongest when reflecting the audience back to itself. Diners was the simplest television, film people talking around a dinner table. Don't Tell the Bride was an entertaining caper that asked subversive questions about marriage and patriarchy. Snog Marry Avoid discussed body image in a non-threatening way. Sun Sex and Suspicious Parents gave insights into relationships between the generations. And just this month, Superstar Vloggers looked like the first in a series about what it means to be famous in the modern age.
The BBC will not make that series. Ever since it began, BBC3 has been criticised by people who don't understand it, and who made no effort to understand it. Harry Hill could select ten-second clips from Freaky Eaters and claim that BBC3 was for morons, not like the clever people who watch his show on ITV. Oh, it's fine to snip "Stop making sausages!" from Young Talent, but not to note how the show celebrates people making a positive difference. Something that Mr. Hill might have tried. Newsnight could pick out a punchy show title like Addicted to Boob Jobs and snicker behind its well-manicured hand. Newsnight didn't consider that the same material could form a Newsnight film with little editing.
This drip-drip-drip of criticism from snobs who refused to look beyond the title, combined with an inadequate license fee, meant that something had to give. BBC management chose to close BBC3. Sorry, sorry, move BBC3 online. And to slash its funds by 80%. The decision's based on two lies: one, that closing BBC3 would save money, which it won't. And two, that the audience is all watching online anway. Not quite; the audience is watching on catchup, on Freeview Plus or Sky Minus or their own PVR.
The facts remain. Before BBC management ran down the channel for closure, BBC3 was the top channel amongst people aged 16-24. It remains the only BBC television channel to serve the C2DE working class viewer. These people are different from politicians and management, who tend to be old and upper-middle class. BBC3 wasn't speaking to the Westminster elite, it wasn't speaking to the BBC executives. Because it didn't speak to them, they concluded it wasn't speaking to anyone.
This column reckons that everyone involved is playing favourites. The BBC management and governors plays favourites, they bet the bank on television drama and BBC1 and the other things that make the Westminster class feel important. The present government plays favourites by denying the BBC independence to set its own budgets. The Labour government played favourites when it "protected" commercial channels from the BBC's plans.
Once again, the old, the elites and Westminster win while regular viewers lose. That's the legacy of BBC3.
Second round, show 1
Richard Tring took the Life and Times of Brian Clough, and scored a high-quality 10 points (and 0 passes). Stephen Porter had the Films of Paul Verhoven, and scored a tight 9 (0). Dave Barker took the Electric Light Orchestra, and scored a Perfect Round, 11 (0).
Already, a high-quality match tonight. John Savage took the Easter Rising of 1916, and scored 10 (0). Rachael Neiman offered David Sedaris, scoring 9 and what the host interprets as 1 pass. We say "interprets as", because the contender began an answer, and didn't finish or correct herself.
Knowing he's got to run up the points at speed, Stephen Porter answers or passes, finishing on 20 (3). Rachael Neiman just runs the points up at speed every time, closing on 21 (1).
Richard Tring is calm and collected, gently cruising and picking up the points. Like Rachael Neiman, he closes with two errors; and he takes the lead, 21 (0). Dave Barker has this week's Really Difficult set, closing on 19 (0).
And Dave Barker is just a little less fluent than Richard Tring, spilling points here and there to finish on 21 (0).
The match is drawn. Under the rules of Mastermind, there has to be a winner to each show, there is only one space in the final, so we have a five-question play-off. After his opponent slips into the Salford corridor, Richard Tring is in the chair, taking questions on a shambles, motorcycles, Countdown, the army, and Tolstoy. Dave Barker returns to the studio to face the same five questions, and it's tight.
Dave Barker got two, Richard Tring made three correct answers. He will be in the final, which we think will air on Good Friday.
This Week and Next
The Jump continued, live from the casualty units of Innsbruck. Tina Hobley dislocated her elbow and couldn't continue. Rebecca Adlington withdrew after dislocating a shoulder in the first week. Beth Tweddle also pulled out after a heavy crash, she's had to have surgery.
Linford Christie tweaked a hamstring while training, he'd withdraw later in the week. Sid Owen had a heavy fall in the snow cross, and Mark-Francis Varndelli was also attended by paramedics, and pulled out on Tuesday. After all that, James "Arg" Argent was dispatched from the competition, failing to clear 9 metres in the jump-for-height.
We also heard that Channel 4 would review the programme's safety procedures, because this just looks bad. Viewers like to see celebrities fall over; we love to see them get back up again. At press time, we still expect to see the Speed Ski event on tonight's show.
Southampton and Liverpool met in the last match of the University Challenge group phase. For the longest time, we thought this would be the crucial exchange:
Here's your first starter for ten.
Q: "It's not worth doing something unless someone, somewhere, would much rather you weren't doing it." These words are generally attributed to which writer, who died in March 2015?
Southampton: Terry Pratchett
Southampton opened a lead of 60 points, but Liverpool refused to be beaten, and pulled level with seven minutes to play, and opened a lead of 30 themselves. But Southampton also refused to be beaten, and took the lead themselves. Someone had to win, and it was the good people of Yorkshire: winners of the cricket and host of the Tour du Yorkshire the summer before last. Southampton had that knowledge, and a winning score of 190-150.
BARB ratings in the week to 31 January.
Call the Midwife remained the most popular programme, with 9.5m viewers. BBC The Voice was the top game, on 7.7m.
Bake Off returned with a celebrity edition, and 6.1m watched Samantha Cameron. Pointless Celebrities itself had 4.6m, and Ninja Warrior grew to 3.7m.
University Challenge (3.25m) and The Chase (3.05m) had good weeks. Celebrity Big Brother continued, 3.05m for the Friday show. The Jump slid off with 2.4m viewers.
Lip Sync Battle (1.6m) finished ahead of Mastermind (1.55m), which has to say something. Take Me Out The Gossip led multi-channels, with 775,000. A League of Their Own was just behind, 710,000 viewers.
45,000 people watched Last Night's Big Brother on MTV, and 21,000 saw "Live" From The Studio on the time-shifted 5*+1 channel.
Masterpiece with Alan Titchmarsh comes to ITV daytimes. Next Saturday sees the return of Saturday Night Takeaway (ITV), and CBBC's new game of drones, Airmageddon.
Photo credits: 12 Yard / Black Dog, Wall to Wall, BBC, Lion Television, Tiger Aspect
To have Weaver's Week emailed to you on publication day, receive our exclusive TV roundup of the game shows in the week ahead, and chat to other ukgameshows.com readers, sign up to our Yahoo! Group.