Ken Bruce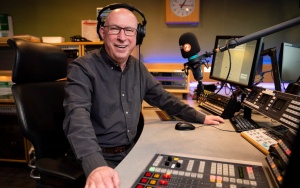 Biography
Scottish DJ, a Radio 2 regular from 1984 until 2023. He rode out the many changes in Radio 2's musical output (from pop to easy listening and back again) and was synonymous with the Popmaster quiz.
Beforehand, he was a staff announcer for BBC Scotland on radio and, occasionally, television.
Ken left the BBC in 2023, taking his show to commercial station Greatest Hits Radio.
Trivia
Ken used to own a quarter share in a vintage Routemaster bus. Two of the other members of the consortium were Alan Dedicoat (Voice Of The Balls) and Charles Nove, two of the Radio 2 newsreaders.
Books
Tracks of My Years: The Autobiography (hardback)
See also
Web links
Feedback