Reflex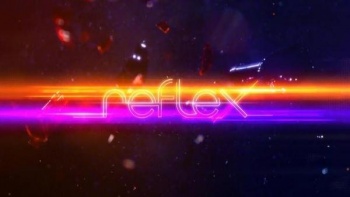 Host
Jake Humphrey (non-broadcast pilot)
Co-hosts
Commentator: Ken Bruce
Broadcast
Objective Productions for BBC One, 11 January 2014 to present
Synopsis
Putting the "B" into bang, putting the "go" into go-getter, Shane Richie hosts a show with the fastest reaction times in the world.
Two teams of three family members compete in five rounds that test speed and reactions. We'll see people falling through eight-foot balloons, diving through glass panels, and picking the one yellow can from a pyramid.
Objective Productions have learned from many series of The Cube, and have managed to come up with a style that takes these very slight games and turns them into proper television spectacles. Reflex has a slow-motion style, with time slowed down and rewound to bring out the spectacle. It also has a commentary style, Ken Bruce straddling "wry" and "silly", and too often ending up on the silly side.
The second half is the same on every show: the winning family is determined by a button pushing quiz - players are to push when they see something on the screen when the time reaches 2pm, or they see a dog without sunglasses. The winning family nominates a member to stand on a podium and hit green balls and avoid red ones fired at them. And the anti-climactic ending when they decline to gamble against one final ball.
Theme music
Nick Foster and Ken Bolam
Web links
See also
Feedback