Les Dawson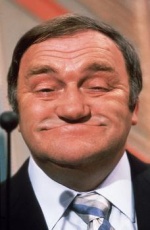 Biography
Lancashire-born comedian who will always be remembered for playing the piano wrong and jokes about the mother-in-law, as well as being, along with Roy Barraclough, one half of the constantly-gossiping fictional double-act, Cissie and Ada. After appearing on Opportunity Knocks in 1967, he never looked back. (Until 1990, that was, when he returned to host it.)
He died in 1993 after a heart attack.
Trivia
Before he became famous as a comedian, Dawson used to write poetry.
He broke his jaw in a boxing match, thus being able to pull grotesque faces by pulling his jaw above his upper lip. No doubt he would have shone in the gurning competition, held annually in the Cumbria town of Egremont.
He began his entertainment career as a pianist.
His last-ever television role, which was screened posthumously, was in ITV's 1993 comedy-drama "Demob", alongside Griff Rhys-Jones and Martin Clunes. Dawson played the wartime comedy legend Morton Stanley. He had also played a 100-year-old woman in a BBC drama a few years earlier.
Dawson made an amusing appearance on a 1990 edition of The Generation Game in a 'chat show' game. The two female finallists had to announce that their special guest would be Clint Eastwood, while the men had to annouce that theirs would be Goldie Hawn - and the guest turned out to be Dawson in all four cases. Of course, the contestants did not get any indication of the surprise in store, because they were not allowed to watch each other play the game. Dawson proved a good and amusing interviewee, and very kind to the contestants, just as he had been on Opportunity Knocks earlier that year.
Dawson had three children with his first wife, Margaret, who tragically died during his time on "Blankety Blank". He later remarried the considerably younger Tracy and had a daughter, Charlotte, with her, although he sadly died soon after that. In 2013, a special show, 'An Audience With Les Dawson That Never Was', was put together by means of a combination of archive footage and computer trickery, thus recreating a Dawson stand-up comedy show. Tracy and Charlotte were in the audience, as were many of Dawson's celebrity friends and fellow comedians. Charlotte Dawson would later show up on Ex on the Beach.
Books / Tapes
No Tears for the Clown (biography, hardcover) (paperback)
Web links
Feedback