Joker's Wild
Host
Michael Bentine (substitute, 1971)
Co-hosts
Hostess: Isabella Rye (1969)
Team captains:
Les Dawson (1969-73)
Ted Ray (1969-71; 1973-74)
Jack Douglas (1970-74)
Warren Mitchell (1970; 1972-73)
Rolf Harris (1971)
Bob Monkhouse (1972-73)
Jon Pertwee (1972-74)
Leslie Crowther (1972-74)
June Whitfield (1973)
Michael Bentine (1973)
Broadcast
Yorkshire Television for ITV, 15 April 1969 to 20 November 1974 (pilot + 147 episodes in 9 series + 2 specials)
Synopsis
Two teams of comics would battle it out to make the audience laugh. Each comedian had to tell jokes on categories written on oversized playing cards on Cryer's desk unless a joker came up which gave the comic free rein. Points could be scored by the other team if they could see where the joke was headed, buzz in, and complete it with their own punchline. There was also a speed making the audience laugh round going into and out of the commercial break.
Not to be confused with the US show of the same name.
Inventor
Ray Cameron and Mike King
Trivia
Format based on a 1950s American show entitled Can You Top This?.
Some episodes were recorded at Tyne Tees Television's studios in Newcastle.
Merchandise
Joker's Wild: The Complete First Series (DVD)
Joker's Wild: The Complete Second Series (DVD)
Web links
Pictures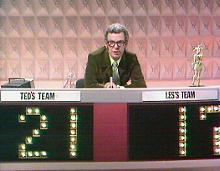 Barry Cryer and the scores on the board.
Videos

The networked pilot that aired on 15 April 1969. Before technology, there were flipping cards.

The very first episode that aired on 9 July 1969.
Feedback