Make Me Prime Minister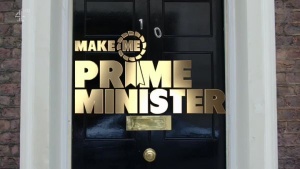 Host
Voiceover: Sue Perkins
Co-hosts
Judges: Alastair Campbell and Sayeeda Warsi
Broadcast
Twofour and Accidentally On Purpose in association with Motion Content Group for Channel 4, 27 September to 1 November 2022 (6 episodes in 1 series)
Synopsis
A contest to find Channel 4's Alternative Prime Minister, through the lens of Westminster politics in the early 2020s. The press release told us,
Twelve ordinary yet opinionated contestants on their political views will be put through their paces in a series of prime ministerial style tasks designed to test their leadership skills, resilience, and integrity. They will have to keep their campaign hopes alive and make it through the weekly vote, each candidate will need to persuade and convince former politicians, experienced journalists and most importantly the public, that they have the charisma, vision, and political acumen to lead.
Twelve candidates are split into two "parties", and asked to come up with a policy on an area of concern - education, health, energy, crime, and others. Each party appoints a "prime minister" from their ranks.
We see the candidates go out into the real world, talk to people about their proposed policy, perhaps refine it a little. A media launch provides televisual excitement, and there's harsh criticism from invited journalists.
The two "prime ministers" explain their policies and answer questions from an audience. The audience votes, and whichever policy-slash-"prime minister" they prefer is safe. The losing "prime minister" is given the chance to resign; if they don't, judges Alistair Campbell and Saeeda Warsi will remove one of the losing party.
Two episodes followed a different format. One was similar to Crisis Command, the cabinets are faced with a dramatic day when all sorts of crises took place. For the final, the remaining candidates developed their personal Big Idea, with a campaign video and an open-top bus tour.
Make Me Prime Minister was all about the presentation. At no point were the candidates challenged by impartial experts in the field, the only challenge came from television and radio journalists. Was this because the resident judges - Campbell and Warsi - were experienced in selling policy and less practiced at making policy?
Some viewers saw elements from imitation business programme The Apprentice. Game show experts compared and contrasted with CBBC's Election, spotting differences with both formats.
Inevitably, there was an element of stunt casting. Jackie Weaver was the name everyone knew, she had gone viral as the clerk to an unruly parish council. The show also had the son of popstar Goldie, a TikTok sensation, a retired professional footballer, and some people who had stood for political office.
The show benefitted from a snarky voiceover by Sue Perkins, showing up the folly of the candidates and expressing disbelief at the real-world politicians. Sharp editing contrasted the show's real world with Westminster artificiality - or was it the other way round...
Make Me Prime Minister did not pigeon-hole its candidates into an existing political party, underlining its key message - assess the policy, judge the person, not the rosette.
Champion
Natalie Balmain, on a policy to end tax avoidance by large multinationals. The series prize was £25,000 cash.
Title music
Justin Nicholls, credited as "composer", wrote an imitation-Baroque score with lots of strings.
Inventor
"Matt Edmondson and Rees Howell for Accidentally On Purpose", according to the credits.
Trivia
The heats and the final aired straight after the 2022 run of The Great British Bake Off, on Tuesdays. The semi-final, broadcast on 25 October 2022, aired an hour later, as Channel 4 gave its slot to Jimmy Carr Destroys Art. By an incredible unplanned coincidence, this happened to be broadcast on the very day that Rishi Sunak became prime minister - this couldn't have been planned, because by the time Liz Truss had resigned, both the semi-final and final had been scheduled, and the Conservative leadership contest only didn't finish on the 28th because all the other candidates had dropped out.
This wasn't Sayeeda Warsi's first game show appearance. Almost twenty years earlier, she'd tried to save us from a flood on Crisis Command.
Web links
See also
Feedback