Peter Dickson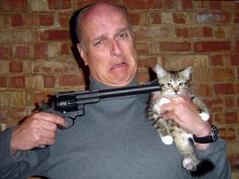 Biography
A voice artist with a long and varied CV, including a stint as the BBC's youngest-ever TV newsreader (aged 17), four years as a DJ on Radio 2, book readings on Radio 4, narrating countless TV documentaries and trailers, and performing as part of Steve Wright's original Radio 1 "posse". He also had a bit part as a voiceover man-style character in the disturbingly wacky cartoon series Monkey Dust.
Trivia
Peter holds a degree in Psychology.
He's also one of the voices on top computer game Everybody's Golf.
Too lazy to talk? Why not get Peter to do it for you? In February 2010 he launched his own iPhone application, Peter Dickson's (Voice Over Man) Pocket Announcer, which allows you to create sentences using a bank of "several thousand" words recorded by the great man himself. The developers modestly claim "we believe that this application is one of the most useful applications to ever hit the AppStore."
Web links
Feedback