Magic Numbers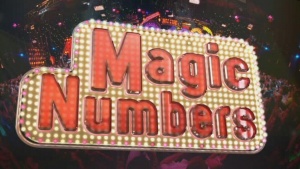 Host
Co-hosts
Announcer: Peter Dickson
Broadcast
CPL Productions for ITV1, 17 July to 28 August 2010 (7 episodes in 1 series)
Synopsis
In this completely original format (ahem!), Stephen Mulhern oversees a mix of celebrity performances and various games which generate a series of numbers. If those numbers match the landline or mobile telephone number of viewers at home, they can phone in for the chance to win up to £250,000.
If you can help us to expand this entry, please provide as much information as possible, using the feedback form below.
Theme music
Ken Bolam and Nick Foster, credited for "composed music".
Trivia
On 7 August 2010, Pamela Mullins of Arbourthorne, Sheffield, won £290,000 as a phone-in player. She told local paper, the South Yorkshire Star, "I was absolutely stunned. 'Gob-smacked' as we say in Yorkshire. My husband was at the local working men's club playing bingo, trying to get some extra Euros for our holiday. When he came back he came upstairs and said, 'I ain't won owt'. When I told him he went ashen - he thought I'd had too much to drink."
See also
Feedback