Sion a Sian
Line 37:
Line 37:

[[Roy Ward Dickson]]

[[Roy Ward Dickson]]

+
+
+
+

== Pictures ==

== Pictures ==
---
Revision as of 21:45, 25 February 2007
Host
Dai Jones (original presenter)
I B Gruffudd
Co-hosts
Hostesses: Mair Rowlands, Mari Emlyn, Jenny Ogwen, Rosalind Lloyd, Gillian Elisa
Broadcast
Teledu Cymru / HTV Cymru, 22 April 1964 to 30 December 1967
Revived on HTV Cymru, 15 May 1971 to 1982
HTV for S4C, 1983 to 2003?
Synopsis
"Sion A... what?" I hear you cry. Never heard of it? In fact this was the original Welsh version of the programme which later became Mr and Mrs - first on Border and HTV then, from 1973, picked up nationally by ITV.
Despite the disastrous Julian Clary version in 1999, the programme had a good stab at a revival (HTV Wales for S4C) from 1996 to around 2003.
Catchphrases
"Bant i'r Bocs" (To the box)
"Y'ch chi yn byw 'da'ch gilydd?" (You do live together?!)
Inventor
Trivia
The original presenter of Sion a Sian, Dai Jones talks at length about the original version of the programme in his autobiography Dai And Let Live, which is a English translation of the original, Fi Dai Sy' 'Ma.
Pictures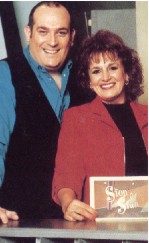 Picture 1
- S4C hosts,
Ieuan Rhys
and Gillian Elisa
Feedback