Stars in Their Eyes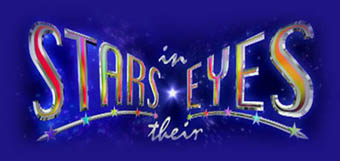 Host
Chris Tarrant (non-broadcast pilot)
Leslie Crowther (1990-2)
Russ Abbott (1993: Elvis special)
Matthew Kelly (1993-2004)
Davina McCall (2003: stand-in)
Cat Deeley (2003: stand-in, 2004-6: permanent)
Harry Hill (2015)
Co-hosts
Announcer:
Andrew Brittain (1990-2006)
Peter Dickson (stand-in, 2006)
Sally Lindsay (2015)
Judges (1990 final):
Pete Waterman
Joe Longthorne
Sally Whittaker
Broadcast
Granada in association with J. E. Entertainment and Action Time for ITV, 21 July 1990 to 23 December 2006 (166 epsiodes in 16 series + 49 specials)
Initial (an Endemol company) for ITV, 10 January to 14 February 2015 (6 episodes in 1 series)
as Stars in Their Eyes: Kids, 21 July 2001 to 18 March 2006 (Pilot + 33 episodes in 4 series)
Synopsis
Singer impersonation show. Five people who think they sound like a musical star talk to Matthew about their job, their life and the universe. They then go through the "star door" and (kaboom!) after a few dry ice clouds they suddenly become the star of their choosing. You don't see the bit where they're done up in Make-Up for an hour but still...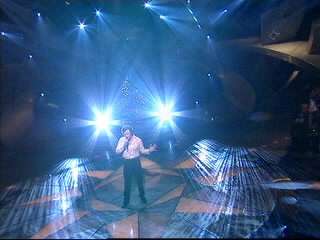 The lighting effects do overtime.
They then give a performance sounding like the star of their choice. Of the five, an average of two or three will be people you're guaranteed to have never heard of, the audience has never heard of (but will clap exactly four bars into their song regardless) and the producers have never heard of, but the performances are usually of a high standard.
At the end of the show, the audience votes for whoever they thought was best, the winners going through to the live grand final. In the live grand final, the 9 heat winners (12 from 1996-9, 10 from 2000-6) each sing live on television and there is an hour-long phone poll to decide the winner.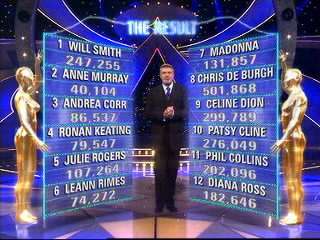 The final scores for the 10th series final.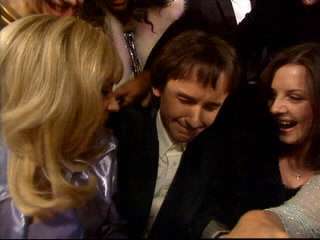 ...and "Chris de Burgh" is the winner!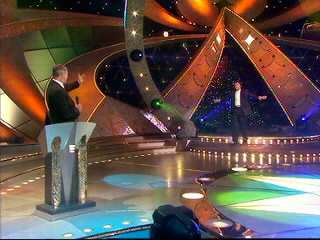 Matthew Kelly congratulates the winner.
Often, record companies watching the show ring up offer contracts to certain contestants and aren't told about it until their amount of votes is read out in the results show. The winners are always the bloke playing Marti Pellow from Wet Wet Wet (even if he isn't actually in the final) and BT who take over a million 0898 calls.
A fixture of Saturday nights for donkey's years, Stars in Their Eyes fell off our screens in 2006. No-one much missed the show at the time, but repeats showed it could still bring in an audience. After ITV decided not to pursue the talent show Rising Star, the old faithful Stars in Their Eyes was recommissioned in 2015. Comedian Harry Hill took over the host's duties, and steered the show in a new direction. It became a vehicle for his trademark anarchic humour, all slapstick and sketches with very little singing. Unfortunately, this outraged many viewers who were fans of the original and ratings soon plummeted from 3.41m to 1.86m in the first four weeks alone. It wasn't renewed.
But you can't keep a good format down. Under the new name Starstruck, the show returned in early 2022. It's sufficiently different that we treat it as a new show.
Celebrity special
A special show in 1998 allowed celebrities to become other celebrities (confused?) for a night. It's fair to say there were some surprises.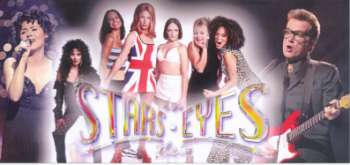 Promotional postcard for the first celebrity special
Tricia Penrose (actress from Heartbeat) portrayed Lisa Stansfield; Frank Skinner (comedian) was Elvis Costello; Carol Vorderman (Countdown) became Cher, Steven Houghton (from drama series London's Burning) was Spandau Ballet's Tony Hadley. Five of the cast of supersoap Coronation Street became The Spice Girls.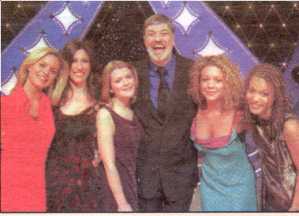 Host Matthew Kelly (third from right) with the cast of Coronation Street, before their transformation.
There have been several more of these since then.
Catchphrases
"Tonight (host's name), I'm going to be..."
Inventor
Based on Joop van den Ende's Dutch format, The Soundmixshow.
Theme music
Ray Monk, who was also the show's musical director for many years.
Trivia
The finals during Leslie Crowther's era were pre-recorded.
Peter Dickson temporarily replaced Andrew Brittain as announcer when the live final and a celebrity special both had to be relocated to BBC Television Centre because of an asbestos outbreak at Granada's Manchester studios where the show was usually recorded.
Matthew Kelly was hired as host after it became apparent that Leslie's 1992 car accident would render him incapable of returning.
For the first four series (1990-3) the shows were 30 minutes each. From 1994, the shows were 45 minutes each and also filmed profiles of the star guests were added.
In 1994, Greg Bannis landed the job of lead singer of Hot Chocolate after appearing on the show as the group's former lead singer Errol Brown. He stayed with them until 2010. His daughter Holly would turn up on an episode of the show's spiritual successor Starstruck, performing as Tina Turner; she came joint second on her programme.
When repeated on the Challenge channel, an episode from series 3 was skipped because apparently, a contestant was in the form of Gary Glitter.
Champions
| | | |
| --- | --- | --- |
| Year | Champion | Impersonating |
| 1990 | Maxine Barrie | Shirley Bassey |
| 1991 | Bernard Wenton | Nat "King" Cole |
| 1992 | Amanda Normansell | Patsy Cline |
| 1993 | Jacquii Cann | Alison Moyet |
| 1994 | John Finch | Marti Pellow |
| 1995 | Lee Griffiths | Bobby Darin |
| 1996 | Paul Doody | Marti Pellow |
| 1997 | Faye Dempsey | Olivia Newton-John |
| 1998 | Jason Searle | Neil Diamond |
| 1999 | Ian Moor | Chris De Burgh |
| 2000 | Garry Mullen | Freddie Mercury |
| 2000* | Nicola Kirsch | Maria Callas (*Millennium special show) |
| 2001 | Emma Wilkinson | Dusty Springfield |
| 2002 | Stewart Duff | Elvis Presley |
| 2004 | Charles Ngandwe | Paul Robeson |
| 2005 | Gordon Hendricks | Elvis Presley |
Champion of Champions
1999 Ian Moor as Chris De Burgh
Stars in Their Eyes: Kids
| | | |
| --- | --- | --- |
| 2002 | Charlotte Geffen | Eva Cassidy |
| 2003 | Laura Jenkins | Connie Francis |
| 2004 | Paul Cowperthwaite | Michael Jackson |
| 2006 | Christopher Napier | George Formby |
Harry Hill's Stars in Their Eyes
2015: Peter Sarsfield as Frankie Valli
Merchandise
The Best of Stars in Their Eyes (VHS)
Stars in Their Eyes (CD)
The Secrets of "Stars in Their Eyes" (Book)
Stars in their Eyes Board Game
Web links
A fan page (Blimey, someone's impersonating us!)
Pictures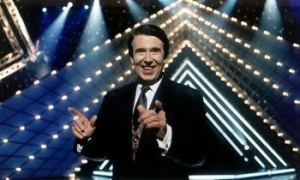 Original host Leslie Crowther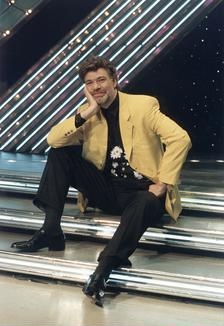 Third host Matthew Kelly
See also
Weaver's Week review of the 2015 Harry Hill revival.
Feedback