Stuart Hall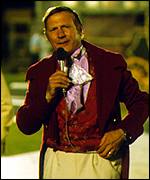 Biography
Long-serving football reporter and host of Look North West and North West Tonight (now fronted by Gordon Burns), Hall is best known for his tendency to crack up laughing at the antics of contestants on It's a Knockout and his frequently irritating habit of demanding reactions from breathless competitors as soon as they'd crossed the finish line.
Trivia
Owns a large collection of antique clocks, including one previously owned by Napoleon.
Also writes a sports column in the Radio Times. Which is to say that the occasional fragments we can make sense of, appear to be about sport. The rest, who knows?
Hall turned 80 on Christmas Day 2009, although one would suspect that his highly enthusiastic (not to say manic) personality remains intact.
Catchphrase
As used on North West Tonight: Until tomorrow, I wish you as always... a fond farewell.
Books / Tapes
Heaven And Hall: A Prodigal Life (collected writing) (hardback) | (tape)
Web links
Feedback