Test the Nation

Synopsis
The ultimate in playalong quizzes: a national test, no less, in which absolutely everybody can take part, by interactive TV, t'interweb, SMS text messaging or - crucially - just with a pencil and paper. Nothing too complicated, just 70 multiple choice questions over the course of about an hour and a half, a break for news, then a second programme going through all the answers. It's a brilliantly simple idea, and it works.
One of the reasons it works is that it's presented with some pizzazz. Anne Robinson's "queen of mean" persona on The Weakest Link was never all that convincing, and with Test the Nation it's completely demolished. Here, she gets to be herself, and she's got just the right mix of cheeriness and authority. You could imagine her at the helm of your local pub quiz, which is appropriate since this is basically a pub quiz on a very big scale. Also in the studio are around a dozen celebrities and about 250 members of the public, divided into six groups according to trade, hobby, hair colour or any other attribute that seems like a good idea. The rivalry between these groups adds to the fun. Phillip Schofield runs around a lot, talking to the members of the public and getting ridiculously excited about everything that happens in the studio. Just how much Pip 'n' Anne add to the proceedings is clear when you compare TTN to ITV's series of Great British Tests, which is basically the same format, but drained of the all-important fun factor. The original is still far and away the best.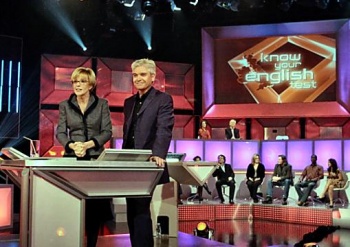 Anne and Philip, about to test yer English
One of the really clever things about this format is that they chose to launch it with a National IQ Test. The debate over whether or not IQ actually measures anything worth measuring rumbles on, but quite honestly, who cared? The important thing is that it was a test everyone could have a go at, and ensured that the first show was a talking point, with people in schools, offices, shops and (probably) brothels up and down the country all asking each other on Monday morning, "Did you do it? What did you get?". The test was put together by Dr Colin Cooper, a mild-mannered psychologist from Queen's University, who became the latest in a long line of academics to become an apparently unlikely household name. What's more, unlike certain psychologists we could name, he seemed completely uninterested in self-promotion, which just endeared him to the nation even more.
Of course, we've got used to TTN now, and it isn't quite the "event television" that it once was. But it's still a fun way of spending an evening, and so long as they don't do it too often - the current rate of four a year is quite enough - it should remain viable for some time to come.
Episode list
| | |
| --- | --- |
| 11 May 2002 | The National IQ Test |
| 23 December 2002 | The National 2002 Test |
| 22 March 2003 | The National Relationship Test |
| 4 May 2003 | The National IQ Test 2003 |
| 6 September 2003 | The National Quiz |
| 22 December 2003 | The 2003 Test |
| 20 March 2004 | The Great British Test |
| 22 May 2004 | The IQ Test 2004 |
| 2 September 2004 | The Popular Music Test |
| 19 December 2004 | The 2004 Test |
| 12 March 2005 | The Big Entertainment Test |
| 4 June 2005 | The 20th Century Test |
| 8 October 2005 | Know Your English Test |
| 18 December 2005 | The 2005 Test |
| 29 May 2006 | Know Your Planet Test |
| 2 September 2006 | The National IQ Test 2006 |
| 27 August 2007 | The National IQ Test 2007 |
Key moments
When the results are revealed at the end of the answers show. There's never any statistically significant differences across the country, but somehow Phillip still manages to get unfeasibly excited about a one-point difference between average scores in, say, Belfast and Southampton. More like a thousandth of a point that trips the computer into rounding up rather than down, we're saying.
Catchphrases
None as such, but much use of this formula:
"Is the top scorer among the butchers?" (butchers cheer) "No! Are they among the bakers?" (bakers cheer even louder) "No!" ...repeat for every group in the studio.
Theme music
Helene Muddiman
Inventor
Based on a Dutch format.
Merchandise
Test The Nation: The IQ Book - Colin Cooper (paperback)
Test The Nation interactive DVD
Web links
Talent TV's Test the Nation pages
See also
Feedback