The One and Only
Host
Broadcast
Initial for BBC One, 5 January to 16 February 2008 (7 episodes in 1 series)
Synopsis
Over an awfully large number of weeks, lookey-and-singey-likeys of ten popular musical artists battle it out for a contract to perform in a lookey-and-singey-likey show in Las Vegas. So ironically, they're not really the One and Only at all. Which would be Chesney Hawkes, anyway.
In publicity, the show looked like a kind of Stars in Their Eyes Goes Large. In execution, it showed its roots as Fame Academy for people who sing other people's songs, complete with David and Carrie Grant, an Irish host who polarises opinion, and that bit where they write down who they want to save.
The artistes represented were Robbie Williams, Frank Sinatra, Elton John, Lionel Richie, Rod Stewart, Diana Ross, Madonna, Dusty Springfield, Kylie Minogue and Cher.
Champion
Katy Setterfield as Dusty Springfield
Trivia
Following its transmission, actors' trade union Equity criticised Endemol, because none of the competitors had been paid for their performances.
Pictures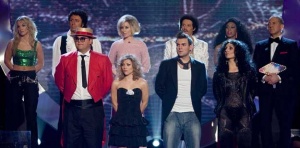 Ten of the performers wait to decide who's going home. Back row: (l-r) Tara Stafford, Simon Abbots, Katy Setterfield, Tony Lewis, Joanna Berns, Anthony Adams. Front row: Ed Hintze, Victoria Jones, Moni Tivony, Samantha Hurlock.
See also
Feedback