Graham Norton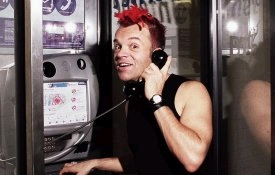 Biography
Irish by birth, Graham Norton went to the local college in Cork to study a degree in English and French. He dropped out after two years to join a hippy comune in San Fransisco.
After an unhappy time at drama school, he turned to comedy. After some years of struggle, a show he wrote and performed at the Edinburgh Festival (Mother Theresa of Calcutta's Grand Farewell Tour) was successful, and five years later he made his TV debut with Carnal Knowledge.
Camper than a camp site, his style is cheery yet brazen, something he has developed further with BMtHoLE and his cheeky chat show So Graham Norton. He also played the role of Father Noel Furlong in the hit Channel 4 comedy Father Ted.
Trivia
Graham was the victim of a serious knife attack when he was 26. He lost half the blood in his body and one lung collapsed.
He hosted the enjoyable Channel 4 show "100 Greatest TV Moments" in 2000.
In the USA, he hosted Would You Rather...?, BBC America's first original panel game: a comedy discussion show revolving around improbable dilemmas, with a largely arbitrary points system.
His first big chat show was called So Graham Norton, his production company is So Television, and his autobiography was titled So Me. When BBC One ran a promotional campaign in 2011 featuring the song "Bring Me Sunshine" set to footage from BBC One shows so that each word was synced with footage of a different person (or animal), well... you can guess which word was associated with Graham Norton. A neat and subtle gag which probably went completely unnoticed by 99.9% of viewers (at least).
Books / Tapes
So Me (autobiography) (hardback)
Contact
Troika Talent, 3rd Floor, 74 Clerkenwell Road, London EC1M 5QA
Web links
Troika Talent's Graham Norton page
Feedback