The Revelation Game
Line 1:
Line 1:

<div class="box">

<div class="box">

+

== Host ==

== Host ==

Line 12:
Line 13:

== Broadcast ==

== Broadcast ==

-

Roger Bolton Productions for Channel 5, 1998 (9 episodes)

+

Roger Bolton Productions for Channel 5, 1998 (episodes )

</div>

</div>
---
Revision as of 06:21, 2 April 2018
Host
Jennifer Hughes
Co-hosts
Team captains: Duncan Banks and David Grant
Scorekeeper: "Bishop John" (John Woolvett)
Broadcast
Roger Bolton Productions for Channel 5, 25 December 1998 to 21 February 1999 (10 episodes in 1 series)
Synopsis
Biblical quiz.
The information we have for this programme is uncertain or incomplete. If you have any other information to add to this entry, please send it to us using the Feedback form below. Thank you!
Trivia
John Woolvett, who played the scorer "Bishop John", tells us, "the entire nine episodes were recorded over one weekend - a very hectic schedule, but fantastic fun."
One episode (probably the last) was broadcast on Christmas Day.
Pictures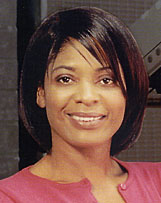 Host, Jennifer Hughes
Feedback