Weaver's Week 2009-06-21
Last week | Weaver's Week Index | Next week

We regret to report the death of Patrick Dowling, producer of Vision On and Take Hart, and co-creator of The Adventure Game. A full obituary will follow next week.
Yorkshire for Channel 4, 3.25 weekdays
QF1: Kirk Bevins (8 wins, 925) beat Julie Russell (3 wins, 356), 115-90
Kirk's place in Countdown history is already assured: the highest eight-game total, and the only known perfect game in the 15-round era; his appearances were in early March. Julie has her work cut out, just as her promising run in late April was curtailed by someone we'll meet tomorrow. Jeff begins the show with musings on the number eight, and John Stapleton in Dictionary Corner remembers all the good audiences he had on The Time... The Place in Leeds, where he is today. We said that Kirk was good, he begins with PARERGON, the only eight-letter word in the round. Parergon: a piece of work supplementary to another, larger, piece. It's sixes and an eight in the rest of the round, and an easy numbers game puts Kirk 38-30 ahead at the anecdote, in which Mr. Stapleton is confused for the game show host turned party leader Mr. Robert Kilroy-Shareorshaft.

Kirk offers the winner MEDIANT straight afterwards, but he could have had DEMENTIA. Julie remains in touch with the risky CARTFUL, and we're very impressed as both contestants get the second numbers: we were one off in either direction. Kirk's lead at the interval is 74-59. The high quality continues, SNOWIEST reminds us of the first heat of this series, CHEAPEN is the only seven in the final letters, and the gap remains at fifteen into the last few rounds. An easy numbers game puts the result beyond doubt, and Kirk gets the conundrum in no time at all. Let's congratulate Julie on an excellent game: she dropped points in just three rounds, and she fought a very fierce battle. Kirk missed the maximum on just two rounds, and that only by one letter.

QF2: Cate Henderson (8 wins, 782) lost to Hamish Williamson (4 wins, 415), 100-74

In the opening bit of the show, Rachel explains the meaning of pi to Jeff. He's already eaten it. Just to confuse us, Cate Henderson has the number two seeding, she appeared in late March. Hamish has the highest score of the series, beating Julie Russell with 134 points on his debut at the end of April. The old favourite TANGELO pops up in the second round, before Hamish moves ahead with DICTATE in the third. Honours are otherwise even, and Hamish leads 34-27 at the anecdote.

Cate RALLIED after the funny story, her winner ties the game, only for Hamish to offer an AMNESTY in the next round and re-take the lead. Hamish risks UNGROUPER* in the eighth, it doesn't happen, and Cate is back on terms. But Hamish is too SENSIBLE to be kept down, and he's got the lead. Winners in all five games in the middle part, as what looked like a simple numbers suffers an error from Hamish. Cate has a 51-49 lead at the interval. Both players spot the only sixer, BECAME, afterwards, but Hamish is FRACTIOUS for eighteen points, and that's almost the game to him. Both players miss PORTIONED in the final letters game, and a simple numbers game gives Hamish the win. We knew he could do it on a good day, and the question is, perhaps, how he managed to lose in the heats.

QF3: Jimmy Gough (8 wins, 782) beat James Doohan (8 wins, 692) 83-74

In the warm-up, new Dictionary Corner guest Phil Hammond is asked if pulses really do race. If the adrenalin's pumping, yes. Jimmy moves ahead in the second round with CROSSED, but that's the highlight of the opening phase. A very difficult letters game (4 each!) and a simple numbers means Jimmy leads 34-27 at the anecdote. There's nothing doing in the next few rounds, but James finally pulls back with REALISE in round nine, tying the game. It doesn't last long; Jimmy gets a difficult numbers game spot on to lead 61-51.

Susie's Language Note begins with a quiet dig against people who think they know precisely how many words there are in the English language. She may be thinking of a Texan self-publicist, who claimed last week (after Susie's contribution was recorded) that English had exactly one million words. The millionth word? "Web 2.0", which strikes us as a phrase. And old. Back at the game, James comes back with ORIGAMI, but Jimmy's not going to fold, he declares an OUTAGE to restore a nine-point lead. A quiet letters game and trivial numbers contest means Jimmy has the advantage into a crucial conundrum. He buzzes in on seventeen seconds, is incorrect, and James buzzes in on 29.5 seconds. He hasn't a clue, Jimmy has won.

QF4: Shane Roberts (8 wins, 766) lost to Neil Zussman (8 wins, 758), 35-82

It's a rubbish start: Neil offers MOONIE* which in that spelling is capitalised, and Shane's HOMIE is a winner. Neil strikes back with DRIFTER in the next round, and further ahead after Shane's GEASES* is ruled invalid: the Irish fairy story is "Geasa" in the plural. As we all knew, obviously. Neil is able to ASTOUND us. That perennial thorn comes up: should Countdown allow specifically US spellings? We say that if it's listed in the dictionary, it's valid to offer; the producers have said that anything marked as a US spelling is not to be allowed. US words are allowed, US spellings are not. It's the producers' show, they are entitled to have the rules they like, and they do make them perfectly clear to contestants. We just think they're wrong. Anyway, Shane gets seven on his six-small numbers, and Neil leads 19-12 at the anecdote.

Not until round six do both contestants score, with LIPPIEST. It doesn't last: Neil's ADAGES and ROTAMERS, and Shane's TONELESS mean it's a topsy-turvy game. Neil picks four large, profits from his selection, and leads 48-28 at the interval. Neil resumes his advantage after the break with COPIER and COATED, but the final letters round – WILIEST – is only the second time both players have scored. It also puts the game beyond doubt; Neil gets five from another four-large game, and the conundrum makes his winning score large. It was, to be honest, one of the worst games we've seen this series. Not through any fault of the contestants, but the letters were just rubbish: only three eights all night, and the numbers games were impossible.

After six months, what can we say about the new Countdown crew? Quite honestly, they don't feel like the new crew any more, and that is a far greater plaudit than it might appear. Des Lynam, for instance, never quite felt at home in the chair; Jeff Stelling just appeared one afternoon and presented like he'd been doing the show for years. Rachel Riley has been a revelation: the quality of her work with the numbers is very good, and we have a strong suspicion it's better than Carol Vorderman's final years. Certainly, it's very rare that we can solve a game that Miss Riley cannot; we'd beat Mrs. Vorderman perhaps once a month. Countdown has also been helped by its new set: the pink stripes were at least two years past their view-by date. We're also feeling a shift in the bookings for Dictionary Corner: such folk as Tim Vine and Colin Murray are natural communicators, but would have been out of place under either Des.

SF1: Kirk Bevins (9 wins, 1040) beat Neil Zussman (9 wins, 840) 98-88

The opening round sets the tone for today's show, eights all round. Six in the next round, then Kirk moves into SUBSPACE with the winner in round three. With sevens in the letters and (initially) a Rachel-beating numbers game, Kirk leads 36-28 at the anecdote, a long one during which Dr. Hammond talks about blood pressure. Sevens for the next couple of rounds, but Neil comes up with POLITEST to tie the game at 50/50. Flynn, the numbers!

But not before Dr. Phil goes on about ANORECTAL, about which we'll draw a veil. The numbers are easy, and it's 67-67 at the interval. Straight back, JAMBOES* and JAMBORIES* are offered, but knocked straight back. Sixes in the next, then fives as the final letters round includes N three times. A trivial numbers game detains neither contender for long, so we go into the conundrum with the sides level at 88-88.

Who will unscramble AMSPECIAL? After approximately one-squillionth of a second, Kirk buzzes to say "Eclampsia". He's right, he's won 98-88, and – by Jove! – he's almost bursting with the pressure. "Hardest game ever" says Kirk. Certainly one of the best we've seen this year.

SF2: Hamish Williamson (5 wins, 515) lost to Jimmy Gough (9 wins, 856) 58-88

Dr. Phil calls yesterday's game Champion's League Countdown. He's thinking of any game involving Arsenal: full of action, lively, and very nearly ending in a high-scoring draw. Hamish is going to be liked in East London, after spotting POPLARS in the opening round. A BONNET each, then Jimmy strikes back with CORTINAS, the caps of mushrooms. Round four is AMIABLE, but Jimmy is spot on in the first numbers game, to take a 31-20 lead into the medical demonstration.

Though it was close in the first part, Jimmy begins to pull away after the break: SNOWIER is a winner, but Hamish's STERILE redresses that distance straight afterwards. Jimmy promptly offers REEDLINGS, and that's surely the game beyond doubt. Tens each in the numbers, and Jimmy's 72-43 ahead at the interval. Hamish pulls back eight with GAVOTTES straight afterwards, and he has to risk SEAFARED* in the next round. It's not in, and Hamish requires snookers. There's one available, and Hamish has JOINERY while Jimmy's MONETRY* needs an A towards the end to be policy. If Jimmy scores on the numbers, he's won. Jimmy's spot on, Hamish is wrong anyway, and his win is confirmed.

Final: Jimmy Gough (10 wins, 944) v Kirk Bevins (10 wins, 1138)

Shall we get the obvious joke out of the way? Jimmy, Kirk; all this show needs is Alan Sugar to become the czarship Enterprise. More on that story later. We have a final to get through, if the jeering crowd will let Spelling's stellings start. Neither contender is feeling particularly good, but let's hope that Dr. Phil Hammond doesn't need to leave his seat. Sevens all round in the opening round: Jimmy has DEEPENS, Kirk the equally common NEPETAS. Sevens each in the next round, then Kirk moves ahead with NOUNAL, the only six in that round. Both players are EMAILERS, a word that hasn't had a hyphen in donkey's years. An easy numbers game (well, easy by these standards) leaves Kirk up 38-32 at the anecdote, where Phil and his dummy demonstrate chest compression and mouth-to-mouth resuscitation, to the tune of The Archers.

After that, the winning word has to be CORONER, another winner for Kirk. Sevens in the next round, that old favourite OUTAGE, then Kirk comes up with WAPITI, a deer from North America. It's another winner, and after Jimmy blobs the numbers, Kirk's lead is 74-45. Sevens across the board, and Susie will never forget that METATES is not a medical term, but is a sort of plank. Round twelve sums up our contestants: Jimmy is COOLISH, Kirk a SCHOLAR. Kirk wins the game in the last letters; Jimmy needed a nine, there's only seven there, and his BECRIES* isn't a word. Kirk wraps up his latest century with seven on his four-large game, only for Jeff Stelling to pull off the numbers game. Kirk beaten by host! It's amazing!

Not that it matters, or the fact that neither contestant can decode ROVINGERA (it's that everyday word GRANIVORE). Kirk has won his eleventh game, with his ninth score of 100. He is a worthy champion, certainly amongst the best all-round players of Countdown we've seen this decade.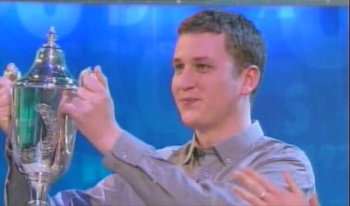 Kirk Bevins holds the Richard Whiteley Memorial Trophy aloft
Mastermind
The Grand Final
When we began this series, the Netherlands had yet to play a World Cup qualifying game, Lehman Brothers and Setanta were solvent, Europe held the Ryder Cup, and Big Brother IX was still to finish. Now, we've reached the grand final. The Dutch are heading to the world cup, Lehman Brothers are history, Setanta look set to follow them, and Big Brother Ten is well under way. None of this affects the outcome of the programme.

First into the chair is Nancy Dickmann; The Lewis and Clark Expedition 1804-6 is her subject tonight. The pre-question films are back, and we're told that Lewis and Clark explored the western part of North America. We're – obviously – shown footage of men in coloured coats firing muskets. Their official mission was to explore the Missouri Basin in the hope of finding a sensible route across the continent, and reached Yellowstone before crossing the Rockies. There's an incorrect answer in there, so something for the others to tilt at, but 17 (0) is very good.

Roger Canwell discusses Britain Between the Wars. The Wars in question were the First and Second World Wars, and Mr. Canwell argues that Britain failed to learn the lesson of the First until after the Second. He's filmed in a reproduction of a mid-century shop. This is an absolutely, phenomenally huge subject, swerving from the man who leaked the budget of 1932 to the popular magazine Picture Post and the Queen Mary liner. Nevertheless, the questions tend to the political and royal spheres, and that helps him to 12 (2).

Richard Smyth takes Russian Novels 1831-94. Almost inevitably, he's filmed in the British Library, reading from one of his tomes. We learn that Tolstoy didn't consider "War and Peace" to be a novel, only defining it as such many years later. He says that he feels like a non-league team playing at Wembley, so let's see if he's the Whitley Bay of the contest. The first question's about War and Peace, and it's the first of many goals. There are a few wides, as well, ending on 13 (2).

Richard Heller has been researching Rodgers and Hart. These are the composers of many excellent musicals; he learned the songs from his mother, and they represent some of the greatest popular songs ever written. He's been playing some of the songs on his piano, and (apparently) the neighbours want him to play an encore. His sporting analogy is of a cricket match: once you get into your stride, you're away. The questions are as much about the performers in the musicals as their plot and the off-screen work the pair undertook. Mr. Heller never quite got his eye in, and ends with 9 (1).

Stuart MacDonald's next subject is The Ryder Cup Since 1979. We suspect this will turn out to be 1979-2006, the rather large win for the home side last autumn may have taken place after the questions were set. He says that he went in for the experience, and after taking two obscure subjects in the earlier round, has something more visible for the final. It's also given him an excuse to go to the K Club in Dublin, home of Europe's crushing win in 2006. Remember when Ben Crenshaw snapped his putter in frustration at the opponent's success? Or Tiger Woods' unimpressive showing at – well, every tournament? It's a very respectable score, not quite enough for the lead, 15 (0).

Ian Bayley is the last man up, he's taking American Presidents of the 19th Century. He's filmed at that well-known outpost of the USA, Bath. The nineteenth century was one of expansion from the right coast to the left one, and the contender has been trying to understand what the presidents were about. He believes he's been "fortunate" in the previous rounds. The contender is able to recall centuries-old scandals, the anti-trust acts, and the "folly" of the president who bought Alaska, presumably without regard to its comic potential. There's one error, the contender takes his time on a few questions, and ends on 15 (0).

It's been said that no-one will ever win the contest on their specialist subject alone; we suspect that a poor performance will eliminate people from contention. Mr. Heller repeats how Rodgers was more organised than Hart, and that both enjoyed a tipple or two. He needs a perfect round to stand any chance, but sees a few bouncers sail past his head: zigging on "warm-blooded" for a question about "cold-blooded" animals. The round ends on 16 (4).

Mr. Canwell suggests that the Versailles treaty of 1919 led inexorably to the later conflict, and that Maynard Keynes was spot-on in his prediction of some charismatic leader coming to power. His first question is the daisy-cutter, Austin is the capital of which state. About ten years ago, this was one of the first questions on a list of quiz clichés. He also remembers that Pinter gave his name to long pauses, leading to a final score of 20 (6).

Mr. Smyth, why those dates? 1831 was the emergence of Pushkin, 1894 saw Checkov check in, and the latter author would make the subject unmanageably large. The contender remembers who won the 200m and 400m at the Atlanta games, and gets the inevitable BBC Cross-Promotion, this one's for CRIMEWATCH. He's not having a nightmare, it's a very strong round, even taking time for the lyric of "Summer Holiday". The final score is 26 (2), setting the bar for later contenders.

Dr MacDonald began the Ryder Cup in 1979, when Europe were invited into the cup because – and we find it slightly mirthful now – the Americans were bored of winning all the time. There were matches that weren't in the best of temper, but the recent versions have been three days of pulsating, gripping sport. The easy par-three is the location of the statue of The Little Mermaid; the dog-leg is about the Chorleywood and Milton Keynes methods of manufacturing cheese. The round ends on 22 (3).

Mr. Bayley finds that the nineteenth century is the transformation of the USA from what we might term a bunch of secessionist terrorists, into a global superpower, expanding through slavery and wars with Mexico (won), Spain (won), and Canada (pools panel verdict: score draw). Twelve to take the lead, and Bayley has been the quizzing machine through the years since this column began. Even John Humphrys' slow delivery of some questions doesn't hold back the contender, finishing on 28 (0).

It's come to this: twelve correct answers will give Nancy Dickmann the victory. Just before the first recording, she gave birth to her first child, and didn't get much sleep before the second round recording. The contender is from the USA, and believes that she's not been held back that much by being a newcomer to British culture. Humphrys does his best to talk very quickly during the questions, and there's a pass in the round. That won't help: add one to the target. But knock plenty off, the contender is getting many many correct answers, and the plot of the opera Falstaff confirms her victory. No contender has reached the hallowed ground of 30 correct answers this series. Until now: Nancy Dickmann's final score is 30 (1).

Which means that, for the first time since 1997, we have a female champion of the series. Nancy Dickmann receives the trophy from Andrew Motion, the former Poet Laureate.
This Week And Next
0898gate update: Eckoh Communications has implied that it paid £800,000 to settle the Richard and Judy phone-in row. Readers will recall that You Say We Pay was amongst the first premium-rate numbers to encounter a scandal in 2007, and that fines were dished out with abandon: £150,000 to Eckoh for abuse of premium-rate numbers, a cool million to Channel 4 for its misleading broadcasts. C4 vowed to pursue Eckoh for its fine, and the two parties agreed a figure late last year; it's believed that this was £600,000.
A second series of Hole in the Wall has been commissioned. Dale Winton has found something less brain-taxing to do, so Anton du Beke will host the show; Joe Swash and Austin Healey will be the team captains. As part of the BBC's commitment to regional diversity, the programme will be produced in Glasgow, and not in its spiritual home of the deep end at White City Lido.
Alan Sugar may not be blasting off into space, but he will be annoying the nation's television screens again. The partisan advisor on how to raise unemployment by 93% every three months will continue to host his wretched show, after the BBC decided it wouldn't breach impartiality guidelines. The opposition Conservative party smells a partisan advantage, and has put in a formal complaint to the BBC Trust. We hope they succeed – not from any partisan position, but because we believe the BBC must both be impartial and be seen to be impartial.
A slight surprise in ratings for the week to 7 June: The Apprentice got more viewers on Wednesday (9.75m) than Sunday's final (9.3m). You're Fired on Wednesday was seen by 4.35m. HIGNFY on BBC1 pulled in 5.4m, and beat the live audience to Big Brother's launch night (5.15m). All-Star Mr and Mrs suffered from the lack of Talent, plunging to 3.9m. Ladette to Lady had 2.9m, 8 Out of 10 Cats 2.3m, and we're not saying that Mastermind (1.1m) is unpopular, it's just that it was beaten by the European Election Results (1.15m). America's Got Talent, claimed ITV2, and 1.35m viewers were interested enough to tune in. Come Dine With Me topped the million on More4, and a review of the concluded Britain's Got Talent series attracted 810,000 on ITV2.
It's a very quiet week for new shows; when Daily Cooks Challenge (ITV, 3pm weekdays) is the highlight, and Strongest Man Series (Eurosport, 7.20 Sunday) is second, it's a really quiet week.
To have Weaver's Week emailed to you on publication day, receive our exclusive TV roundup of the game shows in the week ahead, and chat to other ukgameshows.com readers sign up to our Yahoo! Group.