The Adventure Game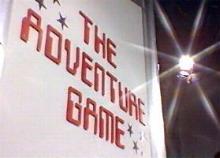 Host
Patrick Dowling (series 2)
Co-hosts
Darong (Moira Stuart: series 1)
The Rangdo of Arg ("Uncle") (Ian Messiter: series 1)
Gnoard (Charmian Gradwell: series 1-3)
Gandor the Butler (Christopher Leaver: series 1-4)
The Mole (Lesley Judd: series 2)
Rongad (Dagnor) (Bill Homewood: series 3-4)
Dorgan (Sarah Lam: series 4)
Broadcast
BBC1, 24 May to 21 June 1980 (5 episodes in 1 series)
BBC2, 2 November 1981 to 18 February 1986 (17 episodes in 3 series)
Synopsis
Little marvel that brightened up many a teatime, often thought of as the forerunner of The Crystal Maze.
Three rent-a-celeb types were guided around a series of mental and physical puzzles devised by Patrick Dowling. The puzzles usually involved logical thinking with some lateral twists.
The show had quite a cute backplot. Set on the planet Arg, the inhabitants (sometimes human, sometimes dragon shape-changers called "the Argonds") put the contestants through their paces, including: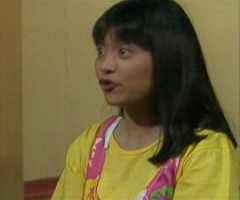 Dorgan, the friendly helpful one that got the contestants under way.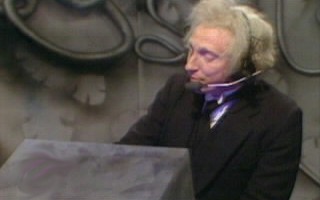 Gandor the Butler, who used an ear trumpet to help him see, and wore his glasses to help him hear.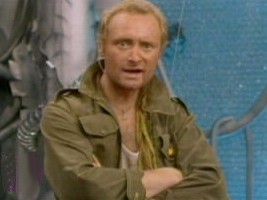 Dagnor, the backwards-talking Australian who would compliment contestants with a "Doogy Rev" if they'd done well.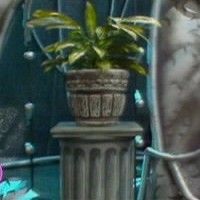 Rangdo, the shy ruler of the planet that took the physical prescience of an Aspidistra (or, later, a teapot).
Also of note is The Red Salamander, a mute but very tall lizard who often played against the contestants in the Drogna game when competing for prizes such as green cheese rolls (see later).
Anagrams-R-Us
As you may have noticed by now, nearly everything to do with the game was an anagram of "dragon", including the obligatory salute "Gronda, Gronda". The currency on the planet was the Drogna, which were clear plastic pieces containing a coloured shape in the middle. The value of the drogna was equal to the number of sides on the shape, multiplied by their position in the rainbow (hence a sign saying Richard of York Gained Battle on the wall).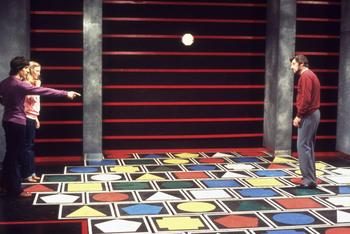 The Drogna Game
One of the initial challenges, the "drogna game", was a floor-tile puzzle that made use of these shapes. A particular logic applied to where you could or couldn't move (e.g. you can only move to a square with the same shape or colour).
One of the sub-games involved the contestants finding Lesley Judd, who would turn out to be The Mole and attempt to sabotage subsequent challenges.
Other games were wide and varied, but included stepping through a series of poles, guiding a mouse around a computer maze, interacting with the Argonds and their strange quirks, defeating the Red Salamander at the Drogna game, guiding a fellow player out of a pitch-black room, gentle physics problems, and solving codes. For a large part of each show, the players were just left alone with a bunch of puzzles and had to work out for themselves what they were expected to do. Watching the episodes nowadays, it's striking how the show pretty much invented the "escape room" concept 20+ years ahead of time.
Although the challenges in each programme were all variations-on-a-theme throughout the series, the final round in later shows was always the superb Vortex game, where the contestants had to cross a hexagonal lattice.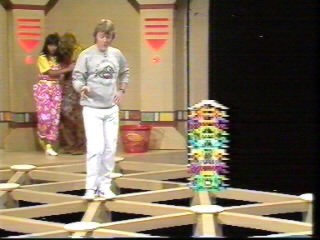 Cheggers stares the dreaded Vortex in the eye - but he can't see it
They had to move without stepping on the same space as the vortex, which would "evaporate" them. The contestant and the vortex (which was invisible to the contestants but visible to the viewers) would take one turn each move. Said vortex would never walk into the contestant, but the contestant was always at risk of walking into the vortex.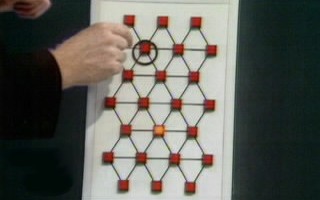 The next Vortex move is plotted
Only by logic, guesswork, and the occasional use of green cheese rolls (which could be used to identify where the vortex was) could the team get across safely to the waiting shuttle. Otherwise they had to walk home, and it's a long way from Arg to Earth. Nail-biting stuff. By the way, in latter series, said cheese rolls could be obtained by means of getting the Rangdo a present that he liked - he had very specific tastes, such as liking sweets, but not chocolates and teddy bears only if they were Winnie The Pooh, not Rupert. Contestants who got him gifts he liked would get the cheese rolls, but those who didn't would get evaporated there and then. On one occasion, Ray Virr earned himself two rolls through getting the Rangdo his favourite sweets, Noel Edmonds got him something inappropriate, but was not evaporated at that point since it was the Rangdo's birthday and Fern Britton sang him a lullaby, which he did like, but she was only allowed one roll on the grounds that she had missed some words out. However, although all three contestants made it as far as the vortex game, only Virr made it across safely and was able to attend the Rangdo's birthday party - Edmonds and Britton were both evaporated.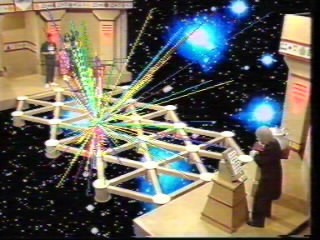 Aaaaaaaaaaagh! The Vortex claims another victim
One other feature worth mentioning is the "phone links" in later series where one of the hosts would ask children at home what they should do. Didn't really add much to the game, truth be told, except perhaps for finding out what the Rangdo liked the contestants to give him as gifts - and his tastes were very specific, as mentioned above.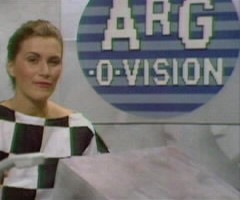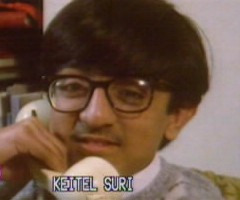 Enjoy your 30 seconds of fame talking to Gnoard while it lasts, Keitel
Key moments
Much celebration when a contestant managed to get across the Vortex grid, even though it meant Rangdo (the Aspidistra) got very angry indeed.
Catchphrases
"Gronda, Gronda!"
"Doogy rev!"
"The vortex won't walk into you, but if you walk into it...."
Inventor
The Adventure Game came about because producer Ian Oliver and devisor Patrick Dowling, both having previously worked together on an educational mathematics programme, had an interest in Dungeons and Dragons and wished to televise it. Dowling was not only influenced by D&D, but also by psychologist Edward de Bono and the books of Lewis Carroll.
Theme music
Duo In G Opus 34, composed by Ferdinando Carulli and performed by Julian Bream and John Williams. For some reason, series 2 used Grieg's Norwegian Dance Opus 35, performed by a brass band.
Trivia
The credits listed the actors and characters the "wrong" way around, so (e.g.) the character of Christopher Leaver was played by Gandor, and so on.
The animatronic aspidistra version of the Rangdo of Arg was controlled by Kenny Baker, he of R2-D2 fame.
Episode list
Episodes marked with (*) indicates that this episode is missing from the BBC archives.
Adventurers on each episode were:
Series 1
24.05.80 - Elizabeth Estensen, Fred Harris, Mark Dugdale
31.05.80* - Liza Goddard, Michael Rodd, Stephen Cox
07.06.80 - James Burke, Maggie Philbin, Pat Cater
14.06.80 - Denise Coffey, Dr Garry Hunt, Toby Freeman
21.06.80* - Paul Darrow, Lesley Judd, Robert Malos
This series featured Darong as Moira Stewart, the Argond who introduced the show. The Rangdo of Arg had a human form in the shape of Ian Messiter. It was first aired on BBC1 during Saturday mornings, and repeated on BBC2's Saturday afternoon children's block during October 1980. A pilot episode was made, but never transmitted.
Series 2
02.11.81 - Graeme Garden, Carol Chell, Nicholas Hammond
09.11.81* - Madeleine Smith, David Yip, Derek Gale
16.11.81 - David Singmaster, Sue Cook, Philip Sheppard
23.11.81* - Tessa Hamp, Nerys Hughes, Derek Griffiths
30.11.81 - John Craven, Bill Green, Kirsty Miller
This series featured Lesley Judd as the resident mole. It first aired on BBC2 on Monday evenings, and was repeated during regular children's programming on Friday afternoon BBC1 from 28 May 1982.
Series 3
02.02.84 - Sarah Greene, Anne Miller, Richard Stilgoe
09.02.84 - Sue Nicholls, Duncan Goodhew, Emma Disley
16.02.84 - Sandra Dickinson, Chris Serle, Adam Tandy
23.02.84 - Paul McDowell, Bonnie Langford, Christopher Hughes
01.03.84 - Neil Adams, Nigel Crocket, Janet Fielding
08.03.84 - Fern Britton, Noel Edmonds, Ray Virr
This run featured Bill Homewood as Ron Gad, and repeated from 5 September 1985. Both airings were early evenings on BBC2.
Series 4
07.01.86 - Sheelagh Gilby, Ian McNaught-Davis, Roy Cane
14.01.86 - Barbara Lott, Johnny Ball, Liz Hobbs
21.01.86 - Fiona Kennedy, Ian McCaskill, David Sanderman
04.02.86 - Ruth Madoc, Prof Heinz Wolff, Deborah Leigh Hall
11.02.86 - Joanna Munro, George Layton, Val Prince
18.02.86 - Heather Couper, Keith Chegwin, Adam Gilby
This series included a write-in question, and was not repeated until partially re-surfacing on Challenge during January 2003. The original run, on Tuesday evening, was taken off air on 28 January 1986 for a news report about the Challenger disaster; the episode aired out of sequence two weeks later.
Merchandise
A game for the BBC Micro computer, called Drogna, was released by Acornsoft.
The Adventure Game (DVD)
Web links
Off The Telly interview with Patrick Dowling
Opening titles from the BBC Motion Graphics Archive
Pictures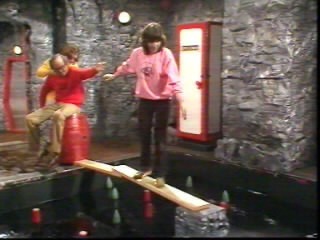 Maggie Philbin tries to cross the pool.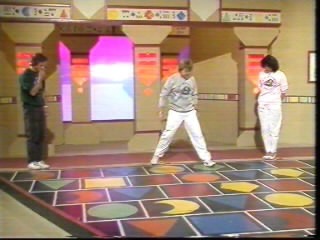 Keith Chegwin crossing the drogna game board.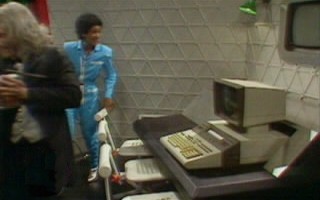 A real computer. Ooooh!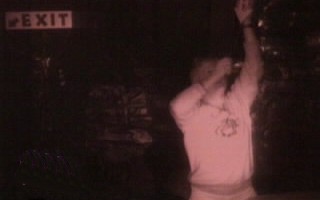 Someone tries to claw their way out of the black hole.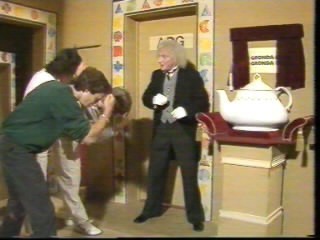 "Gronda, Gronda" - the contestants pay their respects.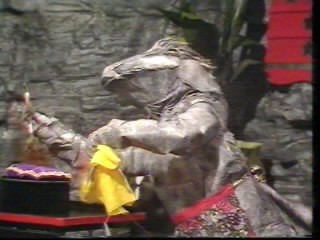 An Argond.
See also
Weaver's Week reviews
Feedback