Weaver's Week 2010-09-05
Last week | Weaver's Week Index | Next week
Sue Perkins described her role as "a very small part of a very big show". Such modesty.

Hat Trick for ITV, from 9 August
Every programme needs a premise. For this offering, it's Come Dine with Me meets Blind Date, and it's not actually all that bad. As daytime programmes go, that is.
In spite of the best efforts of Paddy McGuinness and his one-armed pasty delivery man, there are still some single people in the UK. Six of them are appearing on this programme: one person doing the choosing, and five potential suitors. For the sake of clarity, and because all of the shows we saw featured women choosing men, we'll use gender-specific pronouns to that effect.
In the first stanza of action, she is given five menus to choose from, and is instructed to pick three of them. All the potential suitors can offer is their menu: words on a page, printed out in an anonymous and somewhat cutesy typeface. But even in this very limited form, some self-expression can creep in – one potential date might offer their menu in Italian rather than English, another could dress up a basic dish in complex terms. "Fruits of the sea and earth in a barley wine sauce" sounds impressive, until we realise that it's actually fish 'n' chips with lashings of vinegar.
Nothing so unpretentious for our date, who has agonised over the potential menus and picked three of them. While she was making her first choices, we got to see a little of the men behind the menu – who they were, how they make a living, what they were actually cooking. All information denied to our potential suitor.
The two chaps whose menus are rejected? That's it, game over, we'll hear nothing more from them. As for the other three, we're going to spend about ten television minutes with each. We'll see them in their kitchens, preparing their meals, and discussing how they think the evening might go. About three minutes into this schtick, the guest arrives, and she makes herself at home, and eats, and we see how the evening actually does go, neatly edited into a six-minute chunk. Seeing the same routine repeat three times is about right: the story isn't rushed, but nor is it prolonged to the point at which we start gnawing our own arms off for something less protracted.
Anyway, we eventually reach the decision. The diner goes round to each of the three contestants' homes once more, and knocks on their door. For two of them, she promptly scarpers, leaving nothing more than a small deposit on the doorstep – a microwave dinner for one, complete with a small bottle of wine. For the third contender, she remains on the door and invites them to a meal of her own choice. This isn't one she's cooked herself, but one bought from a pub or club, as part of a proper date.
Commentary is provided by Charlotte Hudson, who is clearly trying to be as sarcastic as Dave Lamb, and not quite getting there. It's an entertaining commentary, but lacks the occasional moment where we're laughing at the contestants. There's a further bit ripped off from Come Dine With Me: each potential suitor rates the travelling diner out of a potential three stars. We're not entirely sure what the point of this is, as this column never saw anything other than three out of a potential three being awarded. Still, it fills a few seconds.
And, indeed, the whole programme feels like it's designed to fill up a rather large number of seconds. This week's Week contains the fourth and fifth reviews of cookery-related game shows we've written since the beginning of July, there's another one starting next week, and we're reaching the point where we've had quite enough of the same starchy fare. That said, this show is more palatable than some we could mention, and is certainly superior to a depressingly large proportion of ITV's regular daytime schedule.

Love Productions for BBC2, from 17 August
Take ten amateur bakers. Add two comedians, two professional bakers, and one Voiceover Man. Put them all in a large marquee somewhere in the British countryside, mix and knead, and cook at gas mark 6 (200 degrees C) for 32 minutes. Then serve.
The bakers are, we're told, ten of the greatest cooks in the country, and they'll be invited to make various items usually found in a bakery. Sponge cakes, loaves of bread, fancy cakes, pasties, schoolchildren who don't actually want to buy anything and would be great target for week-old rock cakes...
Well, maybe not the last of those. Each show is divided into three tests: first comes a "signature bake", something that each of the contestants has practised. A lot. It gives the producers an excuse to give brief profiles of each contender, and the hosts to talk to the contenders about what they're making. Voiceover Man is able to explain the common points and differences between the various recipes.
Inevitably, there's footage of the judges eating from the baking, and deciding who was the best and the worst amongst the produce. At some point – usually while the baking is, er, baking – there will be a piece from Mel and/or Sue. They're here to explain the history of the things being baked on the show, so we have an archaeologist telling us how bread was invented about 10,000 years ago, or someone explaining the importance of cake to Georgian society.
Bake number two is a technical challenge, making a particular cake or loaf from the same ingredients. They have the ingredients, but not the recommended method of production, nor the criteria by which the judge will be marking. The third and final test in each show is a prepared challenge, such as making a basket of small rolls. After all this, the judges eliminate the two worst performers across the whole programme. The remaining people will travel to the next destination, where they'll be challenged in a new area of bakery.
We have to be honest, and say that we really didn't enjoy this programme very much. It falls between two stools: is it a folk history of cakes and bread with a competition around it? Or is it a baking competition with some additional information for BBC2 viewers – and information of the exact quantity to be cut out of the inevitable UKTV Nosh repeats without impinging on the contest? Whichever it is, the show doesn't quite hit the mark, it's too nice to be a blood-and-guts competition, and there's too much distraction around the competition. Twee and tinkly music doesn't help us to take the contest seriously.
This is a bit of a shame, all told. Each heat is carefully-planned, it's appropriate for the location, and the challenges increase in difficulty as the programme progresses. The idea of a programme coming from the countryside – literally, it's made in a large tent – is a novelty, and never exploited as a defining gimmick. It's just there in the background for when we need it. Sadly, so are Mel and Sue. We were expecting banter and wit, but outside of the filmed inserts, all we get are two glorified hostesses. Comedy geniuses like that deserve far better.
As we mentioned, there is quite too much cookery on the television at the moment. We were planning to review Instant Restaurant from BBC2 daytime, but we really couldn't muster the enthusiasm to finish the episode, and found it impossible to write up our thoughts because we hadn't actually had any. At least we can say why we found The Great British Bake-Off plain.
Round 1, Heat 9: Newcastle v Sheffield
The continuity announcer cheers us up before the programme's even begun. "This show has nothing to do with food, but the cream does rise to the top." It's a match between two Civic Universities, and begins with building of the week: the White House. That's picked up by Sheffield, which grew from three institutions in the 19th century. David Blunkett, Amy Johnson, and Eddie Izzard all studied here.
It doesn't take long for Newcastle to open their account, getting the quote from the memoirs of Casanova. Newcastle was founded as a medicine school in 1834, merged with a technical college, and tutored Rowan Atkinson and Bryan Ferry. Who? No-one on this show remembers him!
Sheffield show that they know something about football clubs in South America, though perhaps not why they've all borrowed names from British sides. The visual round is on stills from silent movies, after which Sheffield has opened up a 70-10 lead. Thumper is rightly annoyed when one of the Newcastle side gives half of a two-part answer, and passes the question over. Sheffield get their century up by knowing the height of a table-tennis net.
And the starters just keep coming for Sheffield: various things that have been abbreviated to ILP, the reason why Matilda was waltzing, and the various veins and arteries of the human body. The audio round asks for the actors to play various incarnations of "Dr Who" from the theme music of the era. It's a perfect round, we're wondering if they'll do something similar for classic "Blue Peter" themes because that's the senior CBBC programme, and Sheffield has a slight lead, 170-10.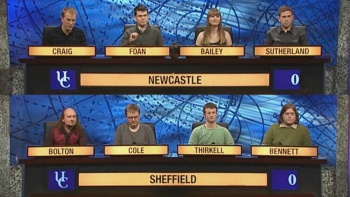 Newcastle: David Craig, Patrick Foan, Laura Bailey, Oliver Sutherland
Sheffield: Andy Bolton, Tristram Cole, Tom Thirkell, Hugh Bennett
Finally, Newcastle get their second starter of the night, tofu. "You've still got time to come back, if you're quick" says the host. They also get the Little Billy Shakespeare Bonuses of the week, concerning first lines from his plays. Not that this stops Sheffield from picking up the next starter, and there's a guest appearance from The Greek Letters, who will be starring in the fourth series of The Only Connect from next Monday.
Long distance paths, the well-tempered clavier, journeys of the Greek heroes, all grist to the Sheffield mill. Pointillist paintings are the subject of the second visual round, and that gives Newcastle a little more room, if only to say "Seurat" as the only other pointillist painter they know. Sheffield's lead is 240-40.
And, thanks to the geography of Georgia, getting wider. France, we learn, has an overseas territory called Wallace. But not Grommit, that would be far too entertaining. Who was the second twelfth apostle? No-one remembers Matthias. Newcastle jump in very quickly on a question about insulin, but it's too little too late. Sheffield remember "The Ascent of Man", neither side knows anything about expletives (they're all far too nice), and that's it for the night.
"Newcastle were rather mullered", according to the host, Sheffield's winning margin was 315-70. Tristram Cole was best on the buzzer for Sheffield, picking up nine starters; all the side got some, and the bonus conversion was a respectable 29/51. David Craig and Laura Bailey took two starters each for Newcastle, the side was right on 5/12 bonuses and had a missignal for their pains. The overall accuracy rate was 56/88. 315 is a familiar winning score, Emmanuel Cambridge won their semi-final and final last year with that precise number.
Next week: UCL v Hertford Oxford Then: Durham v Magdalen Oxford
Heat 3
For the first time in history, European football matches are being played tonight. Ireland won 1-0 in Armenia, Moldova trounced Finland 3-0. At half-time, Scotland are holding Lithuania to a valiant 0-0 draw, and England are just kicking off against Bulgaria. None of that is of the slightest interest to us, because we're going to ask some interesting questions.
Emma McCarthy is going to tell us about the Tudor monarchy (1485-1603). Henry VII! Henry VIII! Edward VI! Lady Jane Grey! Mary! Elizabeth! The Tudors were descended from Owen Tudor, a Welsh nobleman who married the widowed queen of Henry V. They died out when Henry VIII's children all failed to produce a direct heir, and the throne reverted to the Stewarts of Scotland. One of the questions is on Kett's Rebellion, which we're sure someone has taken as a specialist subject before. (Checks records). Yes, Les Morrell won in heat three in July 2007. This contender ends on 10 (3).
Ian Packham will discuss the Travelogues of Michael Palin (from 1989). The internationally-known parrot seller began his career of globe-trotting documentaries when he presented a live-action version of "Around the World with Willy Fogg". He's since gone from the North to South poles, around the Pacific rim, across the Sahara and Himalayas, and most recently through the New Europe. The contender doesn't hesitate on the questions – he'll either answer them or pass in a very decisive manner. 15 (4).
Chris Hill is going to tell us all about Postage Stamps of the 19th century (1840-1900). Prior to the invention of the postage stamp, mail was sent to be paid on delivery. Recipients were at liberty to reject mail, and cunning writers were able to communicate simple messages just from the layout of the address. The first stamps were black and featured a picture of Queen Victoria, so were known as the Penny Black. We learn that the New Zealand post office printed commercials on the back of their stamps; these days, they'll put game shows on 'em. 13 (1).
Hello, friend! Rachael Neiman is going to tell us about Belle and Sebastian (est. 1996). They are a band from Glasgow, taking their name from a French cartoon of the 1970s. The group specialises in ballads (as in, songs that tell a story) and their work features unusual melody and compositional structures and witty lyrics. Perhaps nothing is stranger than the way their third album was nominated for Best British Newcomer at the 1999 BPI awards, which they won, much to the disgust of Pete Waterman. There is a single error in there, and a score of 18 (0).
Quickly to the football: still half-time at the Vilnius Flagpole Exhibition, and Bulgaria are a goal down already, which is just slack.
Emma McCarthy knows the story of The Railway Children, and the lyric to "I Will Always Love You". The tale of the Hanging Gardens of Babylon falls to the contender, as does the recent career of HRH Sir Seb Coe. There's a bit of a pass spiral towards the end, and the round ends on 22 (6).
Chris Hill is next, he knows why to use helium balloons, the amazing feat of Red Rum, and the secretary of state for education in the last Labour government. No, not Shirley Williams, that other bloke. Harshness as "Diana" is marked wrong when the question's asking after "Artemis", but they did specify the mythology. Picking up speed towards the end, the round ends on 25 (3).
Ian Packham is asked after the spaceship of Mr. Doctor Who, and the single released in aid of the Haiti earthquake fund. They really are bringing out questions about rubbish records this week, aren't they. Remember when the Empire State Building was the world's tallest, or the new name of the Gold Coast? This contender does, and ends on 27 (4). Oooooh, that's going to be very very close to the cut-off for the semi-finals.
Let's be honest, we expect to see Rachael Neiman there. Readers will remember this contender from University Challenge last season, where she powered the Manchester side to the semi-finals. Her rubbish song question is about "(I've had) the time of my life", though not in a mistimed version by Andrew and Corin on Big Brother. Still better than Jedward. There are a fair few errors early in the round, but the contender doesn't let that put her off her stride, and finishes on 28 (1).
A narrow win, but a win is a win is a win. We'll see her again, we may see Mr. Packham next year as well.
This Week And Next
A press release promoting a television-on-demand website dropped into our inbox this week. If we're to believe the report, then the UK's favourite programme is automobile pornography show Top Gear, and the poll-takers would die rather than watch Big Brother. This just demonstrates that both shows are able to elicit extreme reactions from the television audience, and that the sort of person who fills out these polls is not the sort to watch BB. The press release went on to make some tendentious point about watching television online, probably promoting the sponsors' product, but we really couldn't be bothered.
Ratings for the week to 22 August were made more dull by the return of The Autotune Factor, 11.9m saw the fake show. Celebrity Masterchef had 6.75m viewers, and Odd One In recorded its biggest audience of the year, 4.25m. Big Brother had 3.35m seeing the triple eviction hour, and Dragons' Den was biggest on BBC2, 3.1m there. The Great British Bake Off had 2.25m watching, and the Don't Stop Believing final 910,000. By comparison, The Xtra Factor on ITV2 had 1.705m viewers, and a repeat of the main show on Sunday evening was seen by 1.05m. There were series bests for BBLB (430,000 on Thursday) and Great British Menu on Food Network (55,000).
This week, it's the return of Wogan's Perfect Recall, at the new improved time of 2.55pm (C4 weekdays). Or you could be watching Put Your Money Where Your Mouth Is (3pm, BBC2 weekdays). Mock the Week resumes (BBC2, 10pm Thursday), Celebrity Juice returns (ITV2, 10pm Thursday), and children's television is enlivened by Fee Fi Fo Yum (BBC1, 4pm Friday). But this is not the week's highlight. That'll be the return of Only Connect (BBC4, 8.30 Monday).
Or, if you're a snobby television critic, the end of Big Brother. But it's going out without a bang: there's a winners' edition of Come Dine with Me (C4, 8pm Monday), an 8 Out of 10 Cats special (10pm Thursday), and finals night runs from 7.30 on Friday until past midnight. Saturday has the Strictly Come Dancing launch show (BBC1, 6.25) the first in a new series of Family Fortunes (ITV, 7pm), and Celebrity Survivor Arctic, or 71 Degrees North as ITV are calling it (9pm Saturday and Tuesday 14th). Antiques Master reaches its final on 13 Sepember, and there's a Celebrity Come Dine With Me featuring Debbie McGee, Lembit Öpik, Jodie Marsh and Iain Lee on the 14th.
We're publishing to a slightly unusual schedule in the next few weeks – a Big Brother retrospective next Sunday, five quiz episodes get recapped on Wednesday the 15th, and four more when normal service resumes on the 26th.
To have Weaver's Week emailed to you on publication day, receive our exclusive TV roundup of the game shows in the week ahead, and chat to other ukgameshows.com readers, sign up to our Yahoo! Group.