Come Dine with Me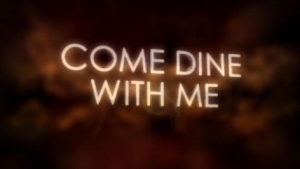 Host
Voiceover: Dave Lamb
Broadcast
Granada for Channel 4, 10 January 2005 to present
as Come Date with Me: ITV Studios for Channel 4, 5 to 9 December 2011 (5 episodes in 1 series)
as Couples Come Dine with Me: ITV Studios for Channel 4, 7 July 2014 to 12 February 2020
as Come Dine with Me: The Professionals: Multistory Media for Channel 4, 27 June to 22 July 2022 (20 episodes in 1 series)
Synopsis
Five contestants (four in the primetime version) compete to throw the best dinner party. They each give a dinner party over the course of a week, and mark each other out of ten. The host(ess) with the most(est) at the end of the week wins a thousand pounds.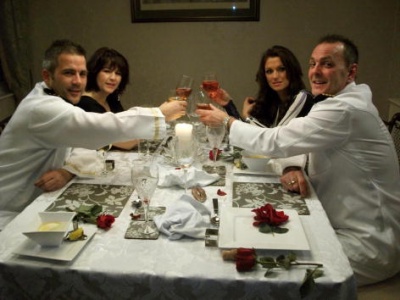 Posing for the stills... but will the bonhomie last when the TV cameras start rolling?
The first half of each show follows the preparation for the party, and the second half is the event itself. There are frequent cutaways to pre- and post-game interviews with the contestants. It's a surprisingly entertaining format, with Dave Lamb's voiceover striking just the right tone, taking the mickey but not to the extent of stitching up the participants. Let's face it, these people know very well what they're letting themselves in for, and their follies and foibles are bound to get an airing - especially if those foibles include inviting a group of friends round to sing hymns in four-part harmony at the guests. Really - it happened.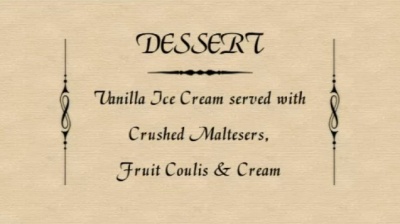 A menu graphic from the first series
There is a rather strange feeling about the whole dinner party theme, as if this was a show from the aspirational eighties rather than now. All the participants seem to live in those spacious houses with nothing in them that isn't furniture. Don't real people's houses usually contain, y'know, stuff? (To be fair, this was more the case in the first run, and subsequent series have featured more "ordinary" homes.) Still, it's a fun way of doing a show focusing on contestants' personalities without going down the "extreme challenges" route.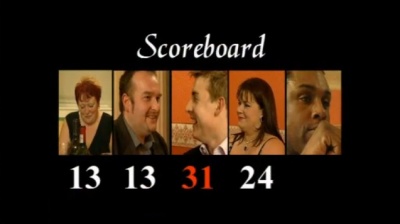 A scoreboard from series 1
The obvious tactic for the more unsporting of participants is to dole out very low scores to everyone else in order to improve your chances of winning. But the producers (who take a dim view of tactical voting, apparently) evidently have a deus ex machina or two to hand: one contestant tried this, essentially choosing to mark everyone else out of three instead of ten, only to be told at the end of the week that she must either rescore all four parties, or else disqualify herself from the competition. This certainly helps make the process fairer, but there's a slightly unsettling vagueness to it - how low do your marks have to be before they become 'tactical'?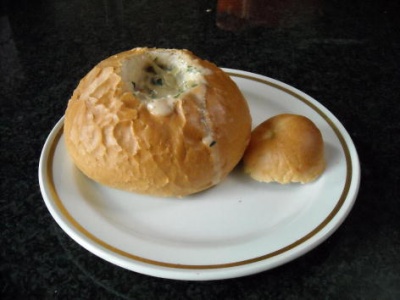 For some reason, Channel 4's publicity people (whom we love dearly) think the best way to promote the show is to issue masses of these arty food shots.
It's light and fluffy, undemanding but enjoyable enough, and feels about right for the post-Countdown slot. However, as that slot has effectively been dealt out of existence, the 2008 series moved into primetime (with four contestants in a single hour-long show); quite an accolade for a low-key programme which has gone from strength to strength largely through word-of-mouth. Indeed, it's become such a reliable audience-grabber that Channel 4 and More4 seem happy to throw repeats into any available slot. Heck, does More 4 even show anything apart from this and Grand Designs nowadays?
And think about this: shows like MasterChef and The Apprentice may be huge hits, but how many viewers could name the voiceover artists without looking them up? For that matter, can you? Yet Dave Lamb has arguably become well-known almost entirely as a result of this show (even though he's also a regular supporting actor in just about everything ever made for British telly) - so much so that he's now routinely identified as "Come Dine With Me's Dave Lamb". For a voiceover to get such recognition is perhaps unique - probably only Marcus Bentley comes close, and we'd wager that even though everyone knows the voice of Big Brother's narrator, most would still struggle to put a name to it.
From August 2021, contestants all cook at the same place, presumably due to COVID-19 reasons. One week in September 2021 consisted of six dinner parties rather than five, as Channel 4 needed something to go in the 5:30pm slot on Black To Front day on 10 September 2021 and had presumably forgotten that series 2 of Beat the Chef was exactly 26 episodes long.
Come Date with Me
In 2011, Channel 4 commissioned a broadcast pilot run of a variation on the format, entitled Come Date with Me, which broadly speaking played out in the same manner as the original format. However at the end of the week, instead of winning £1000, the winner was allowed to choose one of the other four contestants to go on a date with.
Key moments
We thought it was pretty audacious when a contestant in the first series - a footballer's wife, no less - bought her ravioli ready-made, lied about it... and won the £1000. But that was nothing, nuthin, I say, compared to the contestant in series two who had the local bistro cook her entire meal, which at a text-message signal, they secretly passed to her through the kitchen window. The best bit of this diabolical scheme is that when, in a fit of conscience, she confessed what she'd done (or rather, not done) to one of her diners, said diner thought this was a great idea and not only promised not to blab to the others, but awarded her hostess maximum points too.
One party ended with the hostess offering her guests a puff of fruity tobacco from a hookah.
In a celebrity edition of the show, Dani Behr came down with gastroenteritis on the day of her dinner party, meaning she spent almost the entire afternoon and evening in bed. This meant her non-celebrity brother Stephen had to fill in for her, from preparing and serving the entire meal, to joining the other three rather bemused celebrities - Bobby Davro, Dane Bowers, and Eastenders actress Laila Morse - for the meal at the table.
Heather Horsfall having a mental breakdown in front of her guests when she is revealed to be last in the All-in-One Basingstoke episode on 15 September 2014.

Well, that went well.
Peter Marsh's infamous "what a sad little life Jane" diatribe in the All-in-One East Oxfordshire episode on 4 January 2016.
Inventor
Nell Butler
Theme music
Daytime version: Nick Crofts. Incidentally, the first series had a very different closing theme which has since vanished along with the incidental music based on it.
Primetime version: Patrick Duffin.
Trivia
The format has been sold to at least 30 territories around the world, including Australia, Belgium, Canada, Croatia, Cyprus, Czech Republic, Denmark, Finland, France, Germany, Greece, Hungary, Iran, Ireland, the Netherlands, Norway, Poland, Russia, Serbia, Slovenia, Spain, Sweden, Turkey and the United States. Some of these shows have made it back to the motherland - Channel 4 and More4 have shown Come Dine with Me Ireland and Come Dine with Me Down Under.
Many countries have given the format different titles. Belgium sticks close to the original with Comen Eten (which means exactly what it sounds like), while Croatia goes for the very literal Večera za 5 ("Dinner for Five"). Sweden and Norway have Halv åtta hos mig and Klokka åtte hos meg (respectively, "7.30 at my Place" and "8 o'Clock at my Place"). Germany has Das Perfekte Dinner ("The Perfect Dinner"), France goes for the more realistic Un diner presque parfait ("An Almost Perfect Dinner"), while Greece plays up the intrigue angle with Kati Psinete ("Something's Cooking"). But surely the cleverest title is the one thought up by the Dutch, Smaken Verschillen ("Tastes Differ").
Various celebrity editions have been produced, of which the one of most interest to us was a game show hosts special.
Also of interest to us was a Big Brother winners special, featuring Brian Dowling, Nadia Almada, Brian Belo, and Sophie Reade.
To mark the wedding of Prince William and Kate Middleton, on 29th April 2011, a special episode of the programme was broadcast in which four people from different parts of the country competed to host the best Royal Wedding street party for up to 40 guests.
If all that isn't enough for you, Come Dine with Me is surely one of the most influential formats of the new century, with lots of other shows following its lead. There have been other dining-based descendants like Restaurant in Our Living Room and Instant Restaurant, and the basic concept has also been applied to rating houses (May the Best House Win), weddings (Four Weddings), hospitality (House Guest, Three in a Bed), beauty salons (Spa Wars), camping (Hello Campers), hobbies (Your Hobby or Mine?, Last Fan Standing), occupations (Call That Hard Work?), country walks (Take a Hike), holidays (Strangers on a Plane) and probably a bunch of other things that even we don't remember.
Merchandise
Come Dine With Me: The Search for Dinner Party Perfection recipe book (hardback)
Web links
Channel 4 programme pages: Come Dine with Me, Come Date with Me, Couples, Celebrity, The Professionals
See also
Weaver's Week review (2008)
Feedback