Weaver's Week 2012-10-14
Last week | Weaver's Week Index | Next week

If you could have an animal on your quiz team, would you have an owl or a badger?
Channel 4, 15 September to 27 October
Saturday night is the biggest battleground on television. BBC1 has Strictly Come Dancing. ITV, they have The X Factor. BBC2, there's QI XL. S4C has live rugby, Eurosport's got live gym workouts, Challenge has Bob's Full House, and MTV Rocks shows Paramore and Marilyn Manson. Can't have too much Crimson Glow or That Scary Bloke in your Saturday night, and that's just the rugby players.
What do Channel 4 have? Some of the greatest comedy names from the last fifty years. Nicholas Parsons and his son Andy. Johnny Vegas, Phill Jupitus, and Barry Cryer. Jo Brand, Dave Spikey, and Celebrity Coach Trip champions The Chuckle Brothers. All of them are in the studio, all will face the barbs of David Tennant, who readers will doubtless recall from his title role in the BBC drama Casanova.
The basic idea is to have a show containing loads of funny comedy clips. Such as Harry Enfield and his "Loads-a-money" character. Or the BBC's Bread programme. A laugh a minute, that was, literally waiting 60 seconds between chortles. As an excuse for all of this archive nonsense, Channel 4 has two options: some talking heads, or a quiz format. Which did they go for, and will they be reviewing this on UKTalkingHeads.com?
So it's a quiz, which begins with introductions for the teams. Round one is The Year In Question, a contest between representatives of national newspapers about recent history. Except it's not: it's two comedy clips, a theme tune, and the additional challenge of a further question, all from one year. Comedy World Cup sets out its stall in this opening round: there are six points to be awarded, and it takes 13 minutes to award them. The quiz is just an excuse for some banter and gabbleation. Are we sure we can't get UKTalkingHeads.com to watch this show?
After the break comes "Book Group", in which the host reads out a series of extracts from a comedian's autobiography, and the challenge is to identify the author. This is a quick-fire round, complete in a mere ten minutes. "In the Frame" is round three, a series of photographs from films but with all the people's heads airbrushed out. It's amazing what they can do with modern technology. With a bonus question lurking after each question, the scores are able to mount up at almost a point every 30 seconds.
Part three begins with "Let's Laugh at Johnny Foreigner", a sitcom filmed overseas. Points are awarded for identifying the language and for which show it's based on. The challenge is to fit in as many stereotypes as possible into the three-minute discussion. If it's Sweden, our bingo card says furniture, murders, chefs, and women, and we claim a full house of Stereotypes on Channel Four points. Missing in the episode we saw was the Call My Bluff round: three formats, only one of them is real.
"In the Spotlight" is next: the team picks a subject from a short list, the opposition chooses who will answer those questions, and there's 60 seconds of questions to be answered. The list of subjects never included "pot pourri", you never know what you'll get.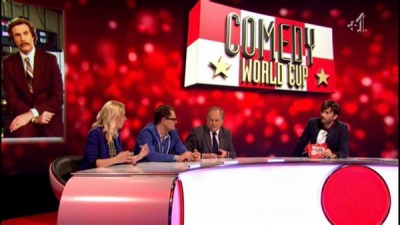 Clue about the picture above: Shaun of the Dead*
Part four begins with "What Happens Next": a clip is shown, it comes to a stop, and the teams have to work out the next action. Probably a visit from A Question of Sport's producer, with a note saying "we've been using this since most of you lot were in short trousers." Finally, the quick-fire buzzer round, a series of unrelated questions asked and answered by signalling on the buzzer.
The team with the fewer points is the winners, and leaves the contest; the one with more points must come back and do it all again. At least, we think that's how it works. We don't particularly care for a result.
Now, credit where it's due, and David Tennant plays a great host: he gives the right answer, and the question for the viewer to think about during the break. Tennant also keeps the conversation jostling along, often by setting up topics the panellists can use. The best thing he does is that he doesn't interrupt: when Barry Cryer is telling his anecdote (the same one we saw him give in 2006), or Jason Manford is giving exactly the same routine he used on Rob Brydon's show last week, the host lets them get on with it.
Comedy World Cup contains a couple of Easter eggs, recurring motifs for regular viewers: a clip from David Tennant's glorious career, and his t-shirt always depicts a late comedian. The tournament format gives an excuse to invite back some teams, and if a viewer is a fan of one of those participants so much the better.
Some of our criticism comes from the scheduling: this isn't an 8pm on Saturday show, it's for the start of the weekend (say, 10pm on Thursday) or for the end (7pm on Sunday). We do appreciate that Comedy World Cup works before the watershed with only a little bleeping.
For our money, this isn't a programme we tremendously disliked, but not were we roused to care about it. The show never quite answered the fundamental question: are you a clip show structured with a game format, or are you a game that happens to be comedy clips? Whichever it was intended to be, it came across as straddling the divide, and really being neither.
Heat 7: Scribes v Ciphers
We have a singer in the Bath choir, and a tuba in the York brass band. Someone who can recite the first Harry Potter book from memory, and a representative for the World Puzzle Championship.
Pictures for the Ciphers, who get a ballot box, a chequerboard, a shark's fin, and a tied tie. Their guess is "cheques"; the Scribes suggest "styles of shirt", including the "black and white shirt". No, it's poll, check, finn, tie. Say it. To the Scribes, who go for it after two clues: things that happen every ten years. For the Ciphers, the clue "Avian resident of Hundred Acre Wood" leads them into wrong territory, not anagrams but simply Owl is an owl. The Ciphers would have an owl on their quiz team; the Scribes' answer to this conundrum is not recorded.
Scribes got a bonus there, and get sporting events and differences, it's the difference between men's and women's sports. Two points, leaving the Ciphers with curtains. That's "curtains in 'The Raven'", and Iraqi voters' fingers, not things that are all stained – stained prose? Try purple, as in purple prose. The Scribes get the music round, songs named after famous actors – "Clint Eastwood" and "Barbra Streisand", and we didn't get to hear "Grace Kelly". We win! The Scribes have scored 9 points, the Ciphers haven't.
Ha! We claim five on the first sequence, knowing that Devil's Night is 30 October leaves 2 November as All Souls' Day. That's two for the Ciphers. Something to do with mountains for the Scribes, they punt at "Snowdon" and "Ben Nevis"; it was highest mountains in England, as the Scribes talked themselves out of. Increasing numbers of queens for the Ciphers, who suggest two-board simultaneous chess. The question editor has a pack of cards. Two points.
Maastricht and Amsterdam for the Scribes, then it goes to Nice. Not Rome, not Versailles; these are EU treaties, and after Nice (2000) came Lisbon (2007). Heads of the IMF for the Ciphers, "oh, what's his name". Louis Lebleugh? Christine Lagarde is her name for nineteen bonus points. Or, following a recognition of the danger of overheating and a massive revision of history five years later, just the one. Three women in black-and-white for the Scribes, they recognise Mrs. Gandhi and Golda Meir, and it finishes with Margaret Thatcher for two points. The Scribes now lead, 12-4.
"If the programme isn't interesting enough for you, why not watch something else." Like this week's University Challenge. You'll be back. For the Scribes, there are bits of offal, there are types of verse, and synonyms for nonsense, and words that form place names by adding "__pool". And there's a wall solved so quickly we didn't see it scrambled. Giles Coren has the meat offcuts, the Scribes have ten points.
Walls 201 and 202 on the website, the Ciphers have cuts of beef, and they have things found in a cupboard. They see "Skelton" and think of the Blue Peter presenter; it's actually Nick, he's a show jumper. Types of sporting shot? Things that can be followed with stick? Ah, that comes out. Types of argument? Ah, were these all parliaments? They solve the wall with ten seconds and their final life. It's not arguments but 17th century parliaments, and the beef. Six points!
Which leaves the Scribes ahead by 22-10. Bread products comes and goes, ending up 2-0 to the Scribes. Family relations is theirs 3-0, and Legends of baseball a 1-1 draw. Famous flower paintings another draw, 2-2, and Angry Young Men goes to the Scribes 1-0. All of which leaves the Scribes victorious by 31-13.
Codes for the winners, colds for the losers, and another innuendo-laden closing monologue for Victoria. Ah, Only Connect, how you entertain.
This Week And Next
A very special edition of University Challenge this week, as Bath took on Liverpool. It was a science edition, with three physicists amongst the panellists, and Bath's economist the only one not reading a traditional or modern science. From this experiment we learned that there are a lot of arts questions on University Challenge, and that scientists aren't always going to get questions on their own subjects right. Liverpool suggested that Julius Caesar was born in 1872, Bath got back by suggesting that a highbrow play was written by Paul O'Grady, and that the mountain ranges in northern Greece and northern Turkey are the Dolomites and Steps.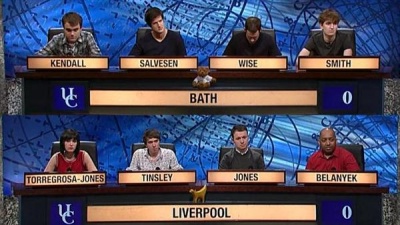 Bath: Joe Kendall, Adam Salvesen, Matthew Wise, Toby Smith
Liverpool: Sasha Torregrosa-Jones, Jonathan Tinsley, Andy Jones, Agneau Belanyek
The errors kept on coming: it was 8.08 before anyone got a bonus right, 8.16 before Liverpool got one, and 8.20 before either side got so many as two in a set. Even the biologist didn't get more than one on chromosomal abnormalities. "What is the only positive integer twice the sum of its digits" elicited the answers "7" and "2", which really couldn't possibly be right. This column doesn't like to say this was the worst game of University Challenge it's ever been our misfortune to see, but at times, it felt that neither would win the night. Bath managed to avoid defeat, winning by 125-110. "It was an exciting match," said the host, clearly hoping to come off well when compared to Comedy World Cup. 32/81 overall.
Mastermind took place during a Football Friday, when cake-makers from England and San Marino went against each other in an intense round of home economics and squirrel-dodging. If the fog of flour prevented you from seeing the action, you knead to know the results. And, to be frank, that this wasn't a bad edition to miss.
Nick Gunatilleke (Battles of the American Civil War) took things slow and steadily, missing more than he hit. 4 (2) is enhanced by a high-quality general knowledge round, including the fact that the leader of an orchestra plays a violin. Dave Lee Travis was told in 1988 that the leader played a baton, and he's still guffawing over it. 17 (7) is a whole lot better than it looks.
Xavier Woodward (Boxing world title fights since 2000) was rather beaten by the bell, ending on 4 (3). His general knowledge round progressed a little more quietly, but more effectively, ending on 18 (6).
Barbara Bell (National Parks of England and Wales) also fell into something of a pass fuzz in her first round, ending on 5 (5). Her second run proved more successful, though less good than her opposition: the final score 15 (8).
John Chadwick (HP Lovecraft) did at least keep the score ticking over. 10 (1) became a winning score with a minute to spare, his general knowledge round took him to 23 (3).
According to our football correspondent, Lady Sovereign of Stonebridge Park, the match ended England 8, San Marino 0. We particularly appreciated the way she was able to give the score before the match kicked off, saving everyone the bother. Including the operator of the scoreboard, who went home when it read 5-0.
ITV told us that they were going to commission a new series of Catchphrase. Stephen Mulhern will be playing the part of Roy Walker, and – according to our scout Mr. Bother of the Bar – the role of Mr. Chips will be taken up by Generic Yellow Monster #3 from a C-list horror movie.
Obituaries were published for Ronald Brech, the man who devised the Beat the Boss educational game used in schools during the 1980s. He also founded the Young Business People of the Year awards; this column attended a ceremony to support someone from our school.
Future historians may recall October 2012 for the furore surrounding Jimmy Savile. They may also wish to note how Justin Lee Collins was convicted of subjecting his lady companion to sustained emotional abuse, and threatening violence against her. We don't expect to see either man on television again for a very long time.
Mixed news for fans of Newcastle United. The good news is that the team will be giving 4200% across the year. The team's stadium will no longer claim to be "The Direct Sports Arena", but will revert to the traditional "St James' Park" after the club signed a deal with a legal usury company. It's not clear if all the home fans will be in the Wonga Gallowgate end, or just two of them.
It was the annual MIPCOM festival this week. It's an event where lots of television types go off to a luxury resort, buy each other's programmes, and get so tremendously drunk they have difficulty remembering how to tie their own slippers. The last is surely the explanation for one of the results of the festival poll, voting as the Best Studio Game Show our very own The Bank Job. This is inaccurate on two counts, one being that it's not set in a studio but in a hired outside broadcast facility.
We were leafing through the BBC's "Ariel" website this week. Didn't find any ways to make our washing whiter, but we did find out the story of Roger Keevil. A home competitor on Come and Have a Go If You Think You're Smart Enough, Roger got to the studio, won the studio game, and moved to Spain so he could work on his first novel. Publishers weren't interested, so he went on Secret Fortune, took home £50,000, and self-published the book.
Another quiet fortnight for the OFCOM compliance unit. They were snowed under by an organised campaign against Channel 4's Islam: The Untold Story, all 300 complaints were summarily rejected. Nor were there any new investigations against game shows. It's almost as if OFCOM are trying to sneak away from this column!
BARB ratings for the week to 30 September put The X Factor top of the tree with 9.35m seeing the finalists announced. The Great British Bake Off brought 5.1m to BBC2, and The Chase Celebrity Specials had 4.25m. Never Mind the Buzzcocks returned to 1.6m viewers (excluding NI). We've no ratings for Channel 4. Celebrity Juice took in 2.5m viewers, Only Connect had 895,000, and The X Factor Us 825,000. British spin-off programme Xtra Factor attracted a mere 805,000.
The week's big battle will be England and Poland Men's Football (ITV except Scotland) against The Great British Bake Off's Grand Final (BBC2). Mel and Sue against Adrian Chiles: there can only be one winner at 8pm Tuesday. Elsewhere, another run of America's Next Top Model (UK Living, 9pm Monday), and TV3 shows Ireland's Top Debutante (8pm Wednesday). Pointless Celebrities returns next Saturday (BBC1, 5.40), with Strictly Come Dancing (6.30), The X Factor (8.20), and The Million Pound Drop Live (8pm) all on air at the same time.
To have Weaver's Week emailed to you on publication day, receive our exclusive TV roundup of the game shows in the week ahead, and chat to other ukgameshows.com readers, sign up to our Yahoo! Group.