Weaver's Week 2012-10-07
Last week | Weaver's Week Index | Next week
The Week is still going to the dogs.

12 Yard for ITV2, 5 September – 10 October
So the basic story is this. There's going to be a television commercial, and it's going to have a dog appear in it. And, for no obvious reason, there's going to be a television programme made about the casting for this advert.
It'll feature Lilah Parsons, a human fashion model. There will be Addison Witt, who is a Hollywood dog agent. "Hollywood dog agent" is certainly a job title we didn't know existed, and we're not certain quite what he does. Stacey Solomon, ITV's girl-next-door, is the lead judge. There's an occasional skip-on role for Ashleigh and Pudsey from Britain's Got Performing Dogs, and the whole thing is voiced by David Walliams, also of Britain's Got Performing Dogs.
Now, we were quite prepared to write off this programme as a bit rubbish. "Hur hur, ITV2 is going to the dogs. They can't afford a human model competition, so they're stuck with mutts. Snigger." This would be completely unfair, and entirely wrong.
This is ITV2, and all the clichés of talent shows are present. The audition rounds are intercut with swift movements, jumping from competitor to competitor to competitor and back again. There's obvious music, the voiceover is often a bit too knowing for our tastes. But ITV2 knows its kawaii: a programme of dogs doing silly tricks and generally looking cute isn't going to go terribly far wrong.
Top Dog Model is actually a decent bit of television. Let's not get carried away, it's not the best thing we've seen this year, it's probably not the best thing we'll see this week, but rather than give up after forming our view, we continued viewing because it's an entertaining programme.
The great thing about Top Dog Model is that it doesn't take itself seriously. It's capable of laughing at itself, and it rarely misses an opportunity to laugh at itself. Much of this is from David Walliams' slightly arch commentary: the words are entirely sensible, but the tone and tenor is that he can't quite believe what he's saying. It's a surreal experience.
Like all the best programmes, Top Dog Model is a mix of the familiar and the novel. All of the tropes traditionally found on other talent shows, especially modelling programmes, are present. Competitors are invited to "paw camp", where they take part in "battle rounds", in pursuit of six collars signifying their continuation in the game. Read "boot camp" from The X Factor, "battle rounds" from The Voice of Holland, and the necklaces awarded to – and removed from – contenders on Britain's Next Top Model.
Our feminist side is going to interject here, muttering something about how modelling shows treat women as sub-human, denying them agency, fit only to be moulded into someone else's vision. This critique still applies to Top Dog Model, though with a note that no-one claims the models here are anything other than dogs. Human model shows always have the aroma of misogyny, that somehow they're searching for a robotic human. Not so for Top Dog Model.
Indeed, the tasks here are clearly and obviously relevant to the task in hand. Right from the start, the dogs and humans are given sensible things to do. If the dog can't sit on the paw, or remain still while its photographs are taken, then it's not going to be good as a model. It's still a wonderful dog, gives great companionship, looks brilliant, but it's not model material.
This goes on through the rest of the series: can the dog be persuaded to look at its human co-star? Or to remain on the floor in front of the sofa? It eventually emerges that Top Dog Model is testing the owner as much as the dog: their pet will only succeed if it's been trained, if it will respond well to rewards.
It's difficult to put a finger on what's kept us watching. The atmosphere of the programme is light, it's frothy, it's undemanding. It really doesn't take itself too seriously, and the show benefits. Television we can relax into, laugh with, laugh at. Television that isn't going to cause us offence, and that is – indirectly – going to help us think about other shows that do give us grief.
We were surprised to like this show. Never know what will happen when you switch on the telly.
And one final word from Top Dog Model's narrator. "Robert Pattinson has been named the world's sexiest man. Sorry, do the readers of Glamour not know Dale Winton...?"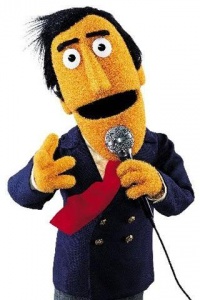 Heat 6: Wintonians v Quitters
Which brings us to Only Connect, where the Wintonians are actually alumni of King Alfred's College in Winchester. Quitters are, obviously, people who have stopped doing something: in this case, it's smoking. We learn that no other Wintonians wanted to take part, and the captain of the Quitters has seen every episode of Buffy the Vampire Slayer. Even the one with the broken yellow crayon.
The first question is languages and numbers. "We don't know! Or maybe we do!" say the Wintonians. "Is it the number of members of parliament?" ask the Quitters. No! It's literal translations of the number 98 in various languages. "Songs on the new Madonna album" guess the Quitters about the audio round. No, artists with double letters at the start of their names, a bonus for the Wintonians. They get three for things that gave superheroes their powers, allowing Victoria to digress into a "which is the best superhero" discussion. This column's slightly rubbish superpower is running to catch the train with about 20 seconds to spare.
"Kohl makeup" suggests the Quitters with a list of four women. "Women who appeared on the cover of Time." No, women who re-married their ex-husband. Lovely link. "Things that end in 'nik'" is the link for the Wintonians, and two points. Pictures of things named after living creatures give a bonus point to the Wintonians, and they lead by 7 points to fewer.
To the sequences, and Stations of the Cross is the link. They get "11 – Nailed to the cross" for two points, and suggest that what comes after that is "nothing fun". Especially if you're Dominik Diamond. For the Quitters, if the first was Iunius, surely the fourth month after will be September. Neither side scores to this question: someone please wake us up when it ends. What? Oh. Pictures for the Wintonians: signing a cheque, sealing an envelope, so "I'm yours" gets three points.
After Kenneth III came Malcolm II, Duncan I, and the Quitters are off the blocks with "Macbeth". Victoria pretends to follow the old theatre tradition of not mentioning the king's name, because it's bad luck. "Ingestion" is the first clue for the Wintonians, and – ooh! OOH! They're going for it!! "Excretion" is the right answer! It's another FIVE POINTER!!!!!!one!!!!!! X marks the spot for the Quitters, they're looking for something with four Xs, and score III points. They still trail, 5-17.
Walls 195 and 196 on the website, and the Quitters start with boxing punches. There looks like there's a set of dances, and some things that can be followed by "change". Is the last thing a group of songs that begin "Blame it on the ___"? The last group, not dances but "non-sweary swear words". Minced oaths, apparently. That, folks, is how to play the wall. Ten points!
For the Wintonians, there's a group of Sesame Street characters, including that well-known game show host Guy Smiley. There's nicknames of darts players, there's some pub names, it looks like Oscar and BAFTA could be film awards, except they're not. The team don't try all the possibilities for the Sesame Street characters, but they do get the film awards. That last group, yep, pub names. Ten points!
All of which leaves the Wintonians ahead by 27-15. Reference works used by the question setters, including our favourite Whitaker's Almanack. 3-(-1) to the Wintonians there, but Good sources of iron goes to the Quitters 2-1. Stringed instruments is a 2-2 draw, and Monsters from literature goes 1-0 to the Wintonians. They've won by 34-18. Rather helps to get some points before question 11, we fear.
This Week And Next
Pembroke Cambridge took on Lancaster in University Challenge this week, and it was honours even through the opening exchanges, with the French Foreign Legion cancelling out Ben Franklin's Magic Squares. Lancaster got the film studio from the fact it was named after a London district: Ealing or bust. After the first visual round, Pembroke had the lead, and though Lancaster often reduced it to a few points, they never quite overhaul their opposition.
Thumper had his head in his hands during the audio round, where Lancaster show remarkable lack-of-ability at identifying birds in classical music. He was equally abrupt with a player who takes a long time giving the second part of a two-part starter question: harsh, but entirely fair. Not until the second visual round did Pembroke fail to get at least two parts of a bonus round, and that consistency – allied with a slight superiority on the buzzers – gave them the victory by 200-140.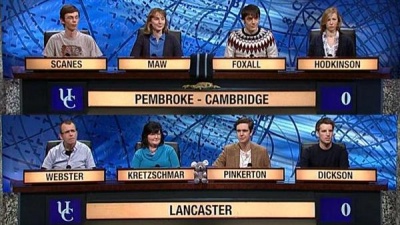 Pembroke Cambridge: Robert Scanes, Emily Maw, Tom Foxall, Jemima Hodkinson.
Lancaster: Alan Webster, Anne Kretzschmar, George Pinkerton, Ian Dickson.
"Only Connect makes Mastermind look like The Only Way is Essex." Humpo isn't rising to the bait, not least because this week's show was meant to go out last week, coincidident with the BBC4 evening on George Harrison. They're not having much luck at the BBC2 scheduling department.
The runners-up board after 8 of the 24 heats:
Chris Cann 29 (2)
John Wheeler 29 (5)
Paul Whittaker 27 (2)
Philip Walters, Nina Fetherston 25 (1)
Andrew Granath 24 (5)
Philip Warmby (History of Rome to 1944) is told he has a big subject before a single question is asked. A slow start and good recovery takes him to 11 (0); his general knowledge round includes the response "Anthony ... pass", which is taken as an error. 24 (3).
Alan Sharp (Everest mountaineering) starts strongly but stumbles a bit, ending on 12 (1). His general knowledge round suffers a problem on the subtitles when IAN PAISLEY is incorrectly spelled with lower-case letters, but the contender keeps the score ticking to 26 (3).
Christine Plume (A Dance to the Music of Time) either answers crisply or passes, and closes on 12 (3). Her general knowledge round begins with a question about ballroom dances, and it's the start of a sterling effort, ending on 29 (5). She'll be back!
Paul Whittaker secured a Perfect Round on George Harrison, 15 (0). It's a simple question of whether he'll get fourteen correct answers in his second round, and for the longest time this looks possible. A run of errors towards the end means he finishes on 27 (2). It may bring him back as a high-scoring runner-up.
A press release has been sent out from the CBBC office, delivered by Dodge T. Dog's pet brick. It tells us how Junior Masterchef has been recommissioned, and that the new series will have an additional judge. Unfortunately, Mr. Dog's brick got a bit wet while bringing us this news, so we don't actually know who the new judge will be. At a complete guess, Myleene Klass.
BARB ratings in the week to 23 September show The X Factor still number one, with 9.75m people following the show to Boo camp. 4.85m saw The Great British Bake Off, and The Chase With Celebrities brought 4.4m to ITV. Celebrity Masterchef finished with 2.05m, and the Big Fat Quiz of the 90s attracted 1.75m. No change further up the EPG: Celebrity Juice (2.01m), Xtra Factor (1.06m), and Only Connect (800,000) remain the top three. A big hello to Nigeria's Got Talent, which had 18,000 tuning into the expat station Hi TV.
BARB's expecting to get a grouchy letter from Channel 4, complaining that a million viewers were incorrectly recorded as watching their channel and not ITV on 15 September. Apparently, the executives weren't alarmed by claims that Comedy World Cup managed to double its ratings, but were worried when its audiences halved the following week. We expect to be reviewing Comedy World Cup next week, that's unless we misplace a million viewers and get a grouchy letter from The Chuckle Brothers.
Coming up this week, another chance to Breakaway (BBC2, 4.30 weekdays). New editions of 8 Out of 10 Cats (C4, 10pm Monday), and Have I Got News for You (BBC1, 9pm Friday), and we're not sure about Jewish Mum of the Year (C4, 9pm Tuesday). Saturday's showtimes: Strictly at 6.30, Take Me Out at 7.05, Million Pound Drapp at 8, and X Factor at 8.20.
To have Weaver's Week emailed to you on publication day, receive our exclusive TV roundup of the game shows in the week ahead, and chat to other ukgameshows.com readers, sign up to our Yahoo! Group.