Whose Line is it Anyway?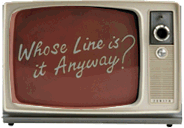 Host
Co-hosts
Usual guests included: John Sessions, Josie Lawrence, Tony Slattery, Sandi Toksvig, Paul Merton, Caroline Quentin, Mike McShane, Colin Mochrie, Stephen Frost, Ryan Stiles, Greg Proops, Brad Sherwood and Wayne Bradey.
Providing the music: Richard Vranch.
Broadcast
BBC Radio 4, 1988
Hat Trick Productions for Channel 4, 1988 to 1998
Synopsis
Now. When we write these entries for this fine A-Z you are reading we need to find some way to 'get into' the show via the introduction. Sometimes we know instinctively what to write but other times we need to make it up as we go along.
Which rather brilliantly leads us into Whose Line Is It Anyway? where Clive Anderson challenges four actors and comedians to make it up as they go along. This show ran for billions of years (well, ten) and yet still effortlessly got laughs all round.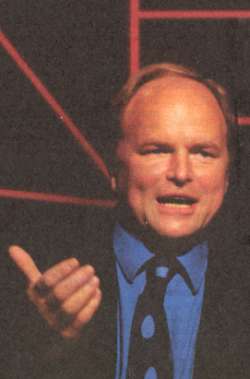 Host, Clive Anderson
Although purists may argue that it was always funnier in its early days. They may have a point. Whilst Greg Proops, Colin Mochrie, Ryan Styles and Co. did a splendid job, for real hilarity you have some way to go before you can beat the old class of say, John Sessions, Stephen Fry, Josie Lawrence, Tony Slattery, Paul Merton, Sandi Toksvig et al. But maybe that's just us.
Rounds would include things like 'Film and Theatre Styles' where two players would act out a scene given by Clive who would buzz in and instruct the players to suddenly act it out in style of his choosing, from a pool of ideas the audience has shouted out.
And then there's 'Party Quirks', a game where one player is hosting a party and the other three are joining but have a quirk that members of the audience have written down beforehand. The host of the party has to work out what the quirks are.
And then there's the 'Rap', which turned into a 'March' and finally into a 'Hoedown' to finish off the show. These rounds tend to be very funny, especially when Stephen Fry is playing because he hates it and often goes into a random made up poem which doesn't fit the tune at all. You have to see it really.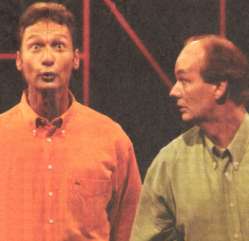 Colin Mochrie (right) does some slo-mo damage to Ryan Stiles
Clive gives out the points randomly, but whoever 'wins' has the rather dubious honour of reading out the credits in a style of Clive's choosing.
Clever actors, wit and lots of comic interplay between players and Clive make this an almost must-see programme, especially when it's on form.
The programme regularly travelled to America and even spawned an American counterpart hosted by Drew Carey, of The Drew Carey Show no less.
Key moments
Mike McShane and Josie Lawrence making up a musical about a vacuum cleaner on the spur of the moment.
Trivia
Many of the stars in 'Whose Line' are or were members of The Comedy Store Players, a improvisation group formed in October 1985 and featuring the likes of Merton, Lawrence and even Richard Vranch at the piano. They're still performing today.
Over the course of a single taping, games featured on the show were played several times which also meant that there would be more than enough material to choose from.
Because of this approach in production, there were at least two compilation specials at the end of each series featuring some of the unseen footage. However, in the 1997 series, an extra 7 episodes were also broadcast.
Review copies of the DVD contained a clanger - they'd spelt the first word as Who's.
Catchphrases
"And I'll just add up the points from that round..."
"And the winner gets to read out the closing credits in a style of my choosing..."
"This is me, Clive Anderson, saying goodnight. Goodnight."
Inventor
Dan Patterson and Mark Leveson
Merchandise
'The Best Of...' video release
See also
Mock the Week, created by the same devisors.
Web links
Videos
Josie Lawrence and Tony Slattery get involved in a Helping Hands game
A narrated sketch featuring Ryan Styles and Colin Mochrie
A hoedown about being stood up, plus Tony Slattery is challenged to read the credits in the style of a one-man Eastenders episode
The first episode from Series 4 in full featuring Stephen Frost, Tony Slattery, Steve Steen and Jim Sweeney.
The second episode from Series 4 in full featuring Josie Lawrence, Paul Merton, Greg Proops and Ryan Stiles.
For a limited time only - Series 1, 2, 3 and 4 are available via 4onDemand to celebrate the 25th anniversary of Channel 4. 4onDemand
Pictures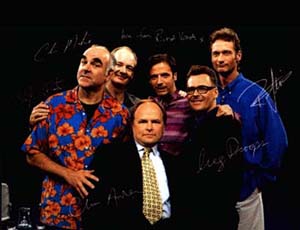 Picture 1
- Clockwise from left: Stephen Frost, Colin Mochrie,
Richard Vranch
, Greg Proops, Ryan Stiles,
Clive Anderson
.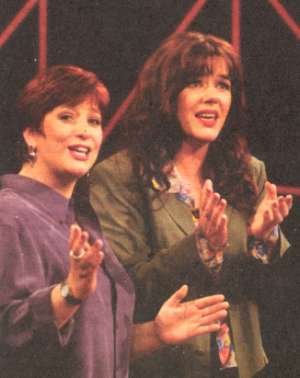 Picture 2
- Caroline Quentin and Josie Lawrence
Feedback