A Right Royal Quiz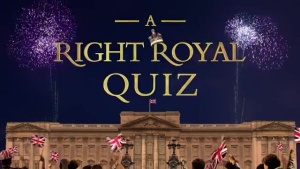 Host
Broadcast
Shiver for ITV, 31 December 2017
Synopsis
A safe and inoffensive quiz, themed around the royal family.
Rounds were familiar from every other show under the sun. What Happened Next began the show. Facts were found from lies in the manner of Call My Bluff. There were Spot the Connection and Name the Year rounds, and the show closed with The Inevitable Quickfire Buzzer Round. The only novelty came when the teams were shown four items associated with the royals (a toy signed by Sarah Ferguson, a garden gnome in the shape of the Queen), and asked to price them.
Interspersed were some brief chats with the studio audience, including the man who could make royal portraits on top of a pizza. (This sounds like the set up to a Two Ronnies joke. It's not.) A retired royal butler spilled no secrets, a town cryer shouted "Oyez", and royal correspondent Jennie Bond added a few facts.
Key moments
Fern opening the show by saying "good evening", despite the fact that it went out at 3:30pm.
Participants
Angellica Bell and Hal Cruttenden beat Joe Pasquale and Jodie Kidd.
Theme music
No Sheet Music, credited for Music.
See also
Feedback