Alistair McGowan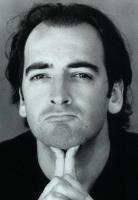 Biography
Impressionist, comedian and actor most famous for his BBC1 show The Big Impression. He's also acted on TV (Mayo) and on stage (The Merry Wives of Windsor, Endgame) and is a campaigner for environmental causes.
Trivia
As a teenager, he had ambitions to be a dentist, but decided that he was too squeamish to go through medical school. He did later get to play a dentist on stage though, in the musical Little Shop of Horrors.
Other musical roles he has played on stage include the MC in Cabaret and the title role in The Mikado. Surprisingly though, when he released his debut album in 2017, it wasn't as a singer, but as a pianist - The Piano Album features his interpretations of works by Frederic Chopin, Erik Satie and Philip Glass among others.
He also did various voices for Spitting Image, including Jeremy Paxman, as he would later mention when introducing himself on Christmas University Challenge - to the apparently genuine surprise of Paxo himself, who interrupted with a shocked "That was you, was it?".
Web links
Feedback