And Then You Die
Host
"Barrie Stardust" (puppeteer: Dave Chapman)
Broadcast
Granada for Dave, 4 December 2007 to 22 January 2008 (1 series)
Synopsis
When UKTVG2 metamorphised into Dave, they commissioned this as their first original programme - a comedy panel game about how crap life is.
The show is hosted by Dick and Dom in Da Bungalow regular Dave Chapman who has resorted to the guise of boozy, washed-up 80s TV puppet, Barrie Stardust. Mind you, Chapman couldn't really appear as himself on TV again after presenting some dismal Saturday morning show called Telegantic Megavision alongside Emma Lee some years ago.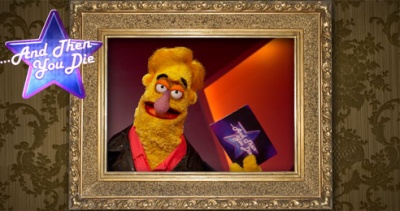 Barrie Stardust
The rounds were:
Life's a Bitch, a sort of inversion of the "What are you talking about?" round from 8 Out of 10 Cats in which the panellists were asked to rank the week's most annoying news stories.
Dead Silly Buggers: According to the show's blurb, "dedicated to the dead and buried whose implausible deaths resulted from their own fantastic idiocy." Teams are given three factors which contributed to the unfortunate person's demise and from these factors they have to work out exactly how they popped their clogs. Something along the lines of Guess-the-Darwin-Award, then.
The Shame Game - provide clues for your teammate to guess a celebrity scandal, without using the words on the card.
The End Is Nigh - the obligatory buzzer round.
The show didn't go down well with the viewing public and thus, after a solitary series, died. Ha!
Web links
Official site (web archive copy)
Feedback