Antiques Road Trip
Host
Voiceover/Finale host: Tim Wonnacott
Co-hosts
Experts: David Barby, Anita Manning, David Harper, James Lewis, Philip Serrell, Charles Hanson, James Braxton, Mark Stacey
Broadcast
STV Productions and BBC Scotland for BBC Two, 8 March 2010 to 9 November 2012 (140 episodes in 5 series)
STV Productions and BBC Scotland for BBC One, 7 January 2013 to present
Celebrity Antiques Road Trip: STV Productions and BBC Scotland for BBC Two, 24 October 2011 to present
Synopsis
Daytime (well, technically: "daytime" on BBC Two officially runs up to 7pm, so the 6.30pm slot counts) antiques show stripped across the week. Each week two of the Bargain Hunt/Flog It experts travel around a given region and attempt to "trade up" (which is poncy talk for buying, selling and reinvesting the proceeds). In the first series there would be a weekly winner, and then all eight returned at the end of the series for a final auction to decide the overall champion. In the second series all the experts went on a series leaderboard and overall winner was simply whoever made the most money during their week. After that, they did away with the idea of a series champion altogether and just had self-contained weekly contests.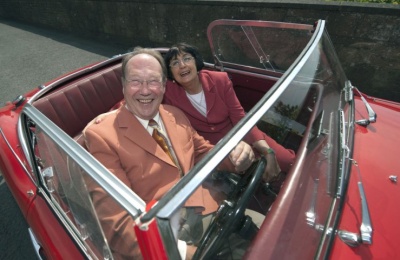 David Barby and Anita Manning
Unlike Bargain Hunt (but like its non-game stablemate Flog It), the show does take the auction house's commission into account, a fact which ultimately makes less difference than you might expect since in general the pieces either win big or lose big, though it does lead to running totals with awkward numbers of odd pence on the end.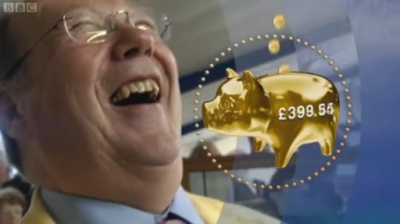 David Barby, laughing all the way to the (piggy)bank.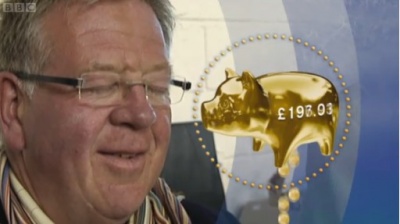 This variation is used when the expert (here, Philip Serrell) makes a loss.
An additional attraction of the show is that the experts travel around in vintage cars, which are cool if you're into that sort of thing — though being of a certain age, they do tend to break down rather a lot. Hey, it comes to us all in the end...
All in all, it's a typical daytime antiques buying-and-selling show, nothing terribly out of the ordinary (our mum reckons it's "changed a bit since the last series", which just goes to show how dissimilar to Put Your Money Where Your Mouth Is: Antiques it isn't) but if you like that sort of thing, you'll probably like this. It's certainly less dogged by staged and stilted conversations than most shows of its type (indeed, the free-flowing discussion between the contestants surely has to be the show's biggest selling point), and the money rollover adds a bit of excitement. Just a little bit.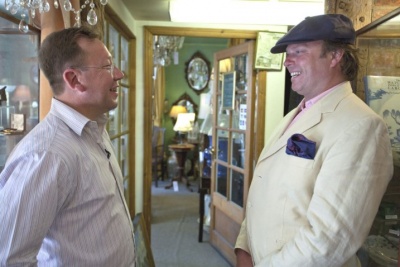 Fancy meeting you here! Mark Stacey and James Braxton
Champions
2010: David Harper
2011: James Lewis
Lewis actually topped the leaderboard in both series, but in series 1, Harper pipped him in the final auction.
Key moments
In one episode, David Harper paid £100 for what he thought was a Royal Crown Derby 1128 Pattern bowl worth £400, but upon seeing it, his opponent James Lewis immediately identified it as a likely fake. David sent it to Royal Crown Derby, who tested it, declared that it was indeed fake, and impounded it. Luckily David was able to get his money back from the dealer (who, let's face it, could hardly refuse, what with being on telly and all). But that wasn't the end of the drama - when they arrived at the auction, they found out that two of the other items (a Langley pottery frog bought by Lewis and a mid-19th century charger plate purchased by Harper) had been broken because the lowly serf of the production company whose job it was to pack them up for transit hadn't done a very good job. The Bargain Hunt broken items protocol was applied, with both dealers being given the auctioneer's top estimate for the items - which amounted to two rather handsome profits, boosted by the fact that they didn't have to pay commission.
Mark Stacey's talent for getting dealers to give him items for free. Derren Brown would be proud.
One memorable moment was on 10 October 2012 when Charles Hanson had £468.87 left to spend on his remaining budget, he saw an item, which was a 1875 Liberty & Co Anglo-Moorish mother of pearl inlaid stool, the owner of the store was looking for a deal of £650, which exceeded Charles's budget, so he made a deal with the owner to drop the price down to the remainder of his budget, which the owner accepted and brought Charles's budget down to £0. On Auction Day, the bidding started at £80, which was a low bid starter until at around the £380 bid, two telephone bidders were bidding big back and forth until the item was sold for £1,050 making a profit of £581.13 for Charles.
Another memorable moment was on 9 September 2015 when Paul Laidlaw took three steps forward into the shop, searched on the second shelf down from the bric-a-brac section and spotted a Georgian sweetmeat dish on sale for only £1 and it was the only item he bought from the store. On Auction Day, the bidding started at £100 and was sold for £360 making a profit of £359 for Paul.
The "spoongate" incident on 4 January 2016.
Catchphrases
Maybe not a catchphrase as such, but it would be remiss of us not to acknowledge the splendid bit of wordplay often present in Wonnacott's spiel over the opening titles: "It's time to put your pedal to the metal!"... or... "It's time to put your peddle to the mettle!" We doff our hats to you, sir.
Theme music
Lawrence Oakley
Trivia
This was STV's first series commission for the BBC. In the earlier series there was a clue to the show's Caledonian origin in the fact that the experts usually paid for their purchases using Scottish banknotes.
The largest profit on a single item was £19,940. Paul Laidlaw bought a Chambre Automatique De Bertsch sub-miniature camera for £60 and sold it at auction for £20,000 in an episode shown on 29 September 2017.
Laidlaw's find completely eclipsed the two previous largest profits: £3750 for Anita Manning's statue of Buddha (bought for £50, sold for £3800 on 8 September 2016); and £2692 for Charlie Ross from a chipped Staffordshire elephant clock (bought for £8, sold for £2700 on 19 March 2012).
From series 2 to 5, the show aired in an earlier slot at 5.15pm, and some experts-visit-historic-buildings inserts allowed its running time to extend from half an hour to 45 minutes. Interesting though these often are, the best bits of the show are still the interactions between the contestants, which now seem a bit swamped by all the extra(neous) material.
At the start of 2013, BBC2's afternoon schedule was moved to BBC1, with series 6 of Antiques Road Trip in the 4.30pm slot just before Pointless. A bit of a contrast from the children's programmes it replaced.
Pictures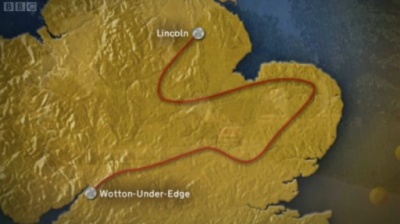 This map shows the route for one week's editions.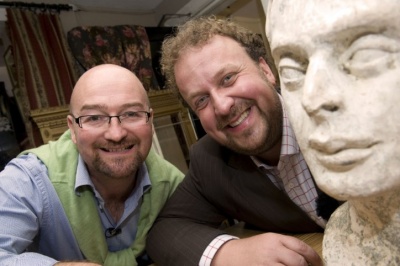 David Harper, James Lewis and friend
Web links
Official site (Regular version)
Official site (Celebrity version)
Feedback