Argumental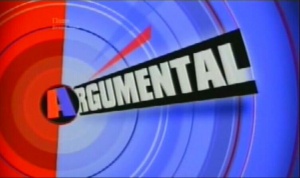 Synopsis
The word "argumental" doesn't appear in our copy of the Concise Oxford, yet just by looking at it you can tell exactly what the word means. Likewise with this show, from the pithy description "comedy debating game" you can pretty much tell exactly what it's like.
There are two teams of two comedians, seated in chairs at the sides of a large brightly-lit stage area with a microphone stand in the middle. The first four rounds follow roughly the same format: one person from each team steps up to the microphone, presents their argument, and sits down. A brief discussion follows, then the studio audience vote to decide which team wins that round. The voting is done by holding up cards on sticks, and in this instance the low-tech approach probably works better visually than the high-tech "press your buttons now" approach.
There are five rounds:
Classic debate round - One motion, based on a hot topic (e.g. "Global warming is a good thing"). One side argues for the motion, then the other against it.
Visual aids round - They are each given a different motion to defend, and while they do this, a series of pictures appears on the screen, which they have to somehow incorporate into their argument.
Flip-flop round - Two different motions, and the contestant has to change their position on a topic at the sound of the buzzer.
Celebrity round - Same as the "classic debate round" but with a celebrity-based motion.
Picture round - played as a free-for-all with the players remaining in their seats throughout. A series of pictures appears on the screen and anyone can offer suggestions as to what the picture represents an argument for or against.
After five rounds, the team who have won the more rounds are declared the winners and everyone goes home. Yes, really - this is a comedy panel game with a fair, consistent and transparent scoring system. This must contravene some broadcasting code, surely?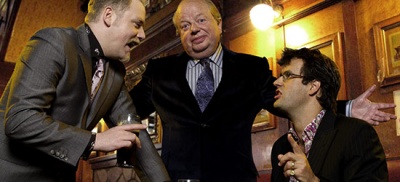 Rufus, John and Marcus have a Barney on Dave
John Sergeant is perfectly adequate as host, considering that he isn't helped by a rather uneven script that relies too much on the "nice bloke claiming to do non-nice-blokey things" cliché.
This is a rare original game show commission from Dave, the channel that styles itself "the home of witty banter". Not "belly laughs", you notice. Not "biting satire". Just "witty banter". And that pretty much sums up what you get from this show - a pleasant half-hour of... witty banter. Which seems fair enough. It's not worth arguing over, anyway.
Inventor
Credited as "based on an original idea by Ricky Kelehar".
Theme music
Will Slater
Trivia
Working title: Whose Side Are You On?. Speaking of which, would we be terribly out of order in conjecturing that the final title was intended to be ArguMENTAL until wiser heads prevailed? We have no actual evidence for this, you understand, merely an awareness of What TV People Are Like.
John Sergeant's post-journalistic career was very much on the up when this show first aired, thanks partly to the fact that he was appearing in Strictly Come Dancing at the time.
At one point, it was suggested that BBC One might pick up the show to fill in while Jonathan Ross' talk show was suspended. In the end, that didn't happen, but BBC Two trialled a short run of late-night repeats from November 2009. It was only the second time the BBC had picked up an original entertainment show from the UKTV network, following the Matt Lucas/David Walliams vehicle Rock Profile.
Web links
See also
Feedback