Arlene Phillips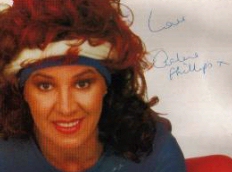 Biography
Legendary choreographer who first rose to fame when she created Hot Gossip, the pretty-risque-for-their-time dance troupe who were everywhere in the early 80s and spawned Sarah Brightman. Has also worked on more movies and stage musicals than you could shake a stick at. Go on, try it, I dare you.
Trivia
You know that OTT dance routine to "Every Sperm Is Sacred" in Monty Python's The Meaning Of Life? That was her, so it was.
She used to baby-sit for Gladiator director Ridley Scott, a commercials director at the time. He subsequently asked her to choreograph an advert for ice cream.
She was made a dame in the 2021 Queen's birthday honours.
Contact
c/o Independent Talent Group Ltd, Oxford House, 76 Oxford Street, London W1D 1BS
Web links
Feedback