Beat the Teacher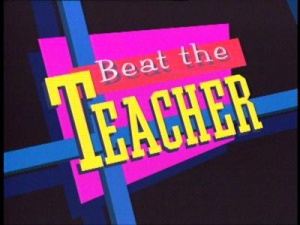 Host
Howard Stableford (1984)
Paul Jones (1985-6)
Bruno Brookes (1987-8)
Broadcast
BBC1, 24 September 1984 to 27 October 1988 (164 episodes in 5 series)
Synopsis
Ingenious game which levelled the odds between the oh-so-smug teachers and the school kiddies. It was originally commissioned to run for four days a week for seven weeks, and it packed a heck of a lot of gameplay into its tiny 15 minute time slot.
One child (about 13 years old) and teacher played a game of noughts and crosses where each of the nine positions was a 3-D cube with a vertical axis through it. The cubes displayed the sequence X-blank-O-blank (then back to X), so if either blank was displayed you didn't know whether the next position was X or O (unless you remembered what it was last time that position was moved - aha! tactics!)
1, 2, 3 or (very occasionally) 4 moves of the board could be earned by answering correspondingly difficult questions. These were of the puzzle and trick variety, for example:
Q) How far can a dog run into a wood?

A) Half way - then it would be running out of the wood.
Hence, both Sir and Swot had an equal chance (or so the theory went). Particularly ingenious contestants could wait for their opponent to almost fill up the board, buzz in to play their joker (which reversed all the squares on the board), answered a question to claim all the new points that had been made and then completed the board, earning a massive bonus, and randomizing the board. Because the other opponent wasn't allowed to play their joker until a sand glass had run out of sand, this was normally enough to sink the teacher. In your face, sir!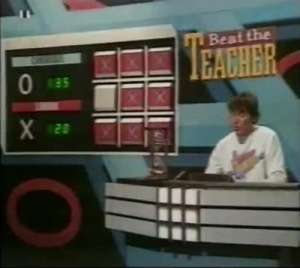 X is doing far too well.
Catchphrases
"Middle middle two, please!"
(After a joker had been played): "So that means that all the noughts become crosses (or "crosses become noughts") and vice versa!"
(After the board had been completely filled with either noughts or crosses, "...So that means that we randomise the board!"
(Howard Stableford): "...And the one-minute cuckoo sounds!"
(Paul Jones, in response to an incorrect answer): "Not in fact..."
Inventor
Clive Doig, who also produced the show and wrote many of the questions.
Theme music
The original theme music was composed by Mike Batt (q.v. Big Break). The 1987 and 1988 seasons music was specially composed and performed by Martin Cook.
Trivia
Over the whole series of the programme, the kids actually came out slightly on top in terms of overall wins, although when the teachers won an episode they would win big. Indeed, in most series, it would become fairly obvious at some point who would go on to win overall, whether teacher or pupil, and this usually happened, although a few surprises occurred too.
In the 1984 series alone, the kids won 13 of the 28 match-ups. The winners of this series were the pupils and teachers of Monk's Walk School, Welwyn Garden City, Herts. The others taking part were: Bedford's Park School, Romford; Brickhill Middle School, Bedford; Fortismere School, London; Impington Village College, Cambridgeshire; King David High School, Liverpool; St. Bernadette's R.C. School, Bristol and Weald School, Billingshurst.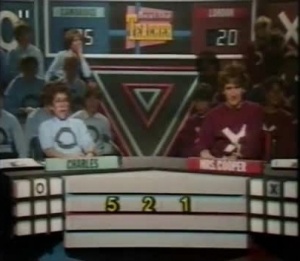 This 1984 audience is dressed to support their school.
The 1985 series consisted of a knock-out competition followed by an "Individual Champions" run where either a single boy or girl, or a teacher, another adult or even a celebrity stayed in until they were defeated. In this series, the appropriately-named Mr Champion won so many games that he was eventually replaced by one of his pupils on the show. However, despite reaching the semi-finals, he did not go on to win the series, which was won by another very strong teacher, Mr Wallin. The subsequent series were played in this style. The boy who won the 1987 series, Jonathan Cameron, was described by Bruno Brookes as 'a real whizz-kid' - and rightly so, since Cameron won all his games in style and was never once beaten.
One memorable question that Paul Jones asked in one of his series was, "If you had a red phone and a yellow phone, you swapped the receivers around and then the red phone started ringing, would you pick up the red receiver, the yellow receiver or both?" Neither contestant answered correctly, so Jones duly demonstrated that it would be necessary to pick up both receivers - the red one so that you could answer the call, but also the yellow one so that the red phone would stop ringing and thus be operational. (The call that Jones received was apparently from the producer, telling him to stop wasting time and get on with the show - Jones was quick to heed the warning.)
Peter Simon was the show's regular warm-up man.
Prizes varied over the series. In the first series, winners of the first round would get a day out at Alton Towers, along with a choice of a camera, a telescope, a pair of binoculars or a remote-controlled car. Losers would get a mug that bore the slogan, 'Beat The Teacher - Failure', apparently so that any teachers who lost would feel embarrassed in front of their colleagues in the staffroom, as host Stableford was always keen to point out. Losers in the semi-finals would get a 'Beat the Brains Out' hat, which was, bizarrely, worn by winners in later series. Losers in the final week would get an alarm clock, while winners would get a trip to Florida.
During the Jones-era, contestants would all get 'Beat The Teacher' pens, and the points that they accumulated throughout their games would be converted to cash to buy equipment for their schools. The school-prize system may have continued into the Brookes-era, we can't quite remember, but we do remember the daily winners during that period playing an endgame that involved trying to answer 9 questions correctly within 30 seconds in order to fill the board. However, the problem was that for the contestants to achieve this within such a limited time was quite a tall order, therefore many of them (kids and teachers alike) were unable to do it, despite their best efforts.
Paul Jones is he of "High Time" fame. The sometime Manfred Mann frontman was making a strong move into broadcasting at the time: he'd also just begun hosting his own Rhythm & Blues show on Radio 2, which would keep him busy for the next three decades.
Merchandise
There was at least one Beat the Teacher quiz book published.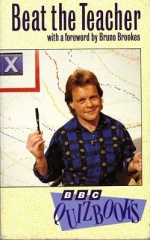 Web links
Opening titles from 1985 and 1987 in the BBC Motion Graphics Archive
Videos

An episode from 1986.
Feedback