Bernard Cribbins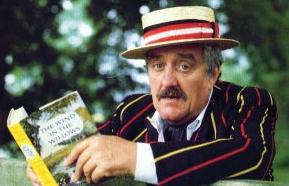 Biography
Character actor mainly known for comic roles. His films include The Railway Children and three Carry Ons, and his TV appearances include Fawlty Towers, "Last of the Summer Wine", Coronation Street, Doctor Who, 111 Jackanorys (which is more than anyone else) and narration for The Wombles, as well as the less well-known 'Simon In the Land of Chalk Drawings'. Also known for his humourous George Martin-produced 1960s hits "Hole in the Ground" and "Right, Said Fred".
He died, aged 93, in July 2022.
Trivia
He also provided the voice for British Telecom's 1970s advertising mascot, Buzby.
He received an Outstanding Contribution award at the 2009 children's BAFTAs.
He became an OBE in the 2011 Queen's Birthday Honours.
Web links
Feedback